Figuring out what to buy a minimalist can be insanely hard, considering minimalists generally aim to own fewer things and don't often see a lot of value in random objects. Gifts can even feel like little mini burdens to some minimalists; becoming just another thing they need to declutter!

If you don't want your gift to feel like a burden, try some of the ideas for minimalist gifts for Christmas in this article. I also included some tips about buying gifts for minimalists as well!
This page contains affiliate links which means I may earn a commission if you use them, at no additional cost to you. See disclosure policy for details.
Tips for Choosing a Minimalist Gift
If you're buying a minimalist Christmas gift, make sure it is something the person actually wants and needs, or is at least not a physical thing (try a consumable gift or an experience gift instead). Use this minimalist gift guide to find the perfect gift for the minimalist in your life!
Most people who choose to live a minimalist lifestyle have reasons beyond just how minimalism looks or how many things they have. Many of us choose minimalism because of the environmental and social justice impacts it has on the world around us.
I've included links to products on Etsy so you can easily support small, independent creators if that's important to you or your minimalist gift recipient. I've also included Amazon links as well because sometimes it's just more accessible for people and Etsy doesn't have some things. Please choose the option that is best for you!
If you're giving something small like a gift card, choose a minimalist greeting card to go along with it! Minimalist cards would have simple designs and messaging. The important part is including a note written just for them. It's a small touch that makes the gift feel just that little bit more special.
And remember, no matter what gift you give, make sure to choose minimalist gift wrapping too! Some ideas are brown paper with natural elements and minimalist gift tags like these, furoshiki wrapping, or Christmas wrapping paper or gift bags that are not too busy.

It's generally best to avoid buying clothing or jewelery for minimalists unless they've specifically asked for something because most minimalists have put a lot of thought and effort into curating their wardrobe.
It's also a good idea to stay away from buying Christmas themed things like a Christmas throw blanket or Christmas socks, for example. Minimalists want things they can use year round, rather than have to store it more than they can use it!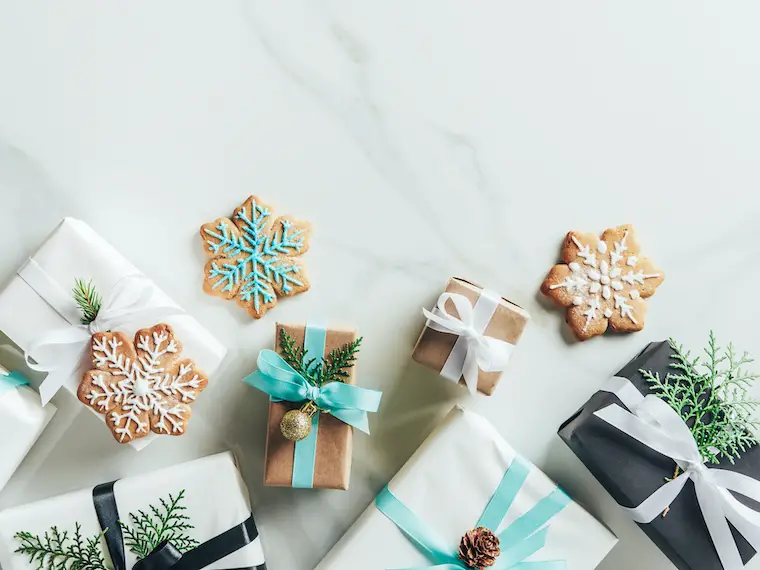 Now on to the list of minimalist gifts for Christmas!
Minimalist Wallets
Minimalist wallets make a great Christmas gift or stocking stuffer. The whole premise behind a minimalist wallet is that it has a slim design that holds the essentials without bulking up your pocket or handbag. They're made of premium materials like genuine leather, carbon fiber or sustainably sourced hardwood.
Minimalist Books
There are so many books about minimalism, the person you're buying for is sure to not have read them all yet!

Minimalists don't usually love things, although many minimalists make exceptions for books. And if not, they can always easily give away a book once they're done with it.

For those that really don't like physical books, you can give Kindle ebooks and audio books as gifts! You can even gift an Audible membership, Kindle unlimited membership, or buy them an e-reader like these!
Minimalist Backpacks
A backpack is a great option for a minimalist Christmas gift! Look for options with a clean, simple design without a lot of busy looking zippers, pouches and labels.

Also look for simple minimalist design features like hidden pockets, organizer storage inside, and high tech materials.

Choosing one with an overall smaller backpack profile is good too, because minimalists generally don't have a lot of stuff to carry so there's no need for a huge backpack!
Minimalist Kitchen Utensils
Avoiding kitchen clutter is really important to most minimalists. That's why having a set of space-saving stackable kitchen utensils is a great idea!

If your minimalist is more about the minimalist aesthetic, a matching set of high end wooden utensils could be the perfect minimalist Christmas gift to upgrade their kitchen!
Minimalist Dishes
Minimalists prefer to have one set of dishes that are perfect for any occasion. Minimalist dishes can go just as well with a formal table setting or something more casual, like outdoor dining on the patio.

If the minimalist you're buying for is in the market for new dishes, choose a matching dinnerware set with clean lines, like the ones above, which will always be in style.
Minimalist Water Bottles
These sleek and stylish minimalist water bottles are not only functional, but they have an appealing aesthetic vibe that'll make your gift recipient happy when they look at it.

Browse more minimalist water bottles in this curated list, or click below to shop on Amazon.
Minimalist Pantry Labels
Minimalist pantry labels are a simple, low cost gift that could make an excellent stocking stuffer!

Stylish, simple, and super useful, these pretty spice labels will give your minimalist an easy upgrade to their minimalist kitchen aesthetic without a lot of effort.
Minimalist Lunch Bags
Finding the perfect lunch bag to give as a Christmas gift is one of those things you just can't put into words. Because you're giving this gift to a minimalist, you need something that is simple and practical, but is also aesthetically pleasing!

The 3 options above are great, but feel free to check out all the minimalist lunch bags on Amazon, these aesthetic minimalist lunch boxes, or see the best lunch bags on Etsy.
Minimalist Christmas Cards
For those of us who want to simplify Christmas by forgoing gifts, choosing simple, minimalist cards is the best way! Add a personal note and your minimalist will feel extra special.

A card is a great way to wrap a gift card too if you're going that route.
There are so many adorable options from nordic Minimalism to abstract trees or mistletoe – there's a card with a perfect minimalist design for your recipient.

I hope that these minimalist greeting cards will simplify your options during the hectic holiday season.
Hopefully one of these gift ideas for minimalists has helped you decide what to give as a minimalist gift for Christmas.

If you're still looking for more gift ideas for minimalists, check out these lists of ideas: