Lunch bags often have a bad reputation for being ugly, utilitarian things. Necessities of packing a lunch, but rarely something that actually brings us joy to use. That's why I created this list of minimalist aesthetic lunch boxes!
I scoured the internet for a curated selection of simple and aesthetically pleasing lunch boxes and lunch bags so you can find one you find joy in bringing to work each day!
Not only are these lunch boxes aesthetic or minimalist in appearance, I've chosen ones with a simple, functional design. There are even a few options that are multipurpose, acting as a handbag or storage container when you're not using them for your lunch.
Shopping online can save you a lot of time and money, but it's also important to support small businesses. That's why most of my suggestions are from Etsy! I've also included links to similar products on Amazon if that works better for you.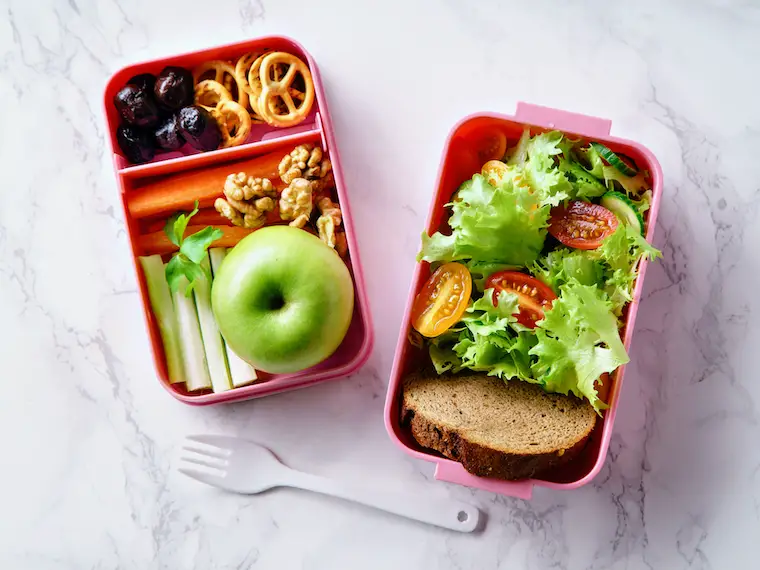 This page contains affiliate links which means I may earn a commission if you use them, at no additional cost to you. See disclosure policy for details.
Minimalist Aesthetic Lunch Boxes
Lunch boxes are great for keeping your food protected while carrying it to and from work or school. There are many styles of lunch boxes out there.
One option is a classic firm sided one that keeps your food protected while it's inside your bag or backpack.
Another type – the super functional bento box style ones – have compartments for every food item in order to keep your food separated without having to pack multiple containers.
A bento style lunch box also makes a packed lunch a little more fun because it always looks appealing!
Top Choice: Eco-Minimalist Lunch Box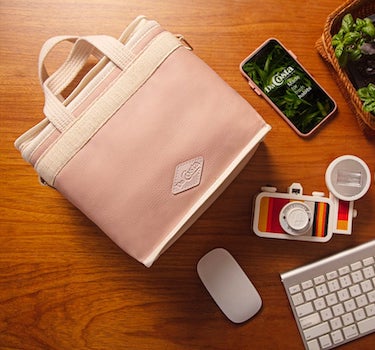 There's absolutely no compromise on this eco-minimalist lunch box!

Beautiful design, large capacity, insulated, easy to clean, vegan leather, hand held and over the shoulder extra carrying strap, plus they plant a tree in the Amazon rainforest for each purchase!
Modern Abstract Aesthetic Lunch Box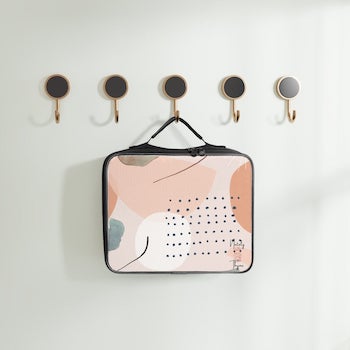 This aesthetic lunch box is a piece of art!

It has a minimalist lunch box design with an insulated interior to keep your food at the right temperature for a long time and a dual zipper that fully opens to allow you to see your entire lunch at once.
Minimalist Bento Box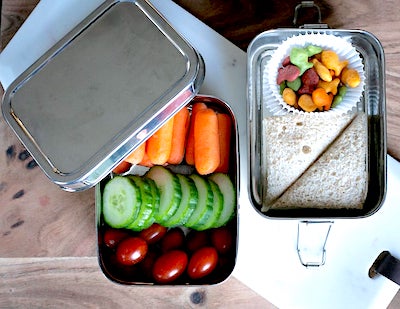 I love the minimalist design of a bento box. Simple, clean lines, functional and super durable (being made out of stainless steel). Use it on it's own, or pair it with a bento bag.
Minimalist Aesthetic Lunch Bags
When deciding on a lunch bag, it's important to find one that suits your needs whether that means it has the specific design you're looking for or comes in your favorite color.

If you're looking for something both trendy and practical, there are lots of attractive options!

I've listed a few of my favorite stand-out lunch bags below, or feel free to shop all aesthetic lunch bags on Etsy or Amazon below.
Aesthetic Bento Bag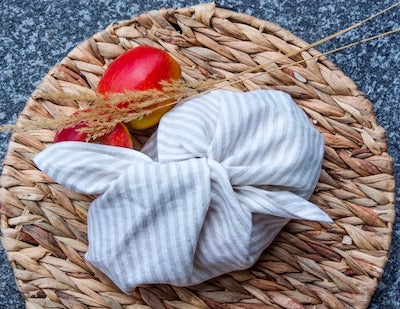 Use this simply designed and aesthetically pleasing lunch bag to carry your bento box and other lunch items in a pretty and functional way! Made of 100% linen, this bento bag is completely machine washable and super durable while also being beautiful.
Fold Over Style Minimalist Lunch Bag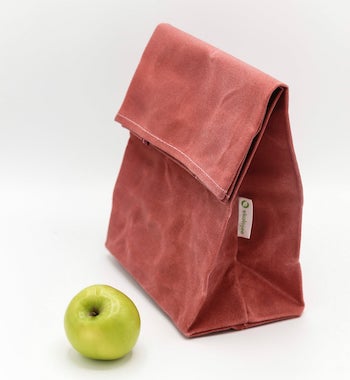 This simple design is so reminiscent of the classic brown paper bag lunch, although a brown paper bag has never been as stylish and functional as this minimalist lunch bag!

Made of waxed cotton that's both spill-resistant and easy to clean, it's designed to be used again and again.
Modern Hand Bag With Secret Lunch Bag Compartment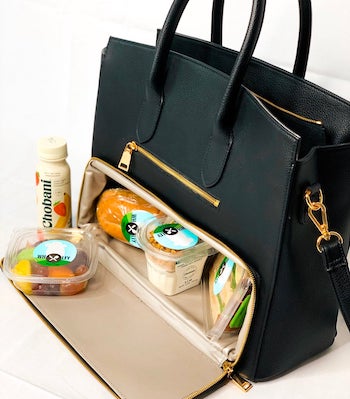 It's basically a high end vegan leather handbag with an insulated lunch compartment. Perfect for someone who doesn't want to carry around multiple bags to and from work.
The insulated compartment would be great for keeping your food cool until you eat it, and could even be used to keep your minimalist water bottle cool on hot days!
This lunch bag doesn't have the same aesthetic as some of the other suggestions, but I love it's multipurpose, minimalist design!
I've never seen anything like this except this handmade one on Etsy.
I hope this blog post helps you find the perfect aesthetic lunch bag or minimalist lunch box for your needs. Whether you choose a lunch bag or lunch box, or combo of the two, I hope you found the perfect option for you!
You might also like these other lunch bags & lunch boxes on Etsy and these aesthetic minimalist water bottles