Looking for Amazon grocery list notepads? Look no further than this curated list! I've selected some of my favorite grocery lists from Amazon so you can shop smarter while saving time and easily find the best one for you!

I've listed the pros of each style of grocery list on Amazon to help you decide without getting overwhelmed by all the options out there and revert back to using scrap paper and pencil!

Whether you choose a magnetic grocery list pad for the fridge, a meal planner and grocery list combo, or a grocery list notebook, you'll sure to find just what you're looking for.
This page contains affiliate links which means I may earn a commission if you use them, at no additional cost to you. See disclosure policy for details.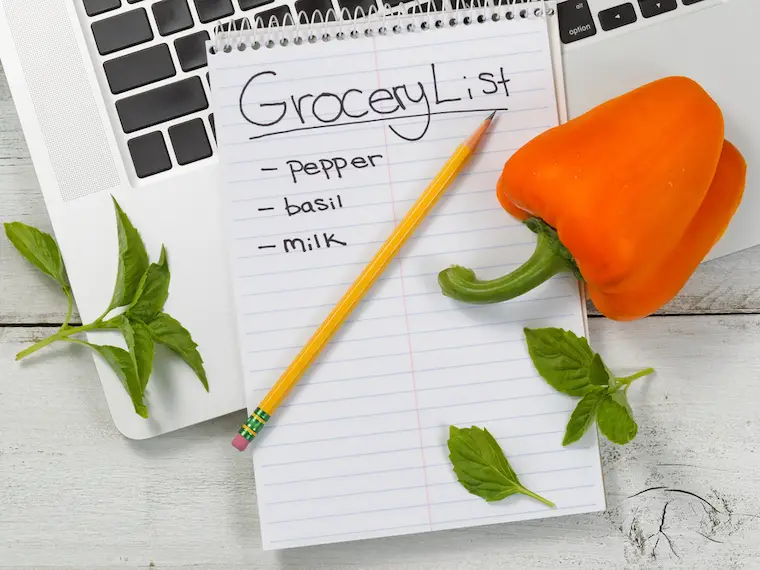 Magnetic Grocery List Pads for the Fridge
Having a magnetic grocery list for your fridge is a great way to keep it front and center so it will get used. You'll be able to quickly add ingredients to the list as they run out or as you think of them.
I noticed two main styles of grocery list magnet pads.
One is a simple notepad where you can add your groceries from scratch each week. These are perfect if you have a base grocery list in mind where you always get the same core ingredients each week then just add a few different grocery items each week based on sales or restocking what you've ran out of. This style is also good for meal planning because you can list anything you want without sorting through items on a premade list that you might not even need.
The other type is the full grocery list with the main foods already listed by category, space to add your own groceries, and checkboxes to check each one off. This style is perfect for you if you don't want to start a list from scratch every week or tend to forget things. I like that it's categorized by food type which makes it easy to shop because all like items are together.
If you like the full grocery list style, check out these articles about a minimalist grocery list and a master grocery list for ideas.
Meal Planner & Grocery List
I'm loving these meal planner and grocery list combos that have an attractive and minimalist design!
Since they're pretty enough to keep somewhere visible, your family will be able to see what's for dinner each day. Plus anyone can add something to the grocery list when it runs out.
Having the grocery list and meal planner combo is awesome because it's an all-in-one solution. As you plan your meals for the week, you can just add the groceries you'll need to the list.
The best part of these grocery list planner combo notepads is that the grocery list easily tears off from the meal plan section so you can take your grocery list with you to the store when you go shopping!
Grocery List Notebooks
Having a grocery list notebook is handy if you like to bring the whole notebook with you to the store. You can easily write on in while on the go and refer back to what you bought last week.
Also super handy if you like to compare prices as you can create a price list at the beginning of the grocery list notebook so you know whether the current price is a good price or not!
I would say this style of grocery list on Amazon is less common, but you can still find a variety of different styles and choose one that will suit you best.
Now that you've seen examples of different types of Amazon grocery lists, and learned a bit about the positives of each, which style of grocery list notepad will you go with?
Personally, I think I'm leaning towards the grocery list & meal planner combo. I love the all-in-one aspect of it!
If you're a meal planning beginner, you might also like to read about simple meal planning, a minimalist meal plan, what to do if you hate meal planning, 7 different ways to meal plan like a minimalist, and get these totally free meal planning printables!