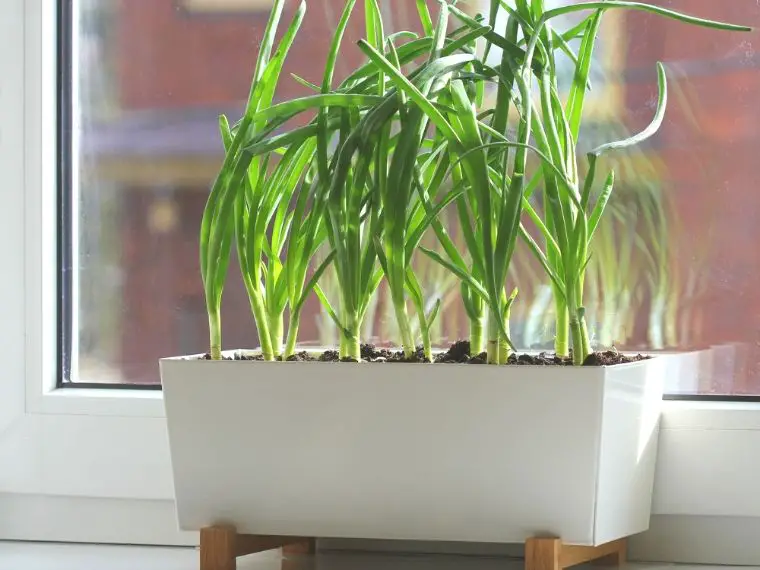 Learning how to regrow green onions from cuttings is one of my favorite hacks to reduce food waste. Not only am I making better use of something that I would have otherwise composted (or threw in the stock pot), but I'm literally making food out of water!
The process is the same for any type of green onion, scallion, or spring onion, as long as the root end is still attached.
By regrowing your scallions, green onions, or spring onions you got from the grocery store, you can essentially save 50% or more off of your purchases of those foods! This is because you should be able to get at least another bunch worth of food out of the cuttings, if not more!
Depending on how to regrow them, you might have a lifetime supply of green onions from that single bunch from the grocery store!
Regrow celery from the stalk
Grow lettuce indoors (3 ways!)
There are 2 main ways to easily grow green onions indoors just from the cuttings:
Regrowing green onions in water
Regrowing green onions in soil
I go over the simple steps of both methods so you can choose the one that works best for you.
All you'll really need is:
fresh bunch of green onions, scallions, or spring onions with roots still on
water
window that gets some sunlight
soil (optional)
How to grow green onions in water
Regrowing spring onions, green onions, or scallions in water is a very simple process that will provide you with fresh food for weeks!
I love regrowing green onions from scraps in water because it's literally free food! You are getting at least twice the amount of green onions for your money compared to if you just composted the ends.
You'll start to see new green growth appearing within a day or so. The process is very easy!
Here are the steps to growing green onions in water:
Time needed: 7 days.
Easily grow green onions indoors with only a glass of water! There should be enough to eat after about a week!
Cut the green onions

Cut them so there is at least 1″ (2.5cm) left at the root end, or about where the green starts.


Put them in water

Stand the root ends of the green onions in a small glass that keeps them upright. Add enough water to cover the ends, but do no fully submerge the whole cutting. Half way is good.

Check the water level every few days. Add more water if the water level drops to make sure the cuttings don't dry out. Change the water completely about once a week to keep it fresh.

Give them sunlight

Place the glass in a sunny windowsill or under a grow light for indoor plants.

Harvest

After there is at least a few inches of new growth, you can start harvesting. Just cut the green parts off, taking as much or as little as you need.
How to regrow green onions in soil
Regrowing green onions in soil will provide you with fresh green onions year round! This is definitely the best method if you want to make the most of the green onions you bought.
Since the plants will have everything they need to grow (water, air, light, & nutrients) the green onions will keep growing, even after harvesting the fresh sprigs!
Here are the simple steps to regrowing green onions in a pot:
Cut the green onions to 2″
Plant the cuttings directly from store bought green onions, or start with the water method (above). Make sure the cutting is at least 2″ (5cm) from root to tip to leave room to bury the roots.

Plant the cuttings in soil
Plant the cuttings about 1/2″-3/4″ (1-2 cm) deep and about 1″ (2.5 cm) apart in the soil. This can be in a pot in a sunny windowsill, or directly in the ground outdoors. Since you're only growing the greens and not trying to grow bulbs underground it's ok if they're fairly close together.

Water regularly
You want the soil to be damp but not soaking wet. Don't let it dry out. How often you water it depends on how many green onions you're growing in the pot, how much sun they're getting, and the type of potting soil you've used.
FAQ & Troubleshooting
How to harvest your green onions?
Harvest your green onions after they have at least a couple inches of new green growth on them. Cut them back to the base with clean scissors or a knife.

Ideally you'll wait until several shoots have come out of each root cutting, then you'll cut one off and leave the others. Try not to harvest more than 50% of each individual green onion at a time to avoid shocking the plant.
How many times can you regrow green onions?
With proper care you should be able to regrow green onions from several weeks, to indefinitely!

When you regrow onions in water, they will continue producing for several weeks. After a while, you'll notice they slow down and eventually will stop regrowing. That's because they have run out of nutrients!

If you want to keep them growing, plant the green onions in a pot in your windowsill or outdoors (weather permitting). With proper care in soil, green onions will produce nearly indefinitely!

If you don't have soil to grow them in, just use them up and start the process over again with a fresh bunch from the store!
What do I do if the roots turn slimy?
If the roots of the green onions growing in water become slimy, it's a sign you need to change the water more frequently.

To fix it, pour out all the water from the glass, rinse the roots under fresh water, then place them back in a clean glass with fresh water or plant in soil.
Why did the green onions stop growing?
This might happen when you try to regrow green onions in water. Plants need water, air, sunlight and nutrients to grow. When you regrow green onions in water, they have water, air, sunlight, and a small reserve of nutrients in the cutting. Those nutrients will eventually run out and the green onions will stop growing.

When this happens, you have 2 options:
1. Plant the cuttings in soil
2. Use up the green onions and restart the process with a fresh batch of green onions from the store.

Technically you could also grow green onions hydroponically which involves adding the nutrients directly to the water, but that is a lot more technical and not accessible to most people.
Can you grow green onions without a sunny window or outdoor space?
Without any sunlight at all, the green onions may grow a couple inches, but won't grow much. If you have even just a bit of sunlight, regrowing green onions in water should work, although the growth will likely be much slower.

You really have nothing to lose in trying it, since the ends would have been scraps anyways!

It will also work well using a grow light for indoor plants. You can get LED ones that look like normal light bulbs, fit in a regular light fixtures, and use very little electricity like these ones.

You could also keep the green onions standing in water in the fridge to make sure they last as long as possible and you don't waste any. They should keep several weeks this way, as opposed to several days if not kept in water.
I hope this tutorial helped you understand how to easily grow green onions from scraps, even without a garden!
I'd love to hear from you. Did you have success growing green onions indoors? Do you prefer to grow them in water or in soil? Do you regrow any other food from scraps?? Let me know in the comments!