Learning how to regrow celery from the stalk is one of my favorite hacks to reduce food waste. Not only am I making better use of something that I would have otherwise composted (or threw in the stock pot), but I'm literally making more food by just adding water!
This tutorial will teach you how to grow celery from the stalk/stump/base of the bunch of celery you've purchased at the store.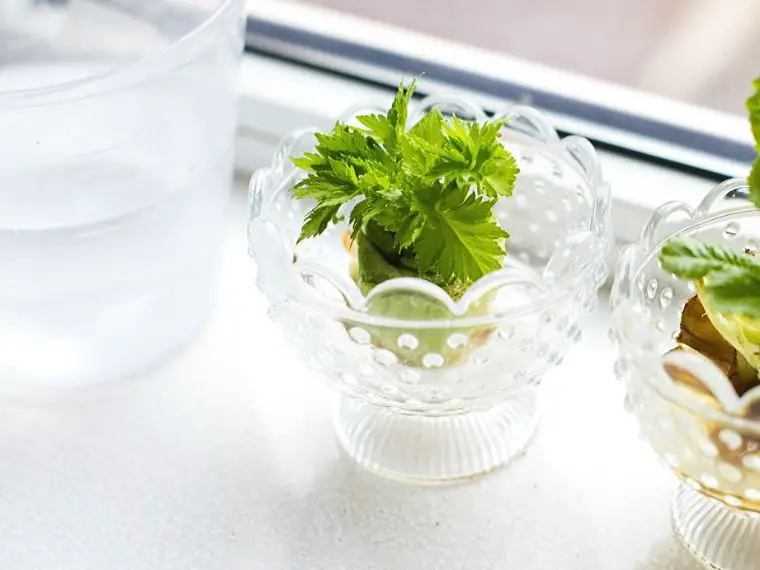 Important:
This method works as long as you have the root end of an entire bunch of celery. Note that technically a "stalk" of celery is considered the entire bunch of celery, but a stalk is often referred to as a single piece of celery, so I don't want you to be confused.
I don't think it will work with an individual stalk (AKA rib) of celery, only the end of an entire bunch.
By regrowing the celery you got from the grocery store, you can essentially save 50% or more off of your purchases of it! You should be able to get at least a few stalks worth of celery out of the stump, if not more!
Depending on the ways you choose how to propagate celery, you might get fresh celery growing for months from that single bunch from the grocery store!
But first, get the ebook!

Regrowing Veggies from Scraps ebook gives step-by-step instructions on how to regrow green onions, celery, romaine lettuce, iceberg lettuce, and butter lettuce from just the scraps you'd normally toss! Plus it also includes how to grow microgreens!

All the steps are listed below, but if you want to read it without ads, keep it to reference for later, or print it out, buy a digital copy for only $6 with coupon code READER!

The small fee helps me keep this site running so I can provide you with more great tips. If it's out of your budget, no worries, you can still get the info you need in the article below.

Get your copy of the Regrow Veggies Ebook now!
How to grow celery in water
Regrowing celery in water is a very simple process that will provide you with fresh food in a couple weeks!
I love teaching people how to grow celery from scraps in water because it's literally free food! You are getting more celery for your money compared to if you just composted the ends.
You'll start to see new green growth appearing within a day or so. The process is very easy!
Here are the steps on how to regrow celery in water:
How to regrow lettuce from scraps
Regrow green onions from the ends
Tips on storing green onions longer
FAQ & Troubleshooting
I hope this tutorial helped you understand how to regrow celery from scraps easily, even without a garden!
If you loved this tutorial and want to print it or save it for later, get the Regrowing Veggies From Scraps Ebook for only $6 with coupon code READER

Ebook includes how to regrow green onions, lettuce, celery, & microgreens!
I'd love to hear from you. Did you have success growing celery in water? How do YOU regrow celery? Do you regrow any other food from scraps?? Let me know in the comments!