Growing veggies indoors is a lot of fun and provides you with a little supply of fresh, local produce year round! These products for growing veggies indoors will help you succeed!
You'll find my suggestions for indoor grow lights, potting soil specific to growing food, seed trays, and even seeds for growing microgreens!
I've had the most success with regrowing green onions, regrowing lettuce from the stump, and growing microgreens, but have also tried regrowing celery as well!
With all my tips, I created an ebook that guides you how to regrow these veggies step-by-step! It's very beginner and kid friendly!
If you don't already have the ebook, learn more below, or keep reading to see the suggested products.
The ebook, Regrowing Veggies from Scraps, gives step-by-step instructions on how to regrow green onions, celery, romaine lettuce, iceberg lettuce, and butter lettuce from just the scraps you'd normally toss! Plus it also includes how to grow microgreens!

Get the Regrowing Veggies From Scraps ebook for only $6 with coupon code READER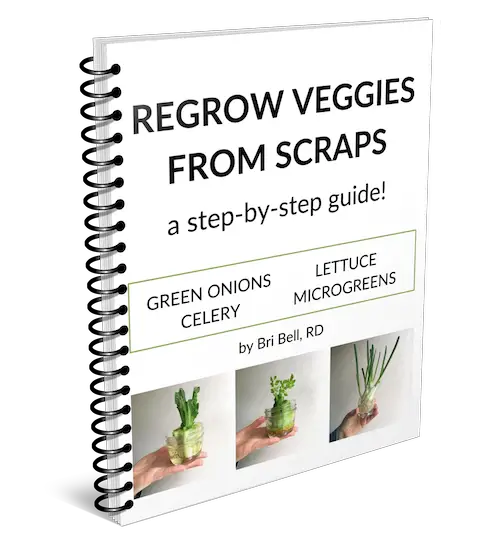 This page contains affiliate links which means I may earn a commission if you use them, at no additional cost to you. See disclosure policy for details.
Indoor grow lights
Indoor grow lights are very helpful in providing your plants with enough light. If you live in a sunny climate with lots of natural light in your home, you may not need this.
For the rest of us who don't get a lot of natural sunlight I recommend getting a grow light that provides a full spectrum light. Many full spectrum grow lights have a purple glow (like these ones).
That could be fine if you're just growing in your basement or somewhere where you don't see it very often, but the purple glow isn't that nice to have in the rest of your house.
I recommend these full spectrum grow lamps that have a natural white light. You can get clip on grow lamps for a desk or shelf, on grow lamps that come with a stand (like this one).
You can also get grow light bulbs that fit into most regular light fixtures! These are my top choice as they don't take up any extra space. The downside is that your plants may not get as much light from them if you can't get them as close as the lamp style lights.
Potting soil for growing food
Potting soil is not all the same so I recommend getting a brand that is specifically marketed towards growing food. For example, you can't just use succulent or orchid potting mix for growing veggies because they all have different needs and the potting mix is specifically designed for certain types of plants.

Check out these options for food grade potting soil on Amazon.
Seed trays
Seed trays like the ones found here are very helpful if you're planning on starting seeds, or growing micro greens or sprouts. They're designed to drain properly and come with a lid to keep warmth and humidity in.

Most seed starting trays or sprouting trays are plastic but this stackable metal sprouting tray looks great if you're trying to use less plastic!
Microgreen seeds
Microgreens are easy to grow indoors because they grow quickly, don't need a lot of light, soil or space compared to if you were growing the plants to maturity.
But if you are planning on growing microgreens from seeds, you'll need a good supply of seeds because you use a lot more seeds for microgreens than for growing full sized plants.
The good thing is microgreen seeds are easy to come by online. Generally it's less expensive to buy them as microgreen seeds than as regular seeds (even though they're literally the same seed!). I think that's because you're basically buying the seeds in bulk when you get a package of microgreen seeds.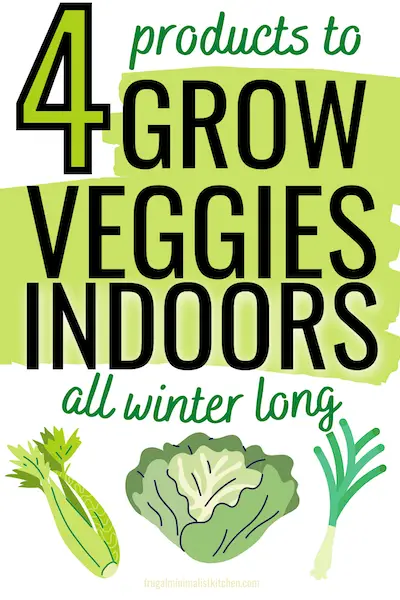 You might also like:
How to Store Scallions Longer: Comparing the Top 5 Ways
Longest Lasting Fruit & Vegetables