Adding Christmas decorations to kitchen cabinets is a great way to add to the Christmas spirit in your kitchen! Because the decorations are on the kitchen cabinets and not on the countertop, you avoid cluttering your workspace during on of the busiest times of the year for cooking.
There are so many options to choose from! Mix and match one or two for a subtle, minimalist Christmasy kitchen vibe, or combine a bunch of the decorations if you prefer to go all out.
When choosing Christmas decorations for kitchen cabinets you want to make sure they are attractive but don't get in the way of actually using your kitchen. Luckily for you, I've created a list of more than a dozen Christmas decor options that fit the bill!
I've included Etsy shopping links for those who prefer handmade items or want to support small businesses, and I've also included Amazon links because I know how convenient they are to many of you!
Note: please be sure to avoid putting decorations on or near hot or overly humid areas like the front of the oven or dishwasher so they don't get damaged or cause a fire hazard!
This page contains affiliate links which means I may earn a commission if you use them, at no additional cost to you. See disclosure policy for details.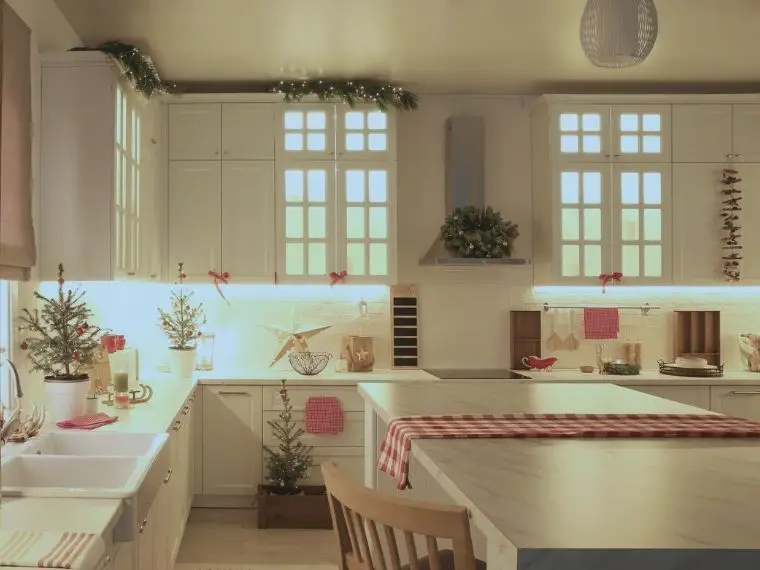 Christmas Decorations For Kitchen Cabinets
Small Wreaths
Hanging a wreath on your kitchen cabinet doors is another excellent way to decorate your kitchen cabinets for Christmas!

I recommend choosing a wreath that is at least a few inches narrower than your cabinet doors to allow the doors to easily open and close without the wreath getting in the way.

Typical wreaths are probably too big for regular kitchen cabinets, but may work on a kitchen pantry door.

A wreath with a ribbon hanger is a great option to easily hang the wreath but note that it will move around when you open and close the door so maybe best to hang the wreath on a lesser used cabinet door.

Another good option is to use Command hooks for hanging wreaths which will stick to your kitchen cabinets but remove easily without leaving a mark.
Christmas Dish Towels
Christmas-themed dish towels are a super easy way to spruce up your kitchen for the season!

Not only are Christmast-themed dish towels adorably festive, they're functional too! Simply switch out your regular dish towels for seasonal ones when you're ready.

Hang the dish towel on the stove handle or get a cabinet door towel bar to decorate your kitchen cabinets.

I'm a big fan of making use of decorations for more than just the short Christmas season when possible, so I've included some options above, like plaid and buffalo check, that can easily be used throughout fall and winter season too!

You could even use your regular year-round dish towels in a solid color if they fit with your Christmas decor style (red, green, white, or blue work well!)
Christmas Dinnerware or Servingware Display
If you have Christmas dinnerware, now is the time to display it! Glass front kitchen cabinets, open shelving, a china cabinet, or even on top of your kitchen cabinets can make beautiful displays.

It's great to display your seasonal dinnerware for the entire season because you'll get more use out of it than if you store it away only to serve on in once or twice a year.

If you don't have Christmas dinnerware or servingware you can still make a beautiful display with your regular dinnerware by adding some battery operated twinkle lights or pops of small seasonal decor. I display my white everyday minimalist dinnerware like this!
Removable Christmas Decals
Decals are an awesome choice for decorating kitchen cabinets for Christmas. They are washable and won't move around or get damaged when you're using the kitchen!

There are lots of cutesy options for families with little kids, and a few classier options like Christmasy sayings or snowflakes if that's more your style.

The decals stick on all regular kitchen surfaces such as wood, painted surfaces, glass, or composite cabinet fronts, as well as stainless steel and tiles!

If you are putting decals on tiles, choose smaller decals that would fit on the tile because the grout isn't the best surface to stick on to and creates a ridge that ruins the effect of the decal.

Choose a focal point in the kitchen to decorate, like with the Christmas saying on one large cabinet door or make a white fridge into a cute snowman.

Or go all in and apply the decals evenly across all the kitchen cabinets! This is best for an all-out Christmas look, but it would have a subtle, classy effect if you have white and/or glass front cabinets and apply small white snowflakes all over.
Ribbon Cabinet Door Wraps
Gift-wrapped kitchen cabinets are very festive!

If you're good with tying beautiful bows and have the time to be crafty, you could DIY your own with some beautiful Christmas ribbon. If not, the ones shown actually have pre-tied bows and velcro on the back so putting them on takes literally a couple seconds!

Make sure to get enough ribbons to add to all the cabinet doors you want to decorate.

Amazon has tons of options to match any decor, so feel free to click one of the images above to go straight to the one shown and see how it looks on different kitchen cabinets, or click the button below to browse all the options.
Other Christmas Decorations for Cabinets
Twinkle Lights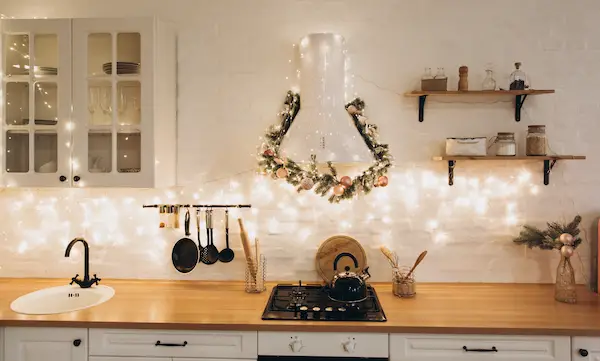 Twinkle lights are the quintessential Christmas decoration! I love them because they're so versatile and can be used in so many different ways (even year round).

When using twinkle lights for decorating your kitchen for Christmas, consider where you'll be placing them to help you decide what kind to get and whether you can plug them in or not.

If you plan to use them around a window or under the upper cabinets, you can probably use plugin ones but if you're planning on using them inside a glass-front cabinet, china cabinet, on open shelving, or on top of your kitchen cabinets, you might opt for battery operated lights.
Christmas Decorations for the Top of Kitchen Cabinets
If you have space above your kitchen cabinets, it's a great place to put some seasonal decor! Not only is there usually a lot of available space up there to make a big impact, it's completely out of the way so won't interfere with using your kitchen.

Here are some of my favorite ideas:
Christmas Decorations for Kitchen Cabinet Door Pulls
You could also hang decorations from the knobs and door pulls. This works best with knobs, but you can make other handle styles work too by tying it on.

Make sure to avoid delicate ornaments for this because they will get bumped around as the cabinets and drawers are opened and closed. Metal or wood are better than glass, ceramic, or paper ornaments.

Also make sure they don't hang in a way that will get in the way of actually using your kitchen, like if it will get caught in the drawer every time you open and close it. Something that is easy to clean is important too, since door handles are very high touch!

Imagine how cute it would be to have tiny jingle bells chiming each time you open and close the cupboards as you're doing your Christmas baking!
I hope you found some Christmas decorations that work in your kitchen!

Feel free to browse Amazon or Etsy for Christmas decor to keep inspiring you.
Also check out these other posts:
How to Have a Minimalist Christmas
Minimalist Gifts for Christmas They Actually Want!
Cozy Hygge Kitchen Design Ideas
Minimalist Hygge: Coziness Meets Minimalism
If you're looking for Christmas Gift Ideas, here are some gift lists I created:
Gifts for Him
Gifts for Her
Minimalist Gift Ideas
Consumable Gifts