A minimalist Christmas is one where you choose the gifts and activities intentionally and in alignment with a minimalist lifestyle.
Choosing fewer but more intentional gifts, simplifying your gift list, and wrapping gifts intentionally make each gift more meaningful to the recipient than a huge pile of gifts. When it comes to minimimalist Christmas gifting, less is more!
But we know minimalism goes beyond stuff to include how we live our lives too.
Minimize holiday obligations and traditions that add stress so you can make time to fully enjoy the Christmas activities that bring you joy!
Decorate with minimalist Christmas decor if it suits your style, or go all out while keeping the rest of your life minimalist. It's totally up to you!
A minimalist Christmas is about personalizing your Christmas to suit your own family and preferences.
Keep reading for all the tips and suggestions to help you simplify Christmas or check out these books about minimalist Christmases!
This page contains affiliate links which means I may earn a commission if you use them, at no additional cost to you. See disclosure policy for details.
Minimalist Christmas Gifts
Are you wondering what should I get my minimalist for Christmas? What is a good gift for a minimalist?
Minimalists don't want more random stuff. As a minimalist yourself, you don't want to burden others in your life with more stuff either!
The best thing to get them is something they already said they need, or something consumable you know they like.
For some gift ideas, check out these posts:
Minimalist Christmas Gifts They're Sure to Love!
65+ Minimalist Gifts That Fit Your Budget
Consumable Gift Ideas for Under $25
Minimalist Gift Ideas for Men
Shop minimalist gifts on Amazon
Shop minimalist gifts on Etsy
It's also a good idea to give fewer gifts. Most people are already drowning in clutter. Do you REALLY need to give a gift to the mail man, the bus driver, your hairdresser, etc?
Maybe the answer is yes for you, but it's important to check in and make sure it's something you actually want to do and aren't doing it simply out of perceived obligation.
Not everyone's love language is receiving gifts (as much as consumerism would like to tell us it is!).
Personally I think a heartfelt note of appreciation is much more meaningful than a dollar store mug or something.
Is there such a thing as a minimalist toy?
Yes there are minimalist toys! Typically we think of toys as being loud, noisy, clutter. They often can be, but there are options that aren't.
Look for toys that:
don't use batteries
don't make sound
are part of a set the child likes (ex: lego)
are simple and don't come with a lot of little pieces
are practical, like sporting equipment
are consumable (ex: play doh eventually dries up and can be discarded so doesn't add to clutter)
are made of natural materials
Shop minimalist toys on Amazon
Show minimalist toys on Etsy
Choose intentional gifts
Minimalist gifts are about more than the item itself. They should be chosen intentionally in a way that really meets the needs of the recipient.
Some prompts you can use for intentionally choosing gifts:
Something they want
Something they need
Something to wear
Something to read
Something to make
Something to eat
Something to do
Wrap the gifts intentionally too!
A carefully wrapped gift can go a long way to making the gift feel extra special for the recipient. Many minimalists are conscious about environmental impact so choosing sustainable wrapping is a great choice!
Here are some ideas:
reuse gift bags
wrap in cloth in furoshiki style
wrap in brown paper and decorate with natural elements like cedar or pine sprigs
recyclable wrapping paper (must be non-metallic and no glitter)
Shop minimalist gift wrap on Amazon
Shop minimalist gift wrap on Etsy
Minimalist Christmas Cards
There are tons of minimalist Christmas card options. Look for cards with simple design and messaging. Avoid loud colors, busy designs, and glitter.
This article has some great suggestions for minimalist Christmas card options including hand made cards from Etsy or regular cards on Amazon.
Another option is to go with ecards. They're minimalist because there is literally no waste!
Minimalist Christmas Activities
Christmas time can get really stressful when you have to add on tons of social activities and shopping for gifts on top of an already full life.
A minimalist Christmas aims to slow down and simplify! What everyone loves about the season is the focus on people, not the things.
Think about what activities add joy and make you feel festive. What activities add stress?
Don't feel obligated to do something just because you've done it in the past. It's your life and you get to choose what you do and not let other people dictate that.
Choose to do less
less shopping
less baking
fewer parties
fewer gifts
simpler traditions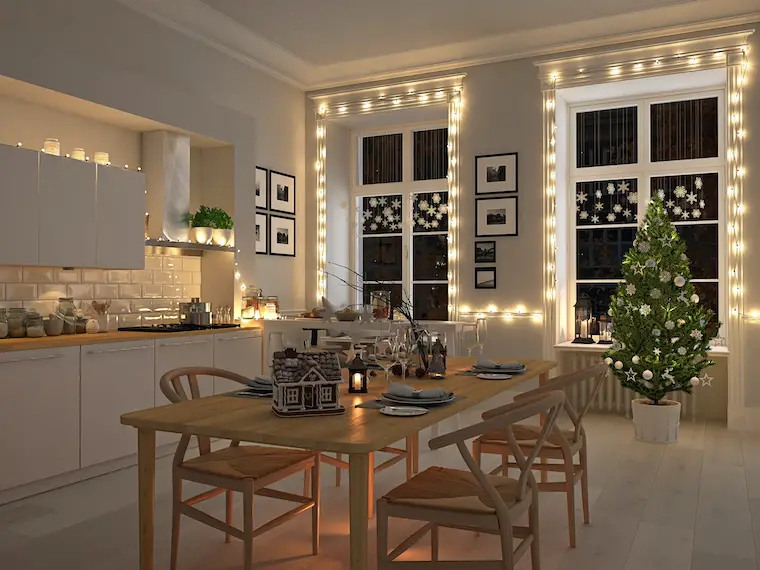 Minimalist Christmas Decor
How does a minimalist decorate for Christmas? What about a minimalist Christmas tree?
Minimalist Christmas decor ranges from a simple strand of lights and some Christmas music to full out Christmas decorations. Choose whatever is right for you!
If you love Christmas and feel that more is more this time of year, it's perfectly ok. You can still be a minimalist in the rest of your life so don't feel you need to tone it down if it makes you happy.
For those who prefer a more subdued style year round, here are some tips for minimalist Christmas decor that will give you that cozy, Hygge Christmas vibe without the clutter:
add to the holiday vibes using all your senses, not just sight. This gives a well rounded Christmas feeling without needing as many decorations.

diffuse Christmassy essential oil blends or light a holiday scented candle

play your favorite holiday tunes
light a fire in the fire place and snuggle with cozy blankets and your pets
eat your favorite holiday foods and drinks (so Hygge!)

stick to a color palette of 2-3 main colors. Generally I pair 2 colors from red, green, gold, silver, white, and blue. Fewer colors keeps it from being overly loud
keep your decorations to 1 box
decorate with things you use year round like:

a glass vase (filled with ornaments at Christmas)
a picture frame (filled with seasonal family photos or Christmas printables)
a letter board with a Christmassy message
a cozy throw blanket in neutral or Christmas colors
a colored throw pillow cover

decorate with natural elements

choose a live tree and greenery that you can compost at the end of the season instead of having to store artificial stuff year round
fill that vase with pinecones

display seasonal things that you'll get rid of after the season

Christmas cards you got in the mail
Christmas baking
kids crafts
Shop minimalist Christmas decor on Amazon.
Shop minimalist Christmas decorations on Etsy.
However you choose to minimize your Christmas, do so intentionally, with the goal to get rid of things that don't bring value to you or your family, and keep what does. There is no one right way to do a minimalist Christmas (as there is no one right way to be a minimalist!)
How do you simplify Christmas? Let me know in the comments below!
Christmas Decorations For Kitchen Cabinets to Help You Feel Festive!
Minimalist Hygge: Cozy Minimalism