Often we think of hygge as sitting on the couch with a blanket, soft pillows, a good book, and a mug of tea, but you can certainly create a hygge kitchen as well!
Some elements of a hygge kitchen and dining room include warm, soft lighting, spending quality time with family and friends, and eating good food.
Incorporating elements of hygge design into your kitchen decor like nostalgic items, light colors, elements of nature, and hand made decor can also go a long way in creating a cozy kitchen at any time of the year!
To make sure we're on the same page about what hygge is, I've included a description of it with examples of what is hygge. If you're already familiar with the concept feel free to jump ahead to the hygge kitchen ideas using the links below.
There is no specific hygge checklist of hygge things to do or buy, but I have included product ideas you can use as inspiration.
This page contains affiliate links which means I may earn a commission if you use them, at no additional cost to you. See disclosure policy for details.
I've included Etsy shopping links for those who prefer handmade items or want to support small businesses, and I've also included Amazon links because I know how convenient they are to many of you!
What is Hygge?
Hygge in Danish actually translates to "coziness" in English. It's the idea of having a warm comfortable atmosphere and a feeling of nostalgia.
An example of hygge would be relaxing with friends or family over good food or drink into a comfy atmosphere through books or games – whatever makes you feel cozy. So if somebody's saying something is hygge, they are describing a mood that is relaxing and positive!
Put it simply, hygge is the feeling you get when everything feels just right.
As a Canadian, I'm very familiar with the feeling of hygge although it's not one of our traditions (but it sure can help with our long, dark winters!).
I associate hygge most closely with Christmases spent at home.
Outwardly people might associate Christmas with decorated trees, stockings hung on mantles, and lights strung on windows but even more than these tangible things there's just this feeling of warmth, coziness, and nostalgia associated with that time of year. It's that coziness and closeness that wraps around you tightly rather than some specific object.
Another good way to describe hygge might be the taste of hot chocolate with marshmallows while wrapped in an old knitted blanket watching your favorite movie.
There are many ways you could be hygge-like – reading by candlelight while nibbling a cookie, browsing through your grandmother's photo album from over 60 years ago, realizing someone still spreads out their lunch napkin when they eat… the list goes on.
So now that we know what Hygge is, how do you hygge a kitchen? The following ideas will give you some inspiration, but remember that Hygge is very personalized. What feels cozy and nostalgic to you might be different from what someone else likes.
For instance, I lean towards hygge minimalism.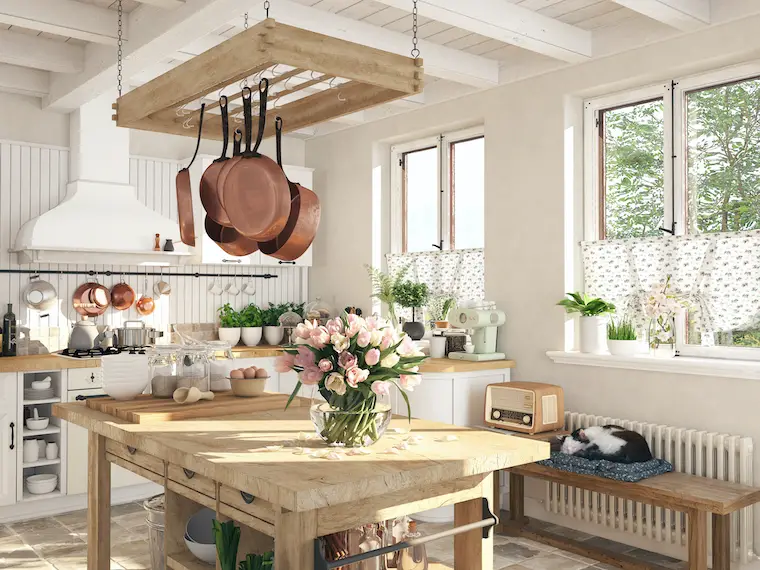 Hygge Kitchen Ideas
These hygge kitchen ideas are conceptual and don't require you to have or buy anything in particular. They're ways to get the FEELING!

Here are some ideas:
A lot of these ideas revolve around cooking and eating food in an intentional and mindful way. It's about taking time to appreciate these little moments rather than rushing through the tasks as we can sometimes tend to do in our busy Western society.
But hygge can be more than just our routines and habits. It can even be more than the special traditions we do at certain times of the year.
The rest of this article focuses on the ways you can physically design and decorate your kitchen and dining room area to make them a bit more hygge!
Hygge Kitchen Design
There are lots of ways to get a hygge kitchen without *things* as you can see by all the ideas above, but you can add to that feeling with some curated hygge items as well! If you're looking for some hygge kitchen design ideas, here you go!

Hygge kitchen design shares a lot of elements with Scandi-minimalist kitchen design.
Hygge Kitchen Decor
Some specific decor elements that help enhance the hygge feeling are:
Hygge Kitchen Lighting
Soft lighting is quintessentially hygge and is one of the easiest switches to make.
Start by switching out any light bulbs that give off a cool tone of light for ones that give off a warm tone.
Or you can get smart light bulbs like these that can be adjusted for coolness/warmth as well dimmed.
Lighting some candles does double duty by creating a welcoming atmosphere in your kitchen with the soft, glowy light, pleasing scent and the warmth cast by the flame.
Turn on some fairy lights for some extra inviting sparkle and glow. Avoid the lights getting in the way of cooking by putting them inside a glass front cabinet, in a clear vase, on an open shelf or windowsill, or above the kitchen cabinets.
Decorating the top of kitchen cabinets is one of my favorite places to decorate the kitchen for Christmas!
As the sun goes down, lower the overhead lights and rely on the other sources of light like under cabinet lights to create a cozy glow.
Hygge Kitchen Accessories
Add an element of hygge with your kitchen accessories by choosing things with special meaning, like your favorite mug, or a pretty mixing bowl you got as a gift from a friend.
Kitchen accessories that have other hygge elements like vintage/shabby chic/wabi sabi with a bit of patina and character help. Some ideas of these would be great grandma's baking dishes or even just a set of vintage dishes that may have a chip or two.
Accessories that incorporate natural materials like wood, fabric, or natural stoneware can be very important in adding a warm and cozy feeling to your kitchen as well!
Hygge Dining Room
The dining room is an important part of the kitchen and really helps set the hygge mood. That's because so much of hygge is about connection and where better to connect than over the dinner table!
Invite a small group of friends and family over or enjoy some serene time to yourself with a cookie and a mug of coffee.
Use all the hygge kitchen design tips listed above to create an inviting and cozy hygge dining room, plus incorporate any of the following ideas that you're able to:
Now that you know the answer to "what is hygge" and you've seen all these ideas for how to create a hygge kitchen, including hygge kitchen design ideas, hygge kitchen decor, lighting, and accessories, and even hygge dining room ideas, I hope you have at least a few new ideas that you can start implementing right away to make your kitchen cozier!
Keep reading:
Minimalist Hygge: Coziness Meets Minimalism
Organization Ideas for Your Minimalist Kitchen
How to Simplify Your Kitchen