Minimalist hygge is minimalist living with a focus on coziness. It's the combination between minimalism, a focus on simplicity, and hygge, a focus on coziness.
Hygge minimalism can refer to a style of home decor or a way of living, or more commonly, both!
Minimalism is about removing anything unnecessary or unneeded from your environment to give yourself more simplicity and space to breathe. This includes decluttering things, but also simplifying the things you do as well.
Hygge is about finding comfort in simple moments. It focuses on creating a warm atmosphere by embracing simple pleasures like lighting candles, spending time with friends and family, drinking tea together while playing board games, or watching TV under cozy blankets.
Hygge (pronounced "hue-gah") is part of the Danish way of life, and it's becoming popular in other countries because people are realizing how happy hygge living can make them!
But what does minimalist hygge mean? And are all Danes minimalists? We'll answer these questions for you right here!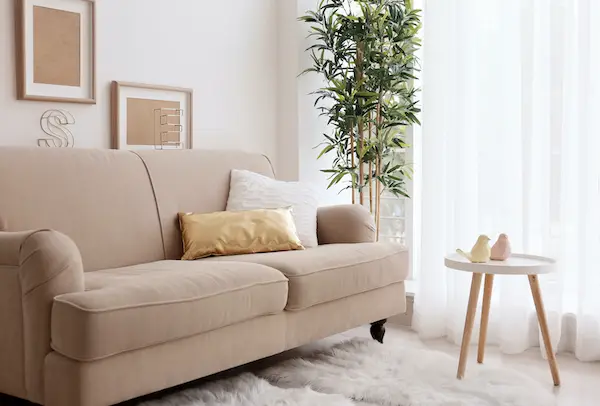 This page contains affiliate links which means I may earn a commission if you use them, at no additional cost to you. See disclosure policy for details.
I've included Etsy shopping links for those who prefer handmade items or want to support small businesses, and I've also included Amazon links because I know how convenient they are to many of you!
What is Hygge Minimalism?
Hygge minimalism is a minimalist lifestyle that includes coziness as well as simplicity.
Hygge minimalism refers to a style of home decor or lifestyle that focuses on minimalist design principles while also focusing on comfort and warmth.
If minimalism and hygge were on a spectrum, minimalist hygge is the in-between of those lifestyles. Where you fall on the spectrum is totally personal and can even change over time or in different seasons.
Hygge minimalism is a balance between not having too many possessions so you don't feel overwhelmed, but not having too few that you feel your home has lost it's personal touch and has become just a minimalist show home.
If your attempts at creating a hygge vibe are starting to make your home feel cluttered, it's time to get rid of some things!
It also means simplifying other aspects in life by eliminating certain commitments and responsibilities for the sake of enjoying simpler moments.
It's about living an intentional life that makes you happy without getting caught up in trying to keep up with the Joneses.
Some find minimalism too cold and impersonal, while others find minimalist living too expensive or time-consuming. If you've felt this way about minimalism, perhaps it's time to embrace another form of minimalism such as hygge minimalism!
Once you find the right version of minimalism for you, you will discover an amazing sense of peace and serenity that was previously missing from your life.
With that being said, there are some key differences between a hygge lifestyle and a minimalist lifestyle.
Pure minimalists may not care about having a cozy home, while those who focus on hygge may not be as interested in minimalist principles like decluttering and minimalist design.
Traditional minimalism focuses on living with less in order to have more freedom and simplicity. It's about having just the essentials and getting rid of anything that doesn't serve a specific purpose.
Minimalist hygge, on the other hand, is about having what's important while removing what's not. It's about simplifying your life without giving up the things that make you feel comfortable and cozy.
Let's compare the differences and similarities between minimalism vs hygge and get into a few more examples so you can understand some of the subtleties…
Comparing Hygge & Minimalist Lifestyles
A minimalist lifestyle is about living intentionally and paring down to what is essential.
A hygge lifestyle is about taking time to create a warm and cozy environment that makes you feel content.
Hygge minimalism as a lifestyle is intentionally focusing on the things that matter and make you feel good.
Some people think that minimalist living means giving up everything you love and having nothing which is definitely not true.
Although minimalist hygge is focused on simplicity, it's different from traditional minimalism in that it's not about getting rid of things. Rather, minimalist hygge is about keeping what's important and removing what's not.
Minimalist hygge lifestyles may include keeping some things like books, sentimental items, or art possessions while getting rid of other things.
Many minimalists may encourage you to get rid of a lot of those things, but how much you keep or get rid of should be a personal choice, not something that anyone else can tell you.
Similarities:
Minimalism and hygge lifestyles have many similarities in the sense that they both focus on living intentionally.
They both minimize clutter. This includes both physical clutter and unnecessary things on the to-do list.
They both aim to focus on only things and activities that are important.
Minimalism is a bit more ruthless in cutting down to ONLY things and activities that are important, whereas hygge doesn't focus so much on eliminating things.
Many people practicing hygge might even add things that are important to them rather than only finding ways to make those things/activities more enjoyable.
Differences:
One of the main differences between hygge and minimalism is that hygge is more about the feeling of things & situations, whereas minimalism is a bit more practical and tries to simplify things.
With hygge, you might take extra time to "set the mood" before doing any activity and go out of your way to make special moments throughout your everyday life.
With a minimalist lifestyle, you actively try to simplify your routines to make them easier and more streamlined.
For example, with hygge, you might take extra time to light a candle, lay out the handmade placemats your Grandmother made, and turn on some music while eating dinner with family on a random Wednesday, just to make an everyday meal feel special.
With a minimalist lifestyle, you may or may not do those things, but most likely a minimalist would keep everyday meals simple to make set up and clean up easier. A minimalist likely wouldn't use candles, music, and placemats for everyday meals for this reason.
This doesn't mean a minimalist would cut out an enjoyable routine or something that makes them feel good just because it's not perfectly minimal, rather, a minimalist doesn't generally go out of their way to make everyday moments special and cozy.
Another difference is that someone living a hygge lifestyle might have more stuff than someone living a minimalist lifestyle.
That's because sometimes coziness comes with extra stuff, such as extra blankets and throw pillows on your couch, a bunch of candles to burn at once, or using family heirlooms.
In a minimalist lifestyle, you would still want a throw blanket and cushions on your couch if you used them, but you would only keep the exact number you actually use.
A minimalist would likely keep the blanket stored away when not in use, whereas having a blanket draped over the sofa adds to the cozy vibe in a hygge lifestyle.
Minimalists also tend to be a bit less attached to sentimental items so hygge leaves a lot more room for keeping things for sentimental reasons than minimalism does.
Another example is that minimalists try to simplify their routines and eliminate things from their calendar that just aren't the top priorities. Hygge lifestyle has a big focus on connecting and having shared memories with other people so might prioritize social events more than minimalists.
Comparing Hygge & Minimalist Design Aesthetics
Hygge minimalist homes often have minimalist furniture and decorations with lots of natural light.
Hygge minimalist homes are warm spaces with simple décor that encourage you to slow down and savour the moment.
Hygge is more about the lifestyle than about the appearance or design, but you can still add elements of hygge into your design. Minimalism traditionally started as a design style with simplistic, clean lines.
Hygge design focuses on items that have personal significance or that make you feel a certain way, whereas minimalist design is more about the appearance or secondarily, the function of an item or design choice.
Similarities:
There are a lot of similarities between hygge design and minimalist design, depending on which type of minimalism you're looking at.
Hygge is most similar to scandi minimalism, cozy minimalism, or boho minimalism rather than the traditional cold and stark version of minimalist design.
They both likely use a light and bright color palette with Scandinavian influences.
In both minimalist design and hygge design you keep only what you like. This naturally leads to decreased clutter in the design.
Differences:
Hygge most different from traditional minimalism style which tends to come across as cold, stark and barren with clean lines.
Hygge design on the other hand would place a greater emphasis on making the place feel cozy by using warm, muted colors, soft lighting, overstuffed chairs, and a variety of decor items passed down from family members or bought secondhand.
The style might be a bit eclectic and the individual pieces might show some wear and tear because they're well loved!
Hygge design might focus on showing off things you love and use every day, whereas minimalist design would prefer to hide those things.
For example, hygge design might have open shelving displaying your favorite mug and your Grandma's antique cake pan, whereas those things would most likely be put in a closed cabinet in minimalist kitchen design (if the minimalist even has those things to begin with).
Hygge design might have more stuff in general than minimalist design because the focus is more on evoking comforting feelings. You're more likely to see a lot more family photos, extra throw pillows, or even displays of nicknacks in a hygge home than you would in a traditionally minimalist home.
The differences and similarities between hygge and minimalist style may seem a little subtle, but are easy to spot in the following images: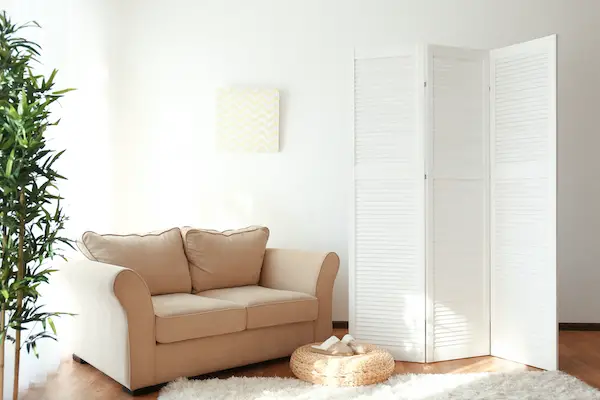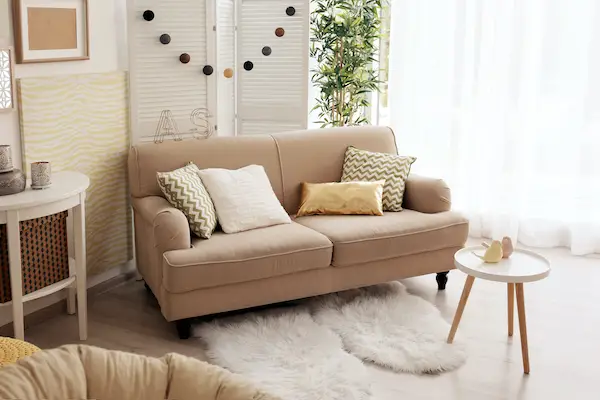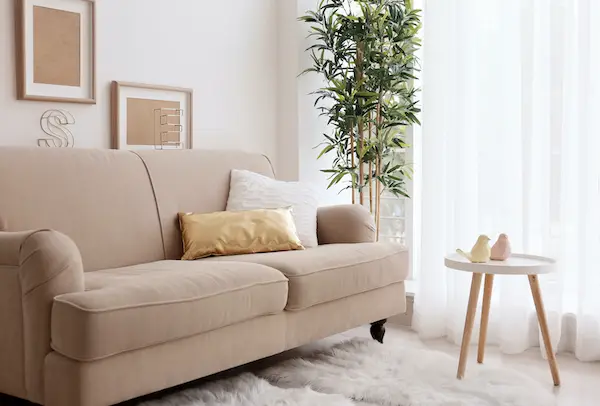 Hygge Things to Buy (That Won't Add to the Clutter!)
You'll often hear that you can't buy hygge and I agree with that. Hygge is more about experiences and feelings than things.
BUT with that being said, we know that things can still evoke feelings and memories.
This is one of the reasons it can be so hard to declutter sometimes – too many memories or feelings attached to our things!
So as you can see, things can certainly contribute or take away from hygge!
Because of this, there are still some things you can buy that will create a warmer, more inviting, nostalgic atmosphere that don't add to the overall clutter in your home.
This might mean replacing things you currently have with things that provide a more cozy atmosphere.
For example, switching out your lighting to warmer hued bulbs and adding dimmer switches so you can control the amount of lighting you want.
It might mean styling your home in a calming minimalist vibe instead of austere minimalist style. Add a little pattern and texture to your neutral tones. Check out the difference in feeling you get with these different duvet covers.
You might switch out a minimalist metal, wood, or glass coffee table for an upholstered storage ottoman. That way you can keep your extra blankets handy but out of sight, plus have a soft place to put your feet up!
Choose pretty objects that serve functional purposes. For example, in a minimalist kitchen, you might only want a small set of matching mugs. In a hygge kitchen, everyone might have their own favorite mug!
You can read more about hygge minimalism in the book "Minimalism & Hygge" by Edison Montgomery. Get the kindle or audiobook versions if you're a bit more minimalist, or get the physical copy if you find a real book to be comforting!
There is a hygge game that is all about encouraging thoughtful, meaningful conversations with more than 300 questions "designed to spark cozy conversation".
You can even get things to remind you to make time for those little hygge moments.
Can minimalism be cozy?
Yes, minimalism can be as cozy as hygge.

Some simple examples of this are adding cozy textiles, like a soft blanket or throw pillow, and using natural materials in your decor.

The minimalist lifestyle can also mean a focus on simplicity and quality. This means you might go out of your way to find items that are durable, well-made or long lasting.

Other aspects of minimalist hygge include cozying up with loved ones in front of a fireplace, reading by candlelight while wearing cozy PJs, using warm and natural colors in your decor, and enjoying simple homemade meals.

These are all things that don't require any extra "stuff" but still give you that wonderful cozy feeling – the central theme of hygge!
What does hygge life mean?
Hygge life is about living a simple and cozy life. It's about taking the time to appreciate the small things in life and enjoying the moment. It's about being content with what you have and not needing more. It's also about spending time with loved ones and being in the moment.
Are Danes minimalists? 
While Danish culture may have some of the same values as minimalists – simplicity and focus on what is essential – they also embrace hygge, which means their homes may not be as spartan as one would expect from a minimalist.

Many Danes are minimalists, but many don't call themselves minimalists. In general, it's best not to lump an entire country into a single category because there is such a variety of people.
In the end, it comes down to what is most important to you. If you are interested in simplifying your life and creating a cozy environment, minimalist hygge may be the right choice for you! If you prefer to focus on just simplicity or just coziness, those concepts can also be pursued separately.
You might also like:
Hygge Kitchen: Perfectly Cozy Lifestyle Design Ideas
8 Aesthetic Minimalist Wallpaper Backgrounds For Your Desktop
Your Guide to Frugal Minimalist Living
Hosting a Minimalist Dinner Party

Hygge Christmas Ideas:
Christmas Decorations for Kitchen Cabinets to Help You Feel Festive!
Have Yourself a Minimalist Christmas