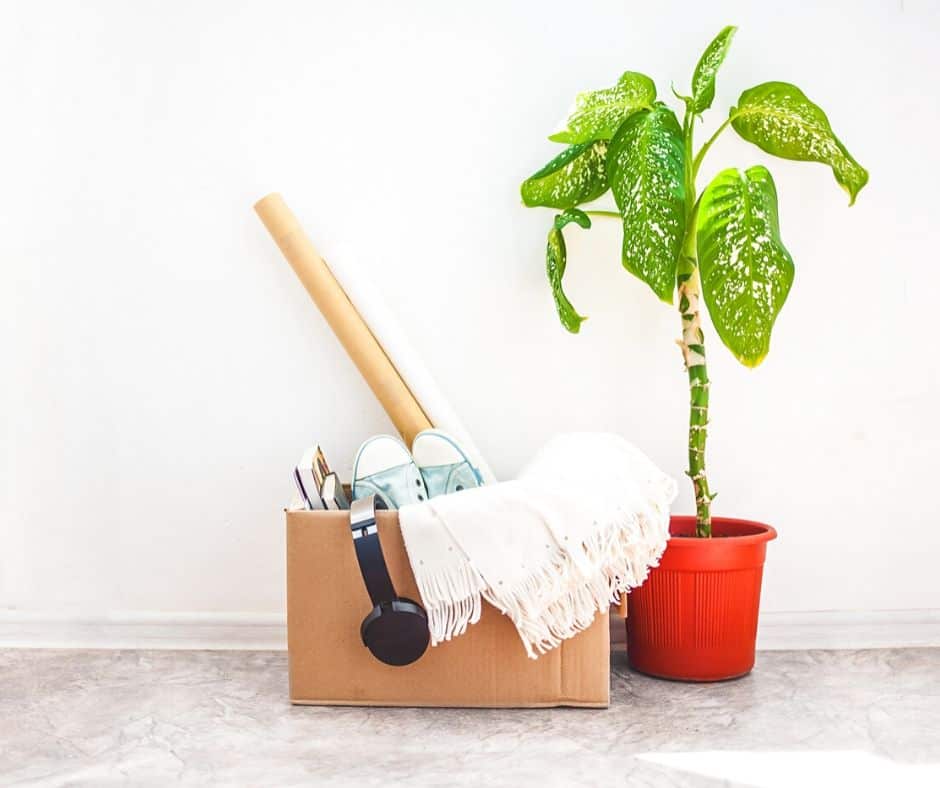 So you wanna be a minimalist? Welcome to the exciting and liberating world of minimalism.

This post is written by Iva, at Women Blazing Trails. Keep reading to hear her minimalist decluttering tips!

I started my minimalist journey about 5 years ago literally by accident and haven't looked back since. To be honest, I had no idea what minimalism was about. At all. 

When my path in life finally took me down that road I wondered why I never journeyed there sooner. 
Anyway, this post isn't about me or my minimalist journey. It's about you and yours!
Keep reading for my top minimalist decluttering tips and make sure to download the minimalist decluttering checklist as well!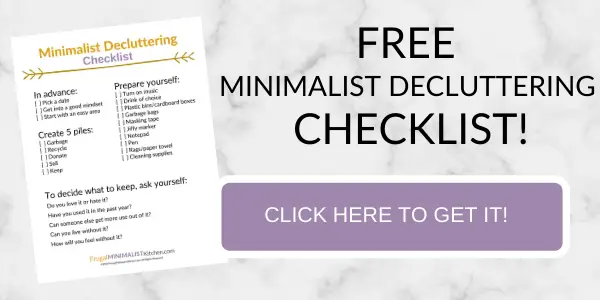 Why minimalism works
If you have ever spoken to anyone who became a minimalist they will all tell you the same thing: it's so liberating!
The main reason why minimalism works so well is because of this. Your stuff weighs you down. When you let go of your stuff, the stuff you don't need anyway, you aren't as stressed out anymore. 
Trust me on that one. 
Decluttering steps to become a minimalist
You knew that was coming right? The big "D" word. Declutter. 
So many people cringe when they hear that word but it's not as scary as you think it is. Again, it's so liberating. 
I'll admit, it can be a little overwhelming, especially for those of you who have tons and tons of stuff (you know who you are). 
But honestly, decluttering is not only a great way to start becoming a minimalist, it's also a  great way to get rid of toxic things and energy that are sucking the soul out of you!
How Minimalists Get Rid of Stuff (even the sentimental items!)
This page contains affiliate links which means I may earn a commission if you use them, at no additional cost to you. See disclosure policy for details.
Let's be honest. It can be hard to declutter.
Scary? No, ok well maybe a wee bit. Hard? It can be. 
The biggest complaint I hear from most people is that they don't even know where to start. Overwhelm sets in and nothing gets done. 
But like anything, you have to start somewhere. Yes it can be hard to declutter but it's not impossible and I can almost promise, it won't kill you. 

Did you know you can also declutter your technology with digital minimalism?
Now I'm going to share with you 7 minimalist decluttering tips to help you get started and a minimalist decluttering checklist so you don't overlook anything. 
Both of these tools will make your transition so much easier and almost fun. Almost. 

Minimalist declutter checklist
It's important to start with a clear head. Don't go into it all frazzled and full of anxiety. You'll get nothing accomplished and feel completely frustrated and angry. 
We don't want that. 
Here's your simple minimalist declutter checklist to help you prepare:
Mellow soothing music (you'll thank me later!)
Drink of choice (water, coffee, tea, wine!)
Plastic bins and/or cardboard boxes
Garbage bags
Masking tape
Jiffy marker
Notepad
Pen
Rags or paper towels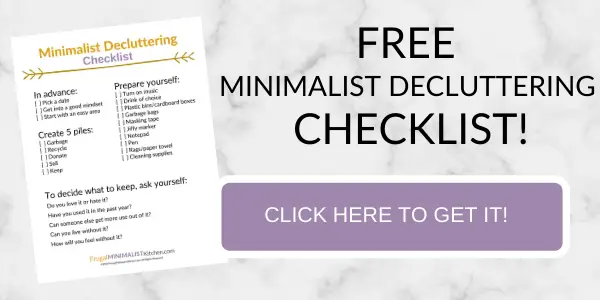 I'm a firm believer in being totally prepared and organized for a big endeavour like decluttering. 
If you aren't prepared and have to leave the room a million times to get things, you will get even more frustrated, lose interest, close the door to the room and never go back in there again. 
Be prepared!!
We're almost ready. We gathered all the things on our checklist. The music is playing. We're in a relatively good mood and feeling rather optimistic about all of this decluttering stuff. 
The next step? Get started. 
I'll share with you 7 minimalist tips to help you declutter that will make your 'adventure' almost fun. Almost.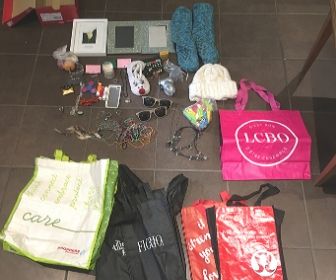 7 Minimalist Decluttering Tips to Help You on Your Minimalist Journey
The hardest part of decluttering is having to get rid of the things you've been hanging on to your whole life.
I get that many things have sentimental value. I so get that. But are they really necessary to hang on to? Probably not. Not most of it anyway. 
When I started decluttering it was tough for me to let go of family photos and things my son made for me when he was in kindergarten. But I did. 
No, I'm not coldhearted. 
All of the beautiful memories and moments of my life are locked in my heart and my head. No material thing can replace that. 
Keep that in mind while you are going through your stuff. Memories have more value than things.
1. Mark a date on the calendar
This is something you've been putting off for a long time and it's time to get to it. Mark a date on the calendar just like you would a doctor's appointment. 
Stick to and commit to that date. Don't say yes to your girlfriend's offer to go have lunch. Tell her you're busy and you will take a raincheck. 
Say yes to you and your new minimalist life and no to everything else that day. 
2. Prepare yourself mentally
I can't stress this enough. Make sure you are in a good headspace to do this. It can be emotionally exhausting. 
You have to go through things you've had for a long time and may not want to part with them, even though you know you have to. 
Make sure you are good and ready to do this.
It can be helpful to find a mantra or quote that resonates with you and makes you really feel how you want to feel once your house is decluttered.
Read some minimalist quotes and simple living quotes to inspire you!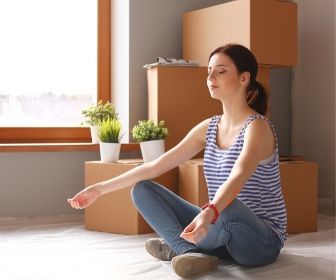 3. Pick an easy room to start with
Don't go full steam and tackle the hardest room in the house first. Start out easy and work your way up to the big room. 
Otherwise, you may become so overwhelmed you'll end up walking out of the room in frustration. 
Start small and easy and work your way up.
Read more about how to get motivated to start cleaning when you feel overwhelmed by the mess.
4. Organize piles of your stuff
Clean out a spot for bins and garbage bags and label each one accordingly. You should have one for each category:
Garbage
Recycle
Donate
Sell
Keep
This way before you do anything with your stuff you can check the pile one more time before you make a final decision on the item. 
5. Check and chuck 
It's time to get to work on your things. As you pick up each item ask yourself a few questions to help you decide what to do with it:
Do you love it or hate it?
If you hate it, it goes. If you love it, it stays. If you feel meh about it but use it a lot, it stays. If you feel meh about it and hardly use it, it goes!
Have you used it in the past year or so?
If you haven't used it in the past year, most likely you should get rid of it! If you really can't let it go yet, keep it, but make an effort to start using it regularly. There is no point in having things you don't even use.
Can someone else get more use out of it?
This is super helpful way to frame the decision to let something go. You want to keep it because it's still useful, but you don't personally use it. Thinking about someone else making good use of it can help you let it go more easily!
Can you live without it?
This is especially helpful when you're planning on REALLY downsizing. Everything you keep has to be very important to your daily life.
This question also pairs well with "is there something else I can use instead?" For instance, do you need an apple slicer or could you just use a minimalist knife instead?
Questions like this are essential when decluttering your kitchen. If you need a checklist for reference, get my essential kitchen tools checklist below.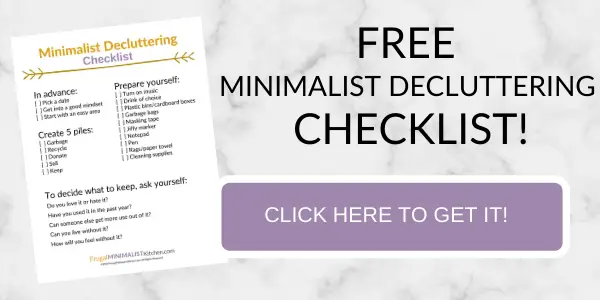 Read more about organizing & designing a minimalist kitchen.
How will you feel without it?
Imagine the freedom and lightness you'll feel without that item… Never have to dig past it to find what you're actually looking for. Never have to clean and maintain it. Never have to put it away again… bliss!
It's also possible you'll feel like you'll miss it a lot. That may be a sign you should keep it! If you're feeling like you'll miss everything though, take a break and ground yourself. Your emotional decision making might be fatigued and need a break!
Answering these questions will determine which pile the item will go in. 
6. Get rid of it!
Now that you have piles of your things, it's time to get rid of what you've chosen to let go.
If you're chucking it or recycling it, get it out to the bins today!
If you're donating it, take it to the donation centre today, or if they do pick up, make an appointment for them to come pick it up!
If you are selling your stuff, create your listings and post on Facebook Marketplace in your area or any other seller's groups. 
If you're keeping it, take a moment to clean the closet or shelf while it's empty. Then put anything you're keeping back where it belongs. Admire the extra space you now have!
Once you have completed one closet or room, get rid of this stuff before you move on to the next area, otherwise you will have a clustered mess of bins and garbage bags all over your house!

Ditch it all now. 
7. Reward yourself
I think this is very important. You tackled something really hard and you did it!! It's time to celebrate! 
Take yourself out for dinner or for whatever treat you desire. 
Pat yourself on the back and be proud of yourself for all the hard work you did today. Rewards are an important part of helping you stick to your goals! 
Decluttering each room, one step at a time
Now that you have completed one room, got rid of all your stuff and rewarded yourself, you need to pick a date for your next room.
Please make sure it isn't too far in the future. You're doing a great job. Keep going. Full steam ahead now. 
Remember that the minimalist lifestyle is a very beautiful and liberating one. Don't forget that as you are going through your things! 
I got rid of over 90% of my stuff when I left Canada to move to Guatemala and I don't miss a single solitary thing. 
As you shed your things, you are also shedding things that have been tying you down. You'll see. You will feel a freedom like never before. Trust me on that. 

Happy decluttering!

xo iva xo
Remember to download your free minimalist decluttering checklist below! ⬇︎⬇︎⬇︎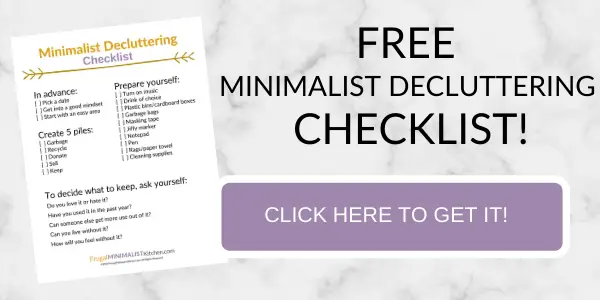 Author Bio
Back in 2013 Iva was bankrupt, broken and emotionally beaten down. She took a full year to heal and totally reinvent her life. A former 25+ yr  hairstylist, in 2015 Iva finally hung up her cutting shears and became a freelance writer and creator of Women Blazing Trails. She now empowers and encourages women around the world to be brave, embrace change and start living their lives on their terms.