Most people go out and get a set of kitchen knives in a block and an electric knife to slice meat when they first started cooking. As minimalists, we realize we don't need every type of knife. We only want the essential minimalist kitchen knives!
What's essential to you may be different from what's essential to someone else but generally you will only need between 1-5 knives in your kitchen as a minimalist.
Compare that to the typical kitchen knife set that has 6-12 or more knives, most of which are rarely used and just sit in the knife block cluttering the counter top.
This article will help you determine which knives you actually need based on what you do in the kitchen. It also gives some options for each type of minimalist knife, minimalist knife sets, minimalist knife blocks, and tools to care for your knives.
This page contains affiliate links which means I may earn a commission if you use them, at no additional cost to you. See disclosure policy for details.
How many knives do you need as a minimalist?
An extreme minimalist might use one knife for everything. Not every minimalist is extreme, so there are 3 core knives I would recommend, plus a few others that many people would use daily.
So of course the answer to how many knives does a minimalist need is: it depends! The number and type of knives you need depends on what and how you cook.
For instance, if you only eat prepared food from boxes and pre chopped fruit and vegetables, you might not need anything more than a steak knife to use to cut things at the dinner table.
If you cook from scratch, you will need a few multipurpose knives appropriate for the job.
In general, I recommend the chef's 2 main knives plus steak knives to use to cut your food at the table. I've also recommended a couple other kinds of knives that we use regularly but may or may not be relevant to you.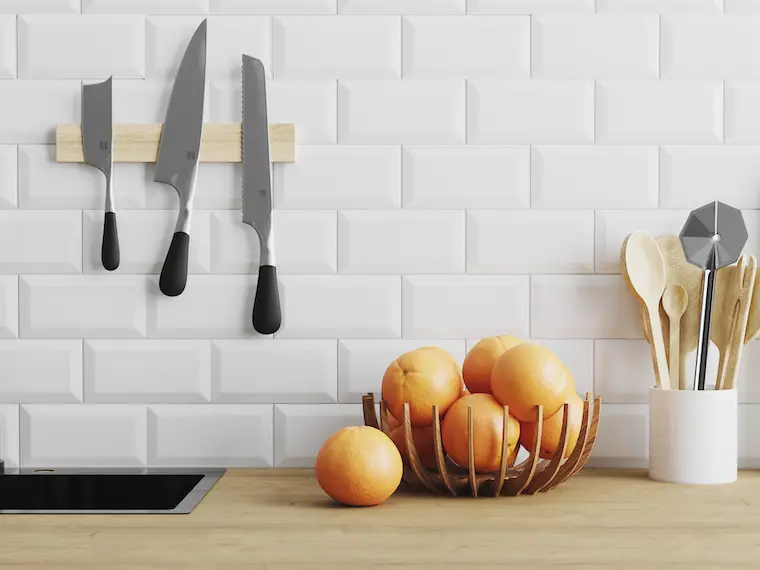 Chef's Knife
A high quality chef's knife will last a lifetime and is the most multipurpose knife – hence why it's the top recommendation for minimalist kitchen knives and used by top chefs around the world!
With a long blade you're able to chop and slice through larger foods like whole vegetables.
The curve on the blade creates a rocking motion that actually makes chopping faster and take less effort. The curve also makes it easy to finely mince fresh herbs.
This knife is used for anything from cutting through thick skinned raw vegetables like squash, to dicing potatoes, to finely mincing herbs. The flat edge can also be used to easily crush garlic as well!
This is one knife that I recommend buying the highest quality you can afford and keeping it for life. This is one of those things where the quality really does make a difference.
Paring Knife
A paring knife is another must-have minimalist kitchen knife.
It is used for fine work like peeling fruits or slicing cheese.
While the quality is important, you likely don't need the highest end paring knife. Instead, choose one that is sharp and has a thin blade that's about 3″-4″ long.
Steak Knives
Despite their name, steak knives are actually a lot more multipurpose than the name suggests.
Use them for cutting up any food on your plate. You may not need these if you only serve soft foods or foods that are already cut up into bite-sized pieces like stir-fry, soup, stew or hand-held food like sandwiches or chicken wings.
Steak knives come in either serrated or straight edge options so choose the style that you prefer. I personally prefer a serrated edge knife because they are able to cut through tougher foods with less effort if needed.
Get a set with the number of people you generally eat with rather than say a set of 12 if you rarely have more than 6 people at the dinner table.
Serrated Knife
A large serrated knife, also commonly called a bread knife is an excellent option to add to your minimalist kitchen knives.
Because of the serrated cutting edge, you use a sawing motion that is good for cutting through soft foods like bread or tomatoes that might otherwise be squished by the downward chopping motion of other types of knives.
They're also good for peeling tougher-skinned fruits and vegetables such as pineapple or squash.
If you never slice your own bread and keep your other knives extremely sharp (sharp enough to slice a ripe tomato without pressing down on it), you could probably do without this knife, however, most people will use this knife regularly in their everyday lives.
Boning Knife
A boning knife is used to cut meat away from the bone.
It is commonly used to carve roast meat because it has a thin blade that can cut thin, even slices of meat. It does a good job of getting meat off the bones without wasting it (a chef's knife or serrated knife will leave a lot of meat on the bone and tends to crumble the meat because the blade is thicker).
It can also be used for both separating raw meat from the bone, or separating skin from the meat, as you do when you're cutting up chicken pieces.
If you don't eat meat, don't cook roasted meat, and don't cut up raw meat, you likely don't need this type of knife.
Minimalist Knife Set
As you might be able to tell by now, I'm not the biggest fan of knife sets because they often come with more knives than you need, and come with bulky knife blocks or other things you don't really want or need.
Despite this, there are some minimalist knife sets that come with a minimalist knife block that may work well for you like the ones above!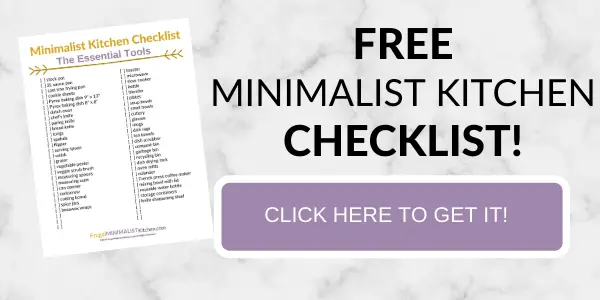 Minimalist Knife Care
Caring for your knives properly is minimalist because a good quality knife with proper care can last a lifetime – much more sustainable than buying new knives whenever yours gets dull or chipped from not being careful.
The care of a knife includes how to store it and how to keep the edge sharp. At the very least, you will need a safe place to store your knives so that they don't get damaged.
You may wish to take your knives to be sharpened by a professional, but I find it is a lot easier to quickly hone and sharpen them at home with the right tools. It only takes a few minutes and helps you avoid having to go to an appointment, and pay for it to get done multiple times a year.
Knife Edge Guard
You're a minimalist so you most likely don't have a knife block set that contains more knives than you actually use and clutters up the counter top.
If you have the drawer space, it's awesome to store your knives there to keep it completely out of sight.
You don't want to store your knives loosely in a drawer though because that is not only a safety hazard for your family, it can damage the blades and the inside of your drawer.
I recommend getting edge guards for your knives to protect the edge of the blade, save space, and keep your family safe.
We use these and store the knives in the drawer beside the cutlery. There's a couple inches of space that fits all our knives perfectly without them sliding around.
Buy a set that fits the types of knives that you own or get them individually so you have just what you need.
Minimalist Knife Block
Generally knife blocks are not considered minimalist because they tend to be bulky and clutter up the kitchen counter top.
But some kitchens don't have enough drawer space to keep knives so a knife block may be your best option. There are some that are designed to take up less space and have a more minimalist aesthetic that may work well in this situation.
A minimalist knife block will have a simple design to help you avoid cluttering up your kitchen countertop.
Ideally it will not have a specific space for each type of knife so it won't look weird if you just have a few knives in there.
Some designs are flat and have magnets or a long, thin slot for your knives. A magnetic knife strip will keep your countertops clear.
Choose one with simplistic design that fits your kitchen aesthetic.
Honing Steel
While a honing steel isn't a type of knife, I consider it to be a fairly essential tool to maintain your knives.
A honing steel is a tool that realigns the cutting edge of the knife blade so it stays sharp longer. You use it in between actually sharpening your knife to keep the edge sharp without removing any of the blade (as happens with actual sharpening).
Sharp knives are safer and easier to use than dull knives. This may seem counterintuitive to an inexperienced cook at first, but when the knife is dull, you have to push harder to cut through things, making it less stable and more effort.
Knife Sharpener
Along the lines of the honing steel, a knife sharpener is essential in keeping your knives sharp. The sharpener actually grinds some of the metal of the blade away to make the edge sharper.
Admittedly, you could do without a knife sharpener of your own if you take your knives to be sharpened when they need it.
Personally, I think it's easier to just do it myself when it needs to be done than to remember to make a special trip to get the knives sharpened several times per year!
What knives do you actually need?
The essential knives you need in your kitchen are a chef's knife, a paring knife and a serrated knife. You may also use a boning knife and steak knives regularly.
How many knives do you need?
This depends on what and how much you cook! Most people will need between 1-5 knives to cook and do regular kitchen tasks.

You might want more knives if you regularly do more specific tasks in the kitchen, but even top chefs like Gordon Ramsay only use 3 knives regularly.
As minimalists, we only want the essential knives in our kitchen.
What's essential to you may be different from what's essential to someone else but generally, you will only need between 1-5 minimalist knives. A chef's knife, paring knife, steak knives, serrated knife, and boning knife should do for most people who cook at home but want to keep their kitchen minimal.
Whatever knives you choose, make sure to get ones that can do multiple jobs rather than ones that are only good for doing one very specific task.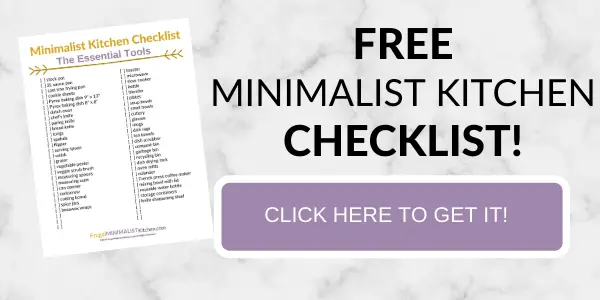 Keep Reading:
12 Highly Rated Amazon Kitchen Appliances You'll Want To Use Daily
10 Handy Amazon Kitchen Accessories You'll Use All The Time
18 Best Minimalist Aesthetic Water Bottles
Minimalist Aesthetic Lunch Boxes
Minimalist Pantry Labels (Cute & Organized!)
Frugal Minimalist Pantry Staples