Looking for minimalist labels for canisters and spice jars in your pantry but not sure where to find the best ones?

That was me too! That's why I did the research to find the best options and shared it here.

Seeing the comparison of all the options will help you find the perfect minimalist pantry labels for you.
If you're anything like me, you LOVE and organized and neat looking pantry as part of a minimalist kitchen. Despite that love, I still struggle with getting it looking and staying neat.
I'm looking to get some labels for my spices, canisters and mason jars and wanted to share the adorable minimalist kitchen label ideas I found!
This page contains affiliate links which means I may earn a commission if you use them, at no additional cost to you. See disclosure policy for details.
Clear Sticker Labels
I really love the look of clear sticker labels for keeping a minimalist pantry!
Some of them are fully customizable as I mentioned earlier, but if you're really just looking to buy them without the work, there are lots of options for ready made pantry labels on Etsy!
I like supporting Etsy sellers when possible because I know they sell handmade things and the income goes directly to the business owner, which is so important in this kind of economy!
Here is a great list of clear sticker labels to browse on Etsy.
I pretty much love all the labels that this designer offers on Etsy. Browse her shop here.
You can also find nice pantry label options on Amazon. Browse them here.
Customizable and Printable Pantry Labels
A great DIY label option for pantry goods are printable labels. You can design your own, buy templates online and print at home, or even custom order pantry labels!
You can choose either opaque or clear printable label stickers depending on the look you're going for.
There are options for printable spice labels, canister labels, and even mini mason jar labels!
Make sure to grab my pantry staples checklist to reference and make sure you get labels for all the spices and pantry items you have!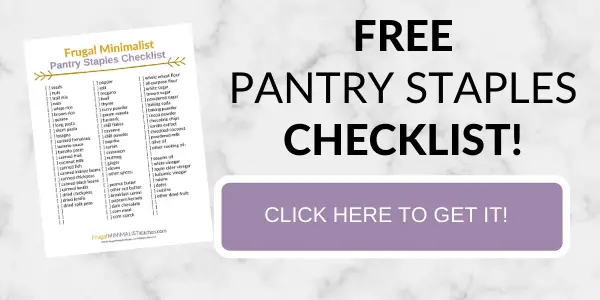 Since theses labels are going on food products, I'd definitely recommend you use a specialty label paper that is water resistant so you can wipe it down if needed.
You can find clear label papers here. Usually they're made of some sort of plastic or vinyl.
Regular paper labels are great for labelling office supplies but they will get wrecked if they get wet and may even leave a sticky residue if you try to take them off.
If you do decide to order customizable printable minimalist pantry label template, make sure to pay special attention to the designer's printing instructions and ensure you have the correct material to print on.
Here are some commonly used options for printable clear sticker paper and here are some commonly used papers for printable sticker labels with a white background.
I made a list of some minimalist printable pantry labels on Etsy. Check them out!

You can also find some great options on Amazon here.
DIY Labels
Right now we have the ultimate in DIY labels for our pantry. We just use this common marker to write on the glass, plastic, and metal containers.
I actually like the way it looks with neat writing as it's 100% personalized and customizable.
The writing does rub off most surfaces which makes it super easy to switch containers. But it also has the downside of needing to be rewritten from time to time.
Another potential upside/downside to this is that the marker does actually permanently mark some surfaces. I'd recommend testing it in an inconspicuous area if you're not 100% set on having a permanent label.
Another DIY label that works for a lot of us is to simply use a label maker like this one, which has top reviews!
This is perfect for anyone who already has a label maker or anyone who loves the simple look of it. It's also a pretty affordable and multipurpose tool to have if you like having things labelled!
If you do order this label maker, make sure to also order these pantry label stickers that match it!

Here's what it looks like: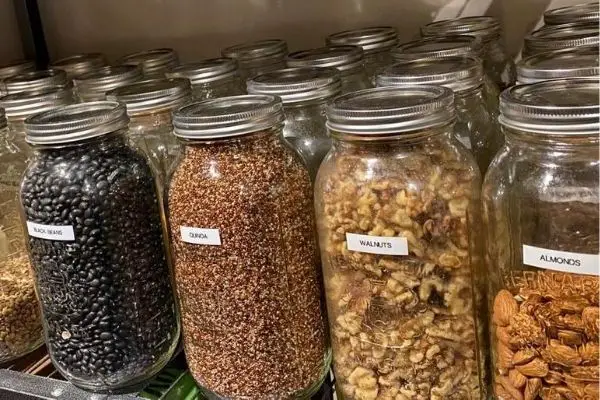 Now that you have some options for minimalist pantry labels, I'd love to know which one you went with.
Leave a comment below telling me which is your favorite pantry label for your kitchen. Did you buy any of these? Do you have any other tips or ideas for kitchen labelling?

Continue reading:
Budget-Friendly Minimalist Pantry Staples List
Mini Pantry Purge Challenge
Line Your Fridge With These to Keep it Neat & Organized!