Small mason jars are so handy and can be used for so many purposes from making gift-sized preserves to storing snacks or craft supplies. If you're anything like me, you can find a use for jars in any situation!
Tiny jars that fit in the palm of your hand also happen to be exceptionally cute!
I've gathered up a bunch of options for different small and mini sized mason jars so you don't have to sour the internet to find them yourself. I've made sure to only include small mason jars with lids because there isn't much point in getting them without lids anyway!
This page contains affiliate links which means I may earn a commission if you use them, at no additional cost to you. See disclosure policy for details.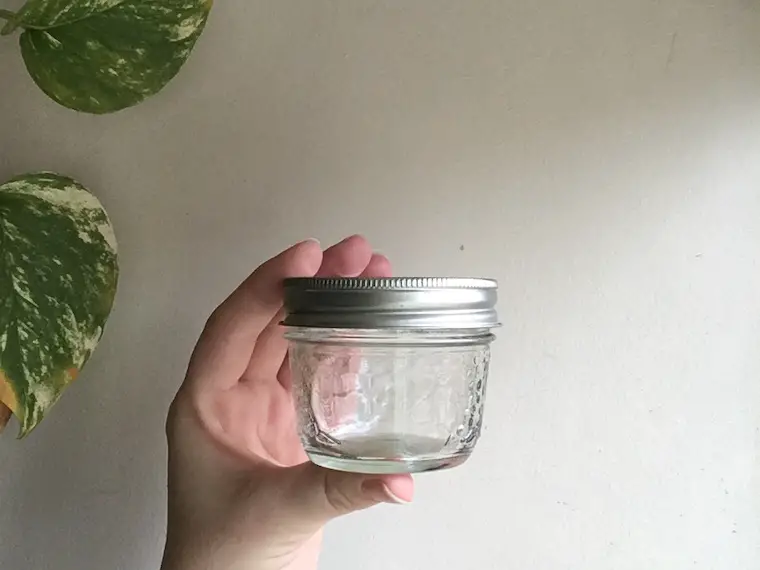 Small Mason Jars
Mason jars come in quite a few sizes, but the smallest 2 sizes are 2 oz and 4 oz. I would say 4 oz are definitely a bit more common and easier to find. I've included some different options of adorable small mason jars in both 4oz and 2oz sizes.
4oz Mason Jars
4oz mason jars are also called quarter pint mason jars or jelly jars. They're awesome for making preserves in gift-sized amounts, making crafts, packing snacks, or storing pretty much anything!
These ones come with either smooth or quilted-looking glass. I think the smooth glass is a modern touch while the bevelled glass has a really pretty antique vibe. Click the images above to have the option to zoom in on the images on Amazon.
2oz Mini Mason Jars
These 2 oz mini mason jars are absolutely adorable! They're the perfect size for sample-sized preserves, storing spices or condiments, or using as shot glasses!
To be honest, you can't really tell by the picture how small they actually are, but click through and you can see pictures with hands for scale.
Small Mason Jars in Bulk
If you're planning on using your jars to make a big batch of preserves or to use as matching storage containers, it's definitely a good idea to get them in bulk. Not only will it save you money from buing in smaller numbers, you'll also be sure that they'll all match.
You can easily get small mason jars in bulk on Amazon. I've included some 4oz and 2oz options above, or shop them all at the button below.
Mini Mason Jars With Handles
Small mason jars with handles are literally so adorable! Depending on the size, they make the best little glasses for juice or milk for kids. I remember always wanting to drink out of them at my cousin's house.
2oz mini mason jars with handles also make excellent shot glasses for adults!
They can also be used for all sorts of crafts and creative projects like candle making.
Micro Mini Mason Jars 1:12 scale
If you're looking for even smaller mason jars, check out these 1:12 scale mason jars! These are miniature sized for dollhouses. The 1:12 scale refers to the size being 1/12th of full size. So they're probably under one inch tall!
You can't actually use these jars for preserving (they wouldn't fit more than a single blueberry, if that!), but they're perfect for decoration or play.
FAQ
What can I put in small mason jars?
Small mason jars are the perfect storage containers because they have spill-proof lids and are clear so you can easily see what's inside. You can put spices, toothpicks, condiments, travel sized liquids, tea light, jam, snacks, drinks, craft supplies, gifts, toiletries, regrow green onions, fairy lights and more in these tiny-sized mason jars!
What is smallest size mason jar?
The smallest size of mason jar is 2oz, but 4oz mason jars are more common.
What are the different sized Mason jars?
Mason jars come in all sorts of sizes from mini mason jars to jumbo mason jars!

You can find 2 oz mason jars, 4 oz/quarter pint mason jars, 8 oz/half pint mason jars, 12 oz/three-quarter pint mason jars, 16 oz/1 pint mason jars, 24 oz/1.5 pint mason jars, 32 oz/1 quart mason jars, 64 oz/half gallon mason jars, and 128 oz/1 gallon mason jars.

Mason jars also come in wide mouth and regular mouth openings.
Why are there no Mason jars in stores?
More and more people have been interested in canning in recent years which has lead to a lot more people buying mason jars than usual and stores haven't been able to keep up with demand.
What is the difference between Mason jars and Ball jars?
Mason jars and Ball jars are just two different brands of canning jars. They're both good quality and come in the same standard sizes so use what you have or what you can find.
How big is an oz mason jar?
A standard mason jar is 16 oz but you can get mason jars as small as 2 oz.
If you plan to use your jars to store spices or food, check out these minimalist pantry labels!
If you're a fan of reusing jars, you might be interested in this article about how to remove labels from jars.
Whether you're looking for 2oz mason jars, mini mason jars with handles, small mason jars in bulk, or just a few regular 4oz mason jars I hope this article gave you some great options to consider!