Pros
Big discounts on high quality food
User friendly app
Helps reduce food waste
Fun way to try new food
Support local businesses
Cons
Not available in all regions
Popular options sell out quickly
Can't choose own pick up times
Food is usually a surprise (not the best for allergies or picky eaters)
This article is a comprehensive review of the Too Good To Go app and includes my personal experience with using Too Good To Go in Canada. I did read some reviews of the app online but none of them were Canadian and I found my experience to be a bit different so sharing it here in case you might find it helpful. 
I am all about saving money on groceries and reducing food waste so when I heard about the latest app that allows you to save money on food and reduce waste, I knew I had to try it. 
I don't eat out at restaurants often because of the price tag but when I heard that some restaurants were on Too Good To Go I thought it could be a fun way to try out new or different restaurants at a lower price!
This Too Good To Go review goes over what Too Good To Go is, how to use it, some pros & cons to look out for, my personal experience using it, and some common FAQs!
What is the Too Good To Go App?
Too Good To Go is a free app similar to the FlashFood app that helps people and businesses fight food waste by offering "Surprise Bags" of extra food at the end of the day to stop it from going to waste.
The surprise bags are valued at about 1/3 of the regular retail price and retailers include bakeries, cafes, grocery stores, and restaurants.
Users of the app can purchase these surprise bags at a discount so the food isn't wasted. Because food waste can be unpredictable, the surprise bags are just that – a surprise – but there are different categories of the bags including prepared food, baked goods, and produce so you do have some idea of what you are getting. 
Toronto was the first city in Canada to join the app in July 2021 and it started with over 100 partners, but it has now grown and includes locations outside of Toronto as well. There just may not be as many businesses on the app as you go outside the city. 
How do you use Too Good To Go?
Too Good To Go is pretty simple to use. Basically it's just like shopping online though your phone, then picking up your order in-store!
Download the app & create a login

Search for local businesses and see what they have to offer

Reserve an order

Pick up your order during the scheduled pick-up window
Once you download the Too Good To Go app and create a login, you allow the app to use your location to find local businesses that are listed.
Once you find a surprise bag that interests you, you click reserve and go through payment options. The bags are generally between $4.99-$7.99 and you can see how many bags are left to be reserved.
There is a pick-up time listed for each bag. Sometimes the pick-up time is for the same day but often they are for the next day and are usually in the late afternoon, around the time the business is closing. You go the business at the designated time and show them your order and then pick up your bag. You are able to cancel your reservation up to two hours before the pick-up time. 
You can also see how the surprise bags are rated for each business (using a five-star system) and they show the top three highlights of reviews, for example, friendly staff, quick pickup, and great amount of food. 
You can enter your preferences for favourite shops and eateries and personalize the locations and distance of places you want to be shown.
It may be helpful to personalize the locations based on areas you frequent. For example if you work in a downtown area there may be more locations and options there than if you live further from the city.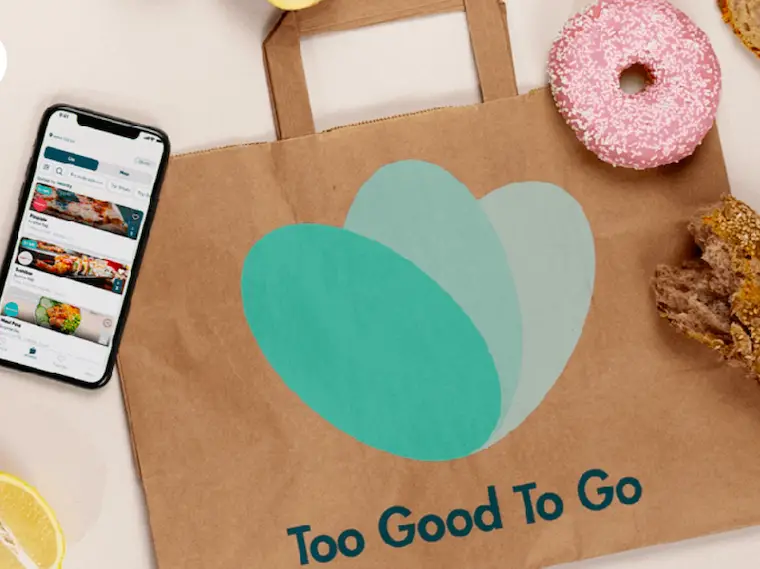 Is Too Good To Go legit?
Yes, it is! I have been using the app for a few months now and have been able to get a few good surprise bags. It's been in Canada since mid 2021 and in the US for a lot longer than that!
Pros and Cons of Too Good To Go
Pros:
The app is user friendly and easy to navigate. 
You can get high-end food at a big discount – high end grocery stores like Pusateri's Fine Foods, Summerhill Market and Eataly are on the app and offer daily bags in different categories (produce, prepared foods, baked goods). 
You are helping reduce food waste and supporting local food business, many of whom have had a hard time throughout the pandemic. According to Too Good To Go, 40% of all food is wasted so this app is a great way of putting good food to use.
If you are a foodie and like trying new foods, then this app is a budget-friendly way of doing so. 
There are a variety of different retailers including bakeries, grocery stores, cafes and restaurants. 
Cons:
Some of the more popular bags from higher end grocery stores and popular restaurants or cafes sell out quickly. You would need to be on the app frequently to reserve them. 
The pick-up is for the next day generally, so you need to be available at the designated time to go. 
If you have a lot of food allergies or intolerances, this app may not be for you since you don't know what you are getting. 
Depending on where you live, there may or may not be a lot of retailers. It just depends on which business are part of the app in your area. 
My personal Too Good To Go review: 
I was able to try a few new restaurants and cafes in my area using the app. They are restaurants I had been curious about, and the app allowed me to try them at a discount.
I found the staff very friendly at the places I went to and one of them even allowed me to customize what was in my bag based on my preferences which I thought was nice and consumer friendly.
Because you don't know what you are getting, I use this app when I am getting low on groceries to be sure that I can eat what is given to me before it goes bad; this works out well for the produce bags.
For example, if you happen to get something like bell peppers in a surprise produce bag, try making a recipe like my Ground Turkey and Black Bean Taco Skillet that pulls together the bell peppers and other pantry staples you are likely to already have on hand.
I also love browsing high-end grocery stores like Pusateri's (although I don't buy much because of the price point) and I have been wanting to get some of their surprise bags but they are always sold out and I haven't had any luck. 
If you are getting a restaurant meal or prepared foods from a grocery store, you can plan a night off cooking a day in advance which is a nice treat and can really help you if you're not that into meal planning. 
From Eisenberg's restaurant in North York, I got a vegetable and feta sandwich, a salad, two pastries (a Poppy seed roll and a hamantaschen cookie), and 4 bagels for $6.99!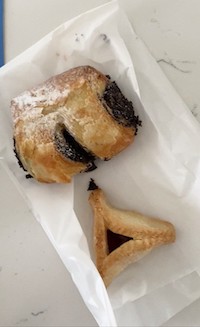 FAQ
Is the Too Good To Go app free or does it cost money?
It is free to use the Too Good To Go app, but you will pay for any food you choose to purchase through the app. The food is heavily discounted from the full price so you will save money compared to if you purchased the same food at full price.
What is the best time to check Too Good To Go?
The best time varies for each business, but generally food is discounted by the end of the day for same day or next day pick up.
How do you order from Too Good To Go?
Ordering from Too Good To Go is pretty easy. Simply sign into the app and browse what's available in your area. Reserve any offers you're interested in, then pick it up during the scheduled pickup window. Your card on file will be automatically charged to your card.
Where does Too Good To Go operate? Is it available in Canada?
Too Good To Go is available in cities across the US, Canada, and parts of Europe, and is continuing to expand world wide so check if it's available in your area!
Bottom Line:
This app is worth trying and experimenting with to see what is available in your area. It is a great way to get high quality food at a great price and possibly try something new and different. 
Author Bio: Christina Iaboni is a Registered Dietitian who creates easy and affordable recipes to share with readers on her blog. She also shares money saving tips and nutrition information to help you live well for less. 
If you found this Too Good To Go review helpful, you may also like these other money-saving program reviews:
Ultimate Checkout 51 Review (Promo Code Included!)
Ibotta Referral Code & App Review!
Get a $50 Opencare Gift Card When You See a Dentist!
Caddle Promo Code & App Review!
OhmConnect Review (& Referral Code!)
Public Mobile Review & Referral Code (We Save $2000 a Year!)
An Honest Goodfood Review – Canadian Meal Kit & Grocery Company