Pros
fun cooking experience
healthy meal options
high quality Canadian food
faster prep time
decent portion sizes
options for different diets
awesome sign up bonuses
easy to skip a week
Cons
excessive packaging
not very allergy-friendly
recipes sometimes contain mistakes
food not always perfectly fresh
may not save time
not bargain pricing
Goodfood is a Canadian meal kit & grocery delivery service. This Goodfood review includes my first-hand experience trying out Goodfood meal prep kits and Goodfood grocery service (called Goodfood WOW).
Goodfood prides themselves on supporting local farmers and strive to include at least 85% food that is grown or packaged in Canada. They aim to offer fair prices on their groceries and they also support Breakfast Club of Canada to help provide breakfasts to kids.
Overall I've had a good experience with Goodfood and would recommend them to anyone who is interested in trying meal kits or grocery delivery.
This article is based on my own experiences using their services and is not sponsored. If you are interested in trying Goodfood, you can get a $40 sign up bonus and I may earn a commission if you use my link.
This page contains affiliate links which means I may earn a commission if you use them, at no additional cost to you. See disclosure policy for details.
Goodfood Meal Kit Review
Goodfood meal kits are similar to other meal kit delivery services for Canadians, such as HelloFresh.
I've ordered their meal kits 4 times and always enjoyed the food!
I'm a Dietitian and my partner is a cook so we have fairly high expectation for food. We're usually disappointed in most restaurant food for the price compared to what we cook at home, so for us to be happy with the food from these meal kits is saying something!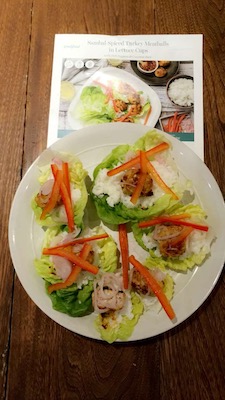 Since I value transparency (and am also a bit of a tough critic), I'm giving you my unfiltered Goodfood review by mentioning the things I don't like about their service.
To be perfectly honest, I don't use this service every week though because it is a bit pricy per serving and the meals are more finicky and take the same amount of time or longer than the regular meals we cook.
But if you're looking for a fun cooking challenge or to cook restaurant-quality food at home, Goodfood meal kits are a great option!
Here are some more pros and cons that I experienced with their meal kits:
Goodfood Meal Kit Pros
tasty, high quality food
healthy meal options (I'm a Dietitian and I approve)
decent portion sizes (enough food with occasional leftovers)
fun cooking experience (we learned cooking techniques & food combos we'd never tried before)
faster prep time for meals
meal kit options for vegetarian, low carb, quick prep, classic, slow cooker, sheet pan & more
at least 85% of the meal kit includes Canadian-grown & Canadian manufactured food
easy to skip a week
awesome sign up bonuses for first time customers. Get yours here
Goodfood Meal Kit Cons
time estimates seem off (takes longer than estimate, even for experienced cooks)
occasionally had a food item that wasn't as fresh as I would like
longer clean up time for meals because of creating extra dishes from mise en place
have to order several days in advance which requires advance planning (not my strong suit!)
don't have options for allergies or most special diets
several of the recipes had mistakes like missing or different ingredients in the instructions
more packaging than I would like (most is recyclable plastic or cardboard but not everything is recyclable)
price per meal is comparable to other meal kits, but maybe a bit higher (I haven't done a direct comparison)
Now I know meal kits aren't for everyone (mainly because they're a bit premium-priced compared to regular groceries), but Goodfood also offers grocery delivery service too!
Goodfood WOW Review
Goodfood WOW is a same day or next day grocery delivery service that is a newer addition to Goodfood.
They offer grocery store prices on name brand and Goodfood brand foods, as well as fresh produce and household goods.
I've tried other grocery delivery services before and have always been disappointed. But I decided to try Goodfood WOW based on the recommendation from a customer service rep.
Overall I've been pleasantly surprised!
In my area they offer 30-60 minute delivery which is literally less time than it would take for me to go to the store and back on my own.
After ordering a few times I'm happy to report I'm satisfied with their grocery delivery service!
I've tried a variety of the Goodfood branded products and they're all really good!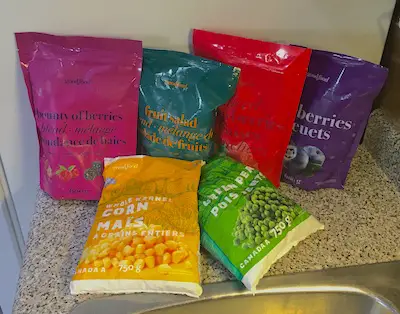 Plus they sell name brand products at or below grocery store prices.
I feel like finally I can get some groceries delivered without breaking the bank or being majorly inconvenienced!
Here are some pros and cons of Goodfood WOW grocery delivery service:
Goodfood WOW Pros
grocery store prices without ridiculous markup
fast and on-time grocery delivery
unlimited free delivery with low cost monthly subscription ($5.99)
low cost delivery without subscription ($3.99)
no minimum orders
sale items
eco-friendly items
easy-to-use ordering system
Goodfood-branded foods are high quality
delivered in paper bags – very little extra packaging!
awesome sign up bonuses for new customers. Get yours here!
Goodfood WOW Cons
limited product selection
must be home to accept delivery (it's delivered in non-insulated paper bags)
don't list important information about products online (ie: ingredients, allergy info)
Goodfood Promo Code
Goodfood offers promo codes and sign up bonuses for new customers. The offers vary from time to time. Sometimes you'll get free meals, or $$ off your first order.
This is a good incentive to try them out because who doesn't love saving money!?
Plus you can just order whenever you want – you're not locked in to ordering every week or anything. Simply log into your account and click "skip a week" in your delivery schedule.
If you'd like to try out Goodfood, make sure to sign up using a promo code or click here to get $40 free!
FAQ About Goodfood
How expensive is Goodfood?
Goodfood meal kits range in price between about $9-$14 per serving. The price varies depending on which meal type you choose, how many people and how many meals per week you order.

Generally you'll get the lowest price per meal if you order the vegetarian meals and/or order more meals per week.
Where does Goodfood ship from?
The location Goodfood ships from depends on where you're ordering from. They deliver to all the Canadian provinces but not currently the territories.
How long has Goodfood been around?
Goodfood has been around since it was founded in 2014.
Goodfood menu
The Goodfood menu changes each week. You can see the most current menu here.
Goodfood grocery
Goodfood grocery is also called Goodfood WOW. They offer same-day or next-day grocery delivery for a low fee depending on your location. See what's available in your location.
Does Goodfood offer free delivery?
Goodfood offers free delivery for all meal kits and for Goodfood WOW grocery delivery service members. If you're not a member, you can still get grocery delivery for just $3.99 with no minimum order amount.
Is it easy to cancel Goodfood?
It's easy to cancel Goodfood by simply reaching out to their support team by chat or phone 1-855-515-5191.
Goodfood refer a friend
You can refer friends to Goodfood and get a referral bonus. Currently you get $25 free credit and they get $40 free credit! The credit will be applied to your account once your friend signs up and make their first order.

If you're a new customer and want to get $40 credit, use my link.

You can also send 6 free meals to 6 of your friends by entering their email
Is Goodfood a Canadian company?
Goodfood is a Canadian company originating in Montreal but now available across the country (excluding the territories).

They also strive to support other Canadian companies by including at least 85% Canadian grown or packaged products in their meal kit boxes.
I hope my Goodfood review has helped you decide if it's right for you.
If you're ready to give Goodfood a try, sign up below to get $40 off your first order!
Keep reading:
Checkout 51 Grocery App Review
Ibotta Grocery App Review
Get a Visa Gift Card When You See a Dentist Through Opencare!
Caddle – Canadian Grocery Savings App Review!
OhmConnect Review – Save $ on Electricity!
Public Mobile Review – Affordable Canadian Phone Company
Too Good To Go App Review