Pros
Variety of offers
Sign up & referral bonuses
Pays cash, not gift cards
Multiple ways to earn
Easily stack with other discounts
Cons
Only available in Canada
Payment is via check, so have to wait for it to be mailed
Minimum cash out threshold
This article is a comprehensive Caddle app review, including common FAQs, plus my personal experience using it. (spoiler: it's great!)

I've also included an exclusive Caddle promo code that will give you bonus cash when you sign up and try it out!

Keep reading to learn all about Caddle!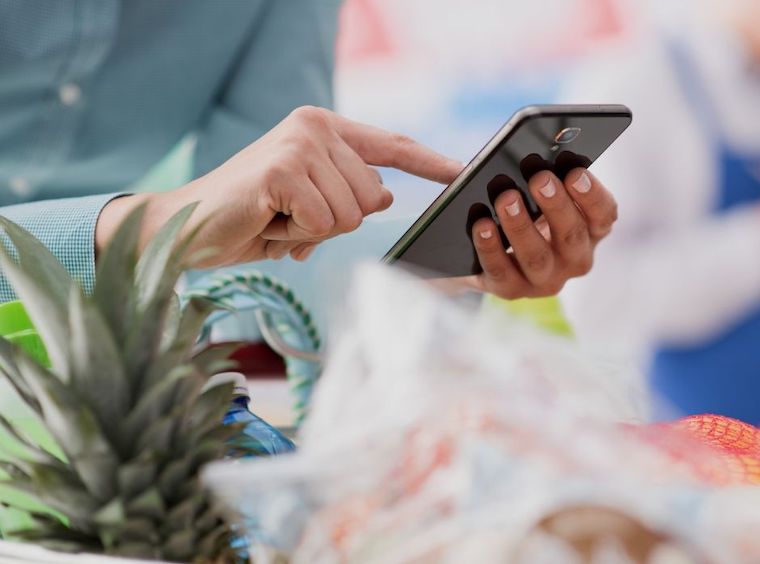 Caddle Promo Code
If you came here to get a Caddle promo code, no need to scroll any further!
To sign up to Caddle:
1. Copy the promo code: MNCJQI7HIQ
2. Click here to enter the code. The image below shows where to add it ↓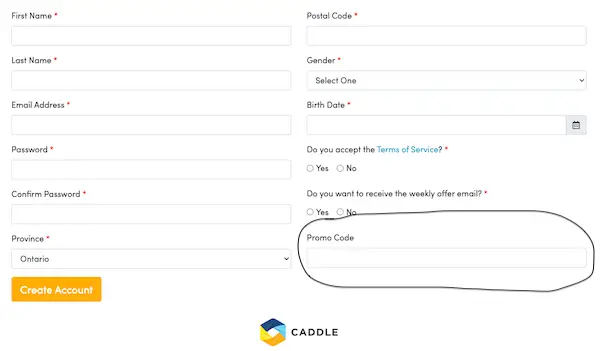 This page contains affiliate links which means I may earn a commission if you use them, at no additional cost to you. See disclosure policy for details.
Caddle Review
What is the Caddle App?
Caddle is a hybrid cash back and survey app.

It's similar to Checkout 51 in that you earn cash back on grocery and household items by simply uploading your receipts. Read my Checkout 51 Review for more info about that cash back app.
Unlike Checkout 51, Caddle also offers short surveys that allow you to earn some quick cash without having to buy anything at all.
Caddle is a Canadian company who were featured on the TV show, Dragons Den (a venture capital show). If you're interested, you can watch their episode below.

Spoiler: they got the money!
How Does Caddle App Work?
Caddle pays you cash back on purchases, surveys, and for watching ads or interacting with brands.
While the literal definition of caddle means to confuse, annoy, or tease, the app is actually really easy to use and not at all annoying (really not sure why they chose that name!?)

There are 3 main ways to earn money with the Caddle App:
1. Cash Back on Purchases
Caddle does a good job of offering cash back on everyday purchases like food and toiletries.
Their offers range from $1-$20+ per purchase.
For me, $1 or more off a product is worth my time to take a photo of the receipt!
Unlike physical coupons which are often lower value and take a lot more planning and time to use (sourcing, cutting, remembering to bring to the store, remember to give to cashier, etc).
They don't have as many offers as Checkout 51, but often they have offers on some of the same products so you can easily combine the offers on both apps to get even more cash back for the purchase!
2. Surveys
Answering surveys is actually my favorite part about Caddle.
Caddle surveys are super short, most taking less than 30 seconds (1-8 multiple choice questions). They pay $0.05-$0.25 each. It doesn't seem like much, but for the amount of time it takes, it's worth it.
Imagine picking up a coin you saw on the ground. Doing these surveys takes about as much time and effort as picking up a coin, so why not!
Plus, most of us spend tons of time mindlessly on our phones anyway, so may as well answer a couple quick surveys and get paid for being on our phones!
They have new surveys daily so the earnings add up much more quickly than with cash back offers alone.

Read my review of Public Mobile, the cheapest phone plan for Canadians
3. Watching Ads
Occasionally Caddle will give you the option to watch a short ad, usually 15-30 seconds. These usually pay about $0.25.
Considering we are forced to watch ads for free wherever else we go, I think it's great to be paid fairly well to watch them!
Often there will be additional opportunities to earn after watching the ad such as a short survey and/or high value cash back offer for the product.
Like what you've learned about it?
Sign up for Caddle now!
Step 1: Copy the promo code: MNCJQI7HIQ
Step 2: Click here to enter the code. The image below shows where to add it ↓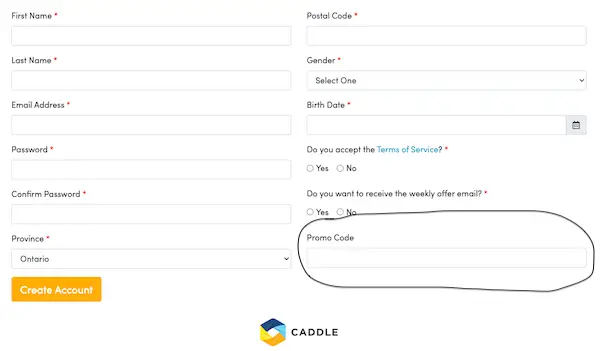 Remember to use promo code MNCJQI7HIQ to get your $1 sign up bonus! Hey, it's free money!
Caddle FAQs
I've answered some of the common FAQs from what people have asked me, but for a comprehensive list, you can see Caddle's FAQs.
Do they offer a promo code or signup bonus?
Yep! You can get $1 for signing up using my Caddle promo code: MNCJQI7HIQ
Once you've signed up, you'll get your own code to share with friends and family. You will get $1 for each person that signs up using your code, plus they will get $1 too!
According to Caddle, "Earn $ for each friend you refer. It's really easy, they just need to watch one ad and answer the questionnaire or complete a survey. No purchase required!"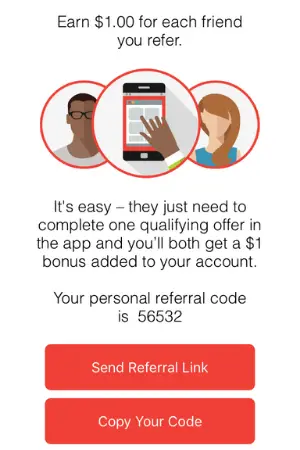 What do they have deals on?
Caddle has deals on non-perishable grocery items and household goods for the most part. It also has offers for first time users of subscription services, like a meal delivery kit, for example.
Most of the offers are available for a specific product bought at any retailer, but some are from specified retailers only, so read the details before you purchase the product.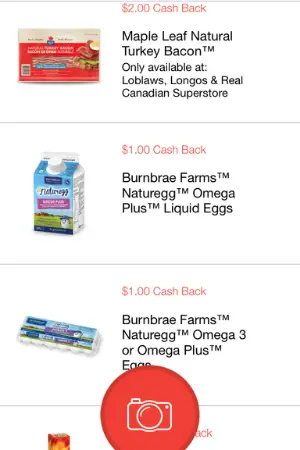 They even sometimes have offers for specific products on Amazon. All you have to do is upload a screen shot of your "order details" page on Amazon to get your cash back.
Example Cash Back Offers:
$2 cash back: Special K Protein Honey Almond Ancient Grains Cereal
$1 cash back: Pringles BBQ Mega Stack Can
$1.25 cash back: Kashi 7 Grain With Quinoa Chocolate Chip Granola Bars
*please note that the offers listed above are subject to change and you should check the app/website for the most accurate offers available to you*
See the most current offers here.
How do you get paid with Caddle?
Caddle pays in cash which is obviously my preferred payment method! They will send you a cheque when you request to pay out.
The minimum payout threshold is $20. I was able to reach that in just a few months without buying anything I wouldn't normally buy. The surveys really help your earnings add up and literally only take seconds.
Pros and Cons of Using Caddle
Pros of using Caddle:
variety of cash back offers on everyday foods like pasta or coffee (most offers are between $1-$6)
variety of extra high value offers. Ex: $20 cash back for signing up for a meal delivery kit from HelloFresh (note: offers change each week, this is just an example of one I've seen)
earn $1 when you sign up (using code MNCJQI7HIQ)
earn $1 for each person you refer using your own Caddle promo code. For example, if you sign up using my Caddle promo code, MNCJQI7HIQ, I will get $1 and you will get $1 for signing up. It's a win-win!
payment is in cash, not gift cards
easy to use from the app or your computer
multiple ways to earn cash back: cash back coupons, short surveys, watching ads, & referring friends
can be combined with other cash back apps, plus physical coupons, in-store sales and discounts, and store loyalty points
surveys are short & simple and help the earnings add up more quickly
available for Canadians
Cons of using Caddle:
payment via check sent in the mail which may take 3 weeks or more to arrive. I'd prefer etransfers!
can't cash out until you have at least $20, which may take several months to get
they don't have as many cash back offers as other cash back apps
not available for anyone outside of Canada yet (hopefully soon though! I will update this if they change that)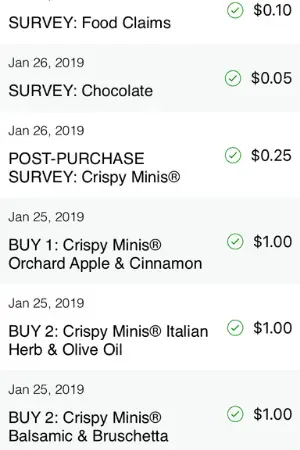 Is Caddle legit or a scam?
Caddle is totally a legit company and definitely not a scam! They have hundreds of thousands of happy users.
I haven't cashed out yet but I'll add a photo of my check here when I do to confirm it's legit.
Can you use Caddle and Checkout 51 at the same time?
Yes you can use Caddle and Checkout 51 at the same time!
Most of the offers on both Caddle and Checkout 51 have no stipulations saying they can't be combined with other offers. There are a few that do say that though so make sure to check each offer before you make your purchase.
You would also need to be in Canada to use both apps together as Caddle is only available to Canadians so far.
Can you use Caddle and Ibotta at the same time?
No you can't use both Caddle and Ibotta at the same time, unfortunately.

The reason is because Caddle is only available in Canada, while Ibotta is only available in the US! Hopefully they both open up to other markets soon!

If you're American and would like to try Ibotta read my Ibotta review.
Can I use it when I pay with food stamps, store loyalty points or gift cards?
YES! The method of payment doesn't matter when getting cash back, so you can use it even if you didn't pay cash. 
The only thing they require is that you have an itemized receipt so they can confirm that you actually bought the product.
Hacks for using cash back apps
People are always asking for Caddle cheats or hacks. I'm not into cheating the system and I wouldn't promote it to anyone else either, because then the app could be made less valuable or shut down altogether! 
However, these are some totally legitimate ways to use Caddle to it's full potential and get the most cash back:
1. Combine coupons, sales, markdowns, store loyalty, rewards points, & other cash back apps
Caddle allows you to combine discounts for most offers.
Occasionally there is an offer that specifies it can't be combined with other coupons, BUT you should always be able to combine cash back offers with store loyalty points, sales, and discounts.
I've even gotten PAID to purchase food after combining several of these methods! I'm not normally an extreme couponer, BUT sometimes the opportunity presents itself and you've just gotta go with it!
2. Use other people's receipts
Occasionally I ask friends and family if I can scan their receipt. It's good in a couple ways. 
Firstly, you can get a bit of cash back without even having to buy the product! 
Secondly, by showing them you earned cash back by taking a photo of the receipt, they might be interested in signing up themselves!
You can earn $1 for everyone you refer through their referral program, and the person you referred earns $1 for using your Caddle referral code, so it's a win-win!
Sometimes I even pick up receipts I find and look to see if there is any cash back opportunities on there. I would totally pick up a coin on the ground, so why not the potential to earn cash back from a receipt?
3. Use multiple accounts
You are only allowed one account per person, but if you have more than one adult in your household, you can each have an account!
In our house, both me and G have the app. He doesn't often use it, but we do use it when there is a super good offer that has a limit. 
For example, if we can get $1 off a block of cheese, and there is a limit of 1 per person, we just buy it on separate receipts and get the cash back offer on each of our accounts!
If you're interested in signing up for Caddle, make sure you use my promo code, MNCJQI7HIQ, in order to get the sign up bonus (you won't get a bonus without the code).
CLICK HERE to sign up!
Then Download the Caddle App:
Google Play
Apple Store
Have you used Caddle yet? How much have you earned so far?
Let me know in the comments!