Pros
Variety of offers
Sign up & referral bonuses
Pays cash or gift cards
Easily stack with other discounts
Cash back for "any brand" items
Easy to use
Cons
Only available in USA
Minimum cash out threshold
Occasional glitches
Need to save receipts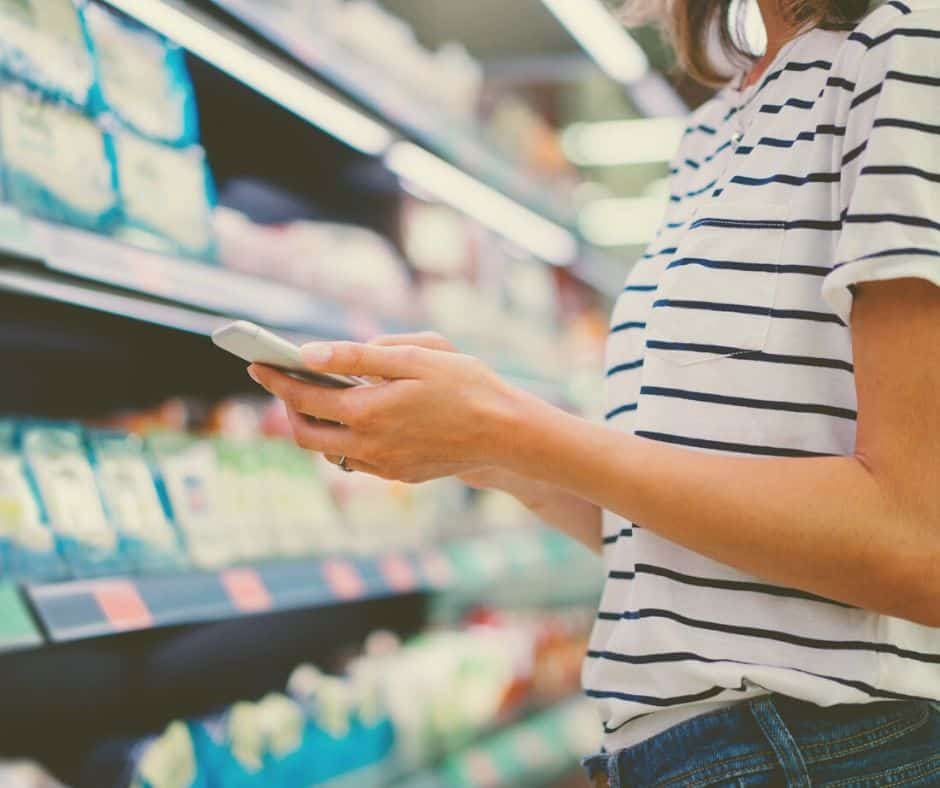 Ibotta Referral Code
If you came here to get an Ibotta referral code, no need to scroll any further.

Use code kamegg to get started with $10.00!

Click here to sign up!
If you're here to learn more about Ibotta, continue reading my Ibotta review including common FAQs, plus Ibotta reviews from several real people who use the app…
This page contains affiliate links which means I may earn a commission if you use them, at no additional cost to you. See disclosure policy for details.
What is Ibotta?
Ibotta is a free app that gives you cash back and rewards on everyday purchases like groceries, toiletries, clothing, electronics, and more!
They also have a browser extension for Chrome so you can earn cash back on all your online purchases! Get it here.
If you're still wondering "what is Ibotta?", watch this quick video:
Ibotta Reviews
Here are some Ibotta reviews from people who use and love the app:

"Love Ibotta! I love using this app before going to ANY major grocery store or ordering items online. It is an amazing money saver if you use it to buy the items you already buy and also to try new foods at a huge discount! I've made $745 to date!"

Kelsey Lorencz, RDN

"I LOVE Ibotta it's so much easier than other similar apps. It hooks into my Instantcart app so I never have to upload a receipt, just order my groceries from my phone and earn money!

When I want to earn extra, I look for the coupons and items that are on sale and cross reference to order those ones and get the deals and rewards. My husband also uses it for larger purchases like computers and earns money back!"

Michelle Solomon

"It's really easy to use, and as a mom of 4, I love saving money.

I used to hate clipping coupons and stopped this many years ago, but the Ibotta app is a lot more fun…

I just spend a few minutes before we go browsing through and adding deals–sometimes I even do this in the car if my husband drives! It's easy money that I didn't have before."

Gina Morris

I love Ibotta been using it for a few years. I've got a lifetime earnings of over $700…

Lately I've earned more because I use it for Amazon purchases and for paying at checkout at Walmart and a handful of restaurants. Biggest tip is to take a look at the app before paying at a restaurant or store you could earn 1-5% back.

Shannah Holt

"I love Ibotta, although I've just recently learned a few more ways to use it. My favorite coupon codes are the Any Brand coupons because I can use them for the things I really need."

Wendy Wallace
How does Ibotta work?
Ibotta gives you cash back when you purchase something they have an offer on. It's similar to using a digital coupon.
You can get the app, or use the Ibotta chrome extension to get cash back when you shop online!
All you have to do is upload your receipt and select the offers you'd like to redeem. You can cash out to your PayPal account or gift cards to your favorite stores! So easy!
How to earn money with Ibotta?
Ibotta welcome bonus/signup bonus
You get the Ibotta $10 welcome bonus when you sign up here and redeem your first receipt. Make sure to use Ibotta reward code kamegg to get your sign up bonus!
In order to get the Ibotta sign up bonus you need to be a first time user to Ibotta.
After you redeem your first receipt, the welcome bonus will be added to your account shortly. Learn more about the Ibotta welcome bonus here.
Upload Receipts
You can earn cash back on your purchases in 3 easy steps:
1. Open the app and search through the cash back offers
2. Select the offers you're interested in and make your purchases
3. Upload the receipt to the app by taking a photo of it.
Your cash back will be added to your account! Learn more about it here.
Below is an example of the earnings after a qualifying offer was redeemed.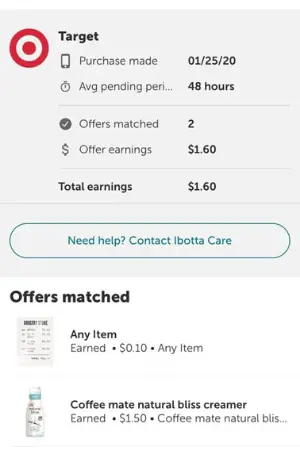 Pay with Ibotta
Get up to 10% cash back when you use "pay with Ibotta" to shop at select retailers. Ibotta even allows you to pay with your earnings or via a credit card using the Ibotta app. Learn more here.
Link your Loyalty Cards
Earn cash back automatically when you link your store loyalty cards. You just use your cards as normal and Ibotta will automatically credit cash back to your account for any qualifying purchases! Easy! Learn more about it here.
Ibotta Referral Bonuses
Earn referral bonuses from Ibotta when you refer your friends!
You get $30 for every 3 referrals ($10 per referral!) for any new user who signs up and redeems a coupon. Plus they each get $10 for signing up with you referral code too!
Once you've referred some friends, you can create a team on Ibotta which gives you opportunities to earn even more with special bonuses.
If you're a new user, click here to sign up, or use Ibotta referral code kamegg to get started with $10 now!

Read more about Ibotta referral bonuses here.
Ibotta Bonuses
Ibotta gives bonuses as a way to earn extra money by redeeming certain offers.
For example, you might get a bonus $2 when you redeem 2 specific offers at the same time. They might also have a bonus for redeeming a certain number of offers in a specific time period.
There are also often "hidden bonuses". You can find Ibotta hidden bonuses by checking the app regularly, subscribing to their newsletter where they sometimes post hints to the new hidden bonus. They are really trying to gasify money savings with the bonuses.
You can get bonuses for your team when you all meet certain redemption challenges.
Some Ibotta bonuses are even stackable!

Learn more about Ibotta bonuses here.
Ibotta FAQs
I've answered some of the common FAQs from what people have asked me, but for a comprehensive list, you can see Ibotta's FAQs.
There is a huge Ibotta Reddit community as well so you can search for your questions there.
What do they have deals on?
There are honestly so many deals on Ibotta! Anything from fresh produce and dairy products, to breakfast cereal, alcohol, and toiletries! They also offer cash back for online shopping from a ton of brands including on clothing.
You can see the most current Ibotta deals in the Ibotta app or here or see some examples below: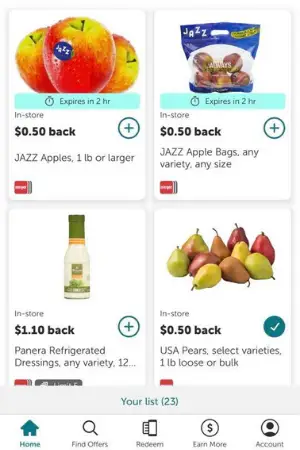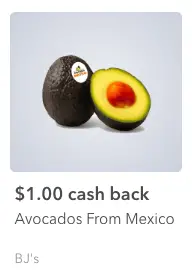 How much can you earn?
The Ibotta deals range anywhere from $0.10 off any brand milk, to $20 or more off purchases at Best Buy. Most of the offers are about $1-$5 off grocery items and toiletries.
Some offers are "free after rebate" which give you cash back on the manufacturer's suggested retail price! Sweet!
Kelsey Lorencz, RDN from Simply Nourished Home says:

"I've made $745 to date. I let my account build up over the year and before Christmas I will cash it out in gift cards to help buy Christmas gifts, it's helped us save a couple hundred each year at a time that can be stressful money-wise."
Natalie from Go From Broke earns about $1.00-$2.50 per redemption.
Sure, it's not going to replace her side hustle, but that amount of money could easily be put towards a few extra pounds of fresh produce to help your family eat a little healthier!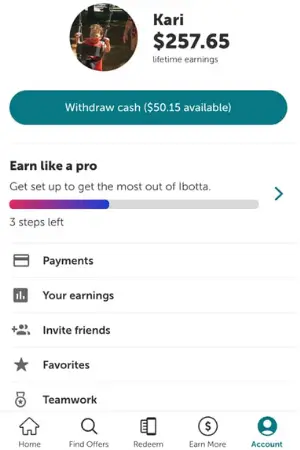 How to Sign up for Ibotta
It's super easy to sign up with Ibotta! Mainly you just need to be in the USA, then follow these easy steps:
1. Sign up right here. The reward code kamegg should be automatically filled in for you, but if not, make sure to add it to get your $10 welcome bonus. You can use your email, Facebook or Google accounts to sign up.

2. Redeem at least one offer within 7 days.

3. Cash out to PayPal or get a gift card! Easy!
How do you get paid with Ibotta?
Ibotta Paypal
I love that Ibotta lets you cash out to PayPal! To me, cash is the best value. You can use it anywhere, even to pay your rent, pay off debt, or add to your savings account!

You can withdraw your earnings as soon as your balance reaches $20.
Ibotta Gift Cards
If you prefer gift cards, you can cash out your Ibotta earnings into gift cards for tons of different stores!
This would definitely come in handy if you wanted to use your Ibotta savings to pay for next week's groceries! It'd also be great if you save it up for the year and use your savings to redeem for gift cards for Christmas gifts!
You can get Ibotta gift cards to stores such as Walmart, Starbucks, Amazon, Apple Music, Best Buy, Gap, Groupon, Hotels.com and tons more!
Just make sure you don't end up using your savings on something you didn't need just because you have a gift card!
You can transfer your Ibotta balance to gift cards starting at $20-$25, depending on the gift card.
That shouldn't take long at all when you get $10 just for signing up!
Pay With Ibotta
You can even use the Pay With Ibotta feature which allows you to pay with your earnings or via a credit card using the Ibotta app.
To pay with your Ibotta earnings, you buy an e-gift card for the store you want to shop at. When you go to check out, show the cashier the barcode and they will scan it. The payment will come off of the balance of your e-gift card just like it would if you were using a physical gift card!
Learn more about Pay With Ibotta here.
Ibotta Stores:
Wondering what stores you can use Ibotta at? You can see a list of all the stores they partner with here.
But to give you a quick overview of where you can use Ibotta:
Ibotta Amazon (including Amazon Prime)
Ibotta Aldi
Ibotta Costco
Ibotta Sam's Club
Ibotta Target
Ibotta Trader Joe's
Ibotta Whole Foods
Ibotta eBay
Ibotta Walmart (including Walmart grocery pickup and Walmart.com)
Ibotta Best Buy (including bestbuy.com)
Many offers are good for any store, while some offers are for a specific store. You can see which store the offer is for right below each offer.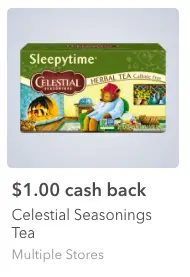 Pros and Cons of Using Ibotta
Pros of using Ibotta
$10 welcome bonus just for signing up! Get your bonus HERE
Can combine multiple coupons offers, sales, & cash back apps for maximum savings!
Cash back offers for "any brand" items
Cash back offers for high ticket items like alcohol & organic foods
Easy to use: just upload a picture of your receipt to the app and select your offers!
There are hundreds of retailers on Ibotta 
quick cashout process to Paypal, Venmo, or digital gift cards
Cons of using Ibotta
Only works with some online shopping (you need to have the receipt)
Minimum $20 payout. It shouldn't take long to reach it, but you can't cash out whenever either
Sometimes the receipts aren't read properly and you have to request them to re look at your receipt
Some of the details of the products aren't super clear
Ibotta is only available in the US. There is no Ibotta in Canada or other countries unfortunately 😢
What are some apps like Ibotta?
The most similar app to Ibotta is Checkout 51. They both offer cash back on food and household goods in an easy-to-use format where all you have to do is select the offers you want and upload your receipt.
The great thing about Checkout 51 vs Ibotta is that you can actually use them both at the same time and combine any offers!
You get a $10 sign up bonus for both Checkout 51 and Ibotta!

Caddle is also an app similar to Ibotta and Checkout 51 but available just for Canadians. Learn more about Caddle here.
Is Ibotta legit or a scam?
Some people may wonder 'is Ibotta safe?' or what are the dangers of Ibotta?
I've used plenty of cash back apps and can assure you that Ibotta is totally safe. It's not dangerous or a scam.
The only two possible downsides I could think of were:
1. You may be tempted to buy things you wouldn't normally buy.

This is a common tactic of coupons. The only danger is that you may spend more money than you normally would because you're trying to get the cash back deals!

As long as you're aware of this and make an effort to only buy what you would normally buy anyway, you'll be fine!
2. Ibotta sees what you buy.

Ibotta probably uses the information from your purchases for market research. But I'm not bothered if they see my grocery purchases.
You have the option to manually upload your receipts so if there is something you really don't want them to see you could just choose not to upload that receipt.
Plus, your credit card company, bank, and the grocery store are doing the same stuff with your buying habits. May as well get paid for sharing your data. 🤷‍♀️
Consumer Reports even recommends Ibotta in this article so you can be confident Ibotta is not a scam.
Does Ibotta work in Canada?
Unfortunately there currently is no Ibotta in Canada. Ibotta is only available in the USA.
Ibotta Canada is hopefully coming soon, but I haven't heard any confirmation of that.
I'll certainly be one of the first people to try it out when it does come here! I've been wanting to try it for years! I'll be sure to update this post when Ibotta opens in Canada.
There are other apps similar to Ibotta for Canadians such as Checkout 51 and Caddle which you should try if you're Canadian!
I even wrote an entire post about my favorite coupon apps for Canadians here.
Now that you know the ins and outs of the app, make sure you use an Ibotta friend referral code to get your bonus.

Use Ibotta referral code: kamegg to get $10 when you sign up here!
What other coupon apps do you like using? Leave a comment and let me know!
Read about similar money saving apps:
Checkout 51
Caddle
Too Good To Go App
Best Cashback Apps for Canadians
OhmConnect – Get Paid to Save Electricity!
14+ Frugal Tips to Help You Save Money In The Kitchen