Halloween is decidedly quite un minimalist in most ways. But I'm going to challenge you to that it is possible to decorate for holidays like Halloween without filling your house with plastic dollar store clutter!
Minimalist Halloween decor is often a combination of natural elements like branches, flowers, pumpkins, and leaves with some clutter-free Halloween decorations.
I think it's important to incorporate all of our senses into decorating for the season.
Instead of just things to look at, think of what you could include that adds seasonal smells, tastes, sounds and touch as well.
If you're making seasonal food like themed sugar cookies, put them on display! Light a scented candle and put on a creepy sound track.
To add even more Halloween flair without having to store decorations for the rest of the year, check out these minimalist Halloween decor ideas for some inspiration!
I've included Etsy shopping links for those who prefer handmade items or want to support small businesses, and I've also included Amazon links because I know how convenient they are to many of you!
This page contains affiliate links which means I may earn a commission if you use them, at no additional cost to you. See disclosure policy for details.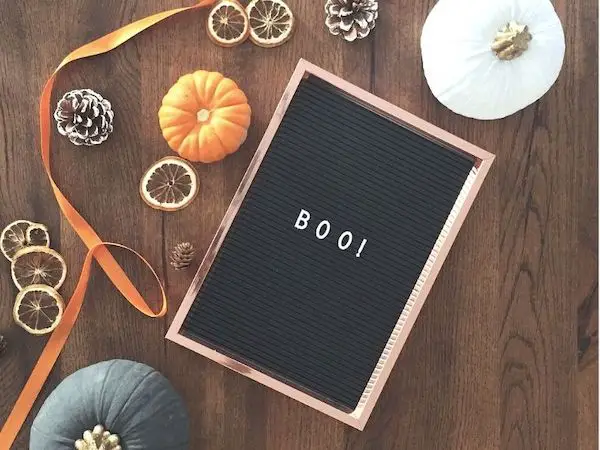 Minimalist Halloween Decor
Candles
A scented candle probably does more to set the mood than any amount of decor ever could. You can find soooo many delicious Halloween and fall-themed options below.
And unlike having a halloween-themed candle holder like these, a halloween candle can be burned up by the end of the season so there is no clutter for you to store from year to year!
Halloween Candles
If you're a Halloween lover or like the macabre, witchy, or spooky like:
Fall Candles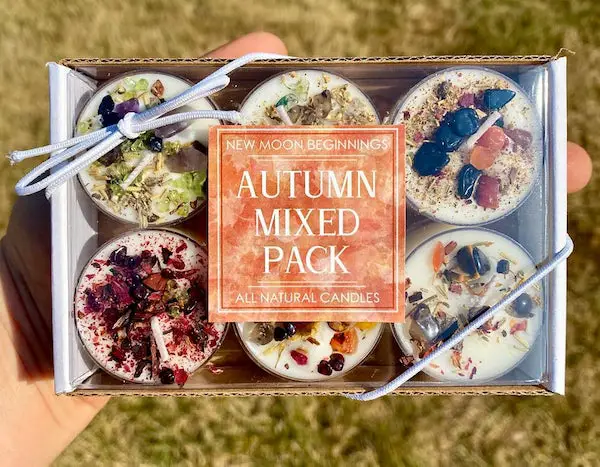 If you prefer a bit subtler approach to Halloween, go for a bit more traditionally fall scents!

There's nothing like autumn scents to get you in the mood for Halloween early and then easily transition right into Thanksgiving.

Think of any of these delicious fall scents filling your home and get in the minimal Halloween spirit:
Printable Halloween Decor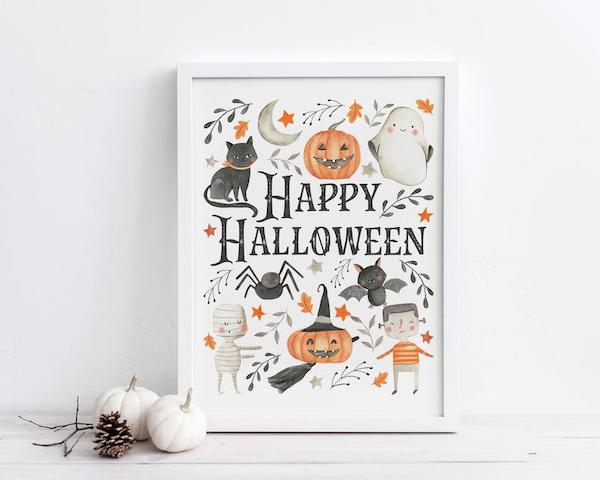 Printable Halloween decor is also super minimalist to get in the holiday spirit with virtually nothing to store! Simply print out a cute themed print and display it in a picture frame.
You could either save the artwork in a binder for next year, or print a new one next year. Switch the artwork out depending on the season and you can have your holiday spirit year round!
Check out these adorable minimalist Halloween printables, or browse by category:
Halloween Letter Board Icons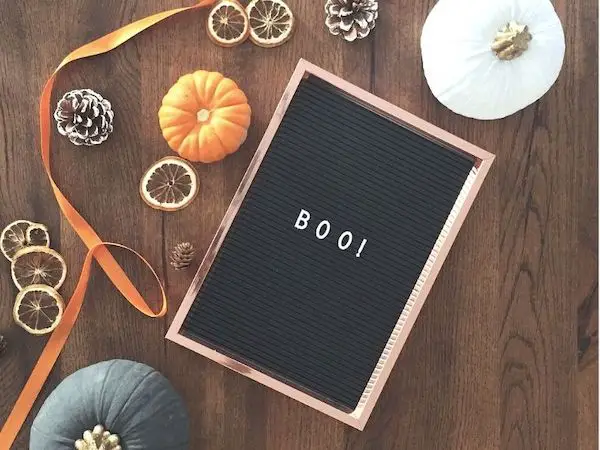 Use your letterboard to display a cheeky Halloween message. If you don't yet have a letter board, get one on Etsy or on Amazon.
Make sure to get some cute Halloween letter board icons! They can be stored with your regular letter board icons so they will not take up any more space in the off season.
Halloween Themed Hand Soap
Hand soap is perfect for a minimalist halloween! Put it out early October and it will get used up by the time Halloween is over!

You can get hand made Halloween themed bar soap or Halloween scented liquid soap.
Other Minimalist Halloween Ideas
Like I mentioned earlier, getting into the mood of the holiday can encompass so much more than just putting out a few decorations.
If you like planning, using Halloween stickers in your planner will give you some focused time to really get in the Halloween spirit!
Try some kids Halloween activities or do some Halloween baking. Here are some more ideas for you:
Minimalist Halloween Planner Stickers
Add some adorable Halloween planner stickers into your day planner to get you feeling festive without any clutter!
Halloween Cookie Kits
Make some halloween memories with a Halloween cookie kit!

You can still have all the fun of purple icing, orange and black sprinkles, and Halloween shaped cookies, without having to clutter your kitchen with those things like halloween cookie cutters you'll only use once a year.
If you're looking for some inspiration or are not the DIY type at all, check out these gorgeous pre-made Halloween sugar cookies on Etsy or support your local bakery.
Whether you go for mainly a minimalist decor aesthetic, or are more minimalist in trying to store fewer things, I hope you found some inspiration in how to decorate for Halloween!
If you want even more minimalist Halloween inspo, check out Etsy's Halloween shop here.
Read More:
Frugal Minimalist Black Friday
How to Have a Minimalist Christmas
Christmas Decor for Kitchen Cabinets
How to Host a Minimalist Dinner Party
Wondering what to do With Leftover Cranberry Sauce?