Wondering what to do with leftover cranberry sauce now that your holiday feast is over? No worries! I've collected 21 awesome ideas for what to do with it!
Whether you freeze it to use later, or recreate a new recipe with it, don't let that sweet and tart cranberry yumminess go to waste!
Use it in healthy snacks like smoothies, in baking and desserts, or in savory dishes like as a salad dressing or marinade for meat. I've listed a bunch of recipe ideas for you!
Some use just a little, while other recipe ideas use a lot so you can choose based on how much you have left. Also some recipes call for canned cranberry jelly, others for homemade cranberry sauce, but most could use either.
This page contains affiliate links which means I may earn a commission if you use them, at no additional cost to you. See disclosure policy for details.
Can you freeze leftover cranberry sauce?
Yes leftover cranberry sauce freezes very well! It's best eaten within 3 months, but will likely last even longer than that.
Freeze the leftovers in a freezer bag or air tight container like a reused jar.
You could even freeze it in an ice cube tray, then put the frozen portions in a freezer container. This is perfect if you wanted to thaw individual portions.
If you're wanting to use it up right away, here are some recipe ideas! Check out this cranberry cookbook for even more ideas!
Leftover cranberry sauce recipe ideas
Cranberry sauce snacks
As a Dietitian myself, I know that cranberries are a delicious and healthy food. Generally cranberry sauce is pretty heavily sweetened so not the same as the whole fruit, but it's still a good substitute for other jams, jellies or sweeteners in recipes.

Here are some ideas:
Canned cranberry dessert recipes
These jellied cranberry recipes should work whether you're using canned or homemade cranberry sauce.
Check out the list I've gathered for you below, or search for Ocean Spray jellied cranberry sauce recipes if you want more!
Leftover cranberry sauce bread
The first thing I think of when trying to use up canned fruit is muffins and loaves as there are just so many recipes out there. Leftover cranberry sauce loaf definitely sounds appealing!
This One-bowl Cranberry Sauce Bread (recipe) sounds easy to make and looks delicious.
I think this cranberry sauce banana bread recipe would be a fun take on traditional banana bread.
Leftover cranberry sauce muffins like these lemon cranberry ones or these gluten free cranberry sauce muffins would make healthy snacks.
Cranberry sauce scones
How about these cranberry sauce skillet scones? I'm such a fan of one-pan cooking/baking!
Leftover cranberry sauce bars
Bars use up a lot of sauce (1-1.5 cups) so you don't have to worry about it going to waste!
Cranberry sauce cake
Make a festive cranberry cake! Here are some delicious suggestions:
Leftover cranberry sauce cookies
This cranberry almond thumbprint cookie recipe only calls for 1/2 cup cranberry sauce so is perfect for when you need to get rid of just a small amount.
Cranberry sauce cobbler
This one uses real cranberry sauce, not cranberry jelly.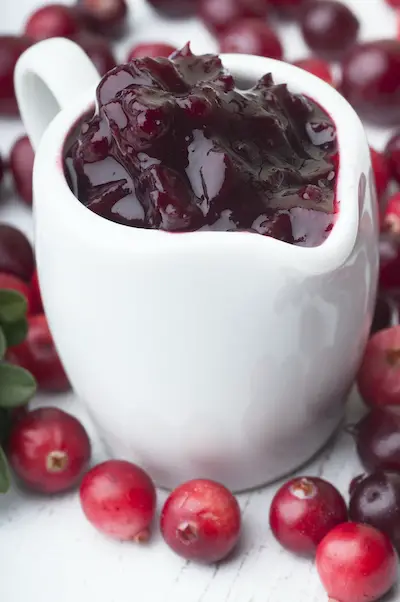 Savory recipes using cranberry sauce
You can always eat leftovers the same way as you originally served them, like eating it with leftover turkey, but it's great to mix it up and try serving it in different ways.

Here are some ideas:
I hope you found a way to use up that homemade cranberry sauce or the can of Ocean Spray jellied cranberry sauce with these recipes! What's your favorite way to use it? Let me know in the comments!
You might also like:
Tips for Hosting a Minimalist Dinner Party
25+ Simple Party Food Ideas