Going to the dentist can be pricy, but it's a necessary investment into your health. Using Opencare to get a $50 Visa gift card can help offset the price!

Learn how to use Opencare to get your own gift card, and read my review to learn about my firsthand experience using them.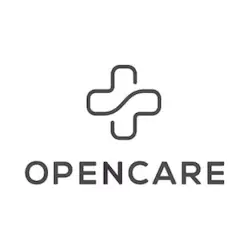 What is Opencare?
Opencare is a company that connects people with local dentists. The dentists pay a referral fee to Opencare, and Opencare then gives you a Visa gift card for using their service.
Once you head to their site, simply fill out the quiz and they will help you find a dentist that matches what you're looking for.
I think this is really helpful because they have questions about dental anxiety or and will show you options of local dentists who specialize in that.

This page contains affiliate links which means I may earn a commission if you use them, at no additional cost to you. See disclosure policy for details.
How can I get an Opencare gift card?
Opencare will give you a $50 Visa gift card when you sign up for a new dentist through their program.

All you have to do is find a local dentist here, go to your first appointment with the new dentist, then submit your receipt to Opencare.

You'll get your $50 Visa gift card by email shortly. So easy!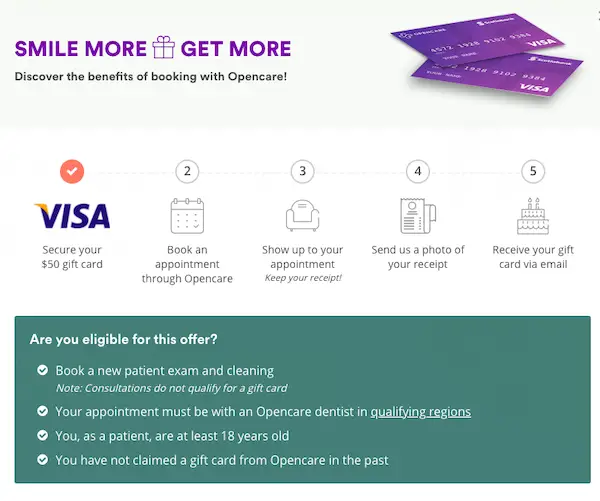 Is Opencare legit?
Yes Opencare is legit – I've used it myself and recommended it to several friends! We've all had no problems getting our Visa gift cards.

I'm recommending it here because I found the service valuable and wanted to help you decide if it's right for you too. I've added my review of Opencare below.
My Opencare Review:
You won't find many Opencare reviews online so I thought I'd add mine. I personally find a company feels more trustworthy when I can easily find information about them besides what they say on their own website.
I first heard about Opencare Toronto in a local Facebook group for saving money. I had recently moved to the city and didn't yet have a dentist so it was perfect for me!
They are available in many major metropolitan areas across North America. You can check if your location is eligible here.
I signed up using an Opencare referral link (this is mine) and was able to search for dentists in my area. I was surprised there were lots of options, all with good ratings.
I later found out that Opencare only works with top rated dentists, which is so great! You can even search for dentists based on certain criteria like whether they specialize in helping patients with anxiety about seeing a dentist.
I chose my dentist based on location, then narrowed it down based on ratings. As it turns out, the office as my boyfriend had already gone to was listed there so I went with them.
I booked an appointment, and was able to get in within a few days. I got the receipt for my appointment and submitted it to Opencare and had my Visa gift card sent digitally shortly afterwards!
I love that the Opencare gift card is sent digitally so you don't have to wait weeks for a physical gift card to come in the mail, but you can opt for a physical gift card if you'd prefer it.
I'm super happy with my dentist since they're nearby, have a good rating on Opencare, and my boyfriend also had a good experience with them.
Since then, I've referred a few people using my Opencare referral. When you refer a friend to Opencare, you both get a $50 Visa gift card! It's a win-win!

Sometimes Opencare offers promotions for a $75 gift card for new referrals rather than the usual $50.

If you'd like to wait to get the $75 Opencare promo instead of signing up for the $50, get on my list (sign up in the form below). I'll send a quick email whenever there's an Opencare promotion offering more than the regular $50 (I won't email you about anything else).
Pros of using Opencare
Get a $50-$75 Visa gift card for trying a new dentist (choice between physical or digital)
Makes it easy to find top-rated local dentists
Works whether you have insurance or not
Get $50-$100 Visa gift card for each person you refer through your personal Opencare referral link
Cons of using Opencare
Certain restrictions apply to who can get a gift card (see if you're eligible)
Must book your appointment through Opencare, not directly through the dental office
Find an Opencare Dentist
Opencare is available in many cities across North America. They even have Opencare Patients Choice Award for the top rated dentists! Search for dentists near you.
Find an Opencare Doctor
You can find an Opencare family doctor too! While the main focus of their program is on dentists, they have some family doctors as well. Find an Opencare doctor and get $50 Visa gift card after your first appointment!
Find an Opencare Chiropractor
You may be able to find an Opencare chiropractor too! While the main focus of their program is on dentists, they have some chiropractors as well. Find an Opencare chiropractor and get $50 Visa gift card after your first appointment!
Opencare RMT
You may be able to find an Opencare Registered Massage Therapist. While the main focus of their program is on dentists, they have some RMTs as well. Find an Opencare RMT and get $50 Visa gift card after your first appointment!
I hope you found this Opencare review helpful and get your gift card soon! Best wishes in finding a dentist that is a great match!
You might also like to try these other money-saving programs:
OhmConnect: pays you to save electricity!
Public Mobile: the cheapest phone plan in Canada!
Food Waste App Review: Too Good To Go