A master grocery list is a list of all the grocery items you would normally buy. Unlike a weekly grocery list that is written fresh each week depending on what you need to buy, the master grocery list stays the same.
The benefit of keeping a master grocery list is that you don't need to think of what you need from scratch before each shopping trip. The list is already there to spark your memory.
You're much less likely to forget something you need when you see a list of everything you might need right in front of you!
You can use it by simply crossing out anything you don't need that week.
An editable master grocery list is essential as it allows you to personalize it and add items that are specific to your family.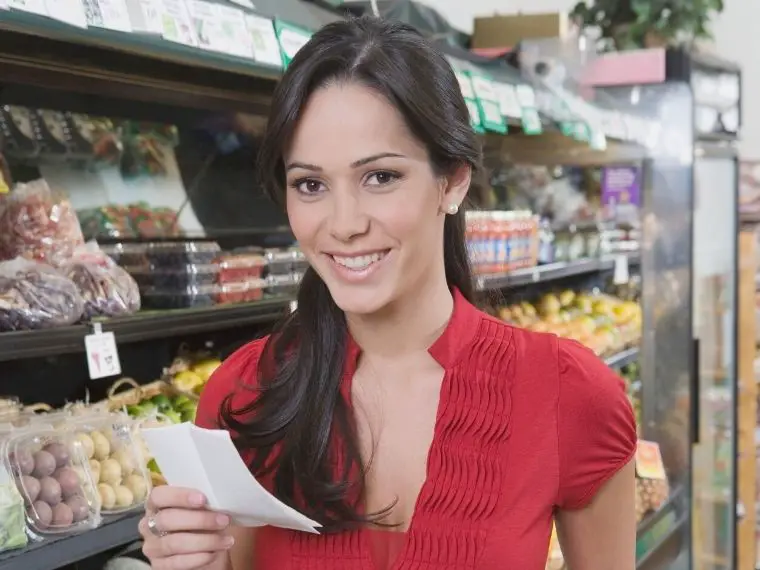 Many people who are fans of bullet journaling make inspirational master grocery list bujo spread ideas, but that's not me.
This master grocery list is based off the one I use in my house. It is based off of what we actually buy and eat.
For the most part, you'll see simple, whole ingredients. We are a Dietitian and a chef so we make most of our food from scratch and don't buy a whole lot of pre packaged foods, especially premade meals.
We eat a mostly western diet but do cook foods from other cultures regularly (think: curries, Asian noodle dishes, & Mexican food) so you will see some ingredients that are needed for those foods.
If you eat more premade foods or cultural foods, make sure to edit your own master grocery list to include foods your family buys.
How to use a master grocery list?
To use the master grocery list, simply refer to it to spark your memory on what you may need to buy in your next grocery trip. I cross off anything I don't need, then I'm left with everything I do need!
For my brain it's much simpler to look at what I don't need (what's still in my cupboards) rather than think of what I do need (the blank space in the cupboard!).
It also helps if you have an organized refrigerator and organized freezer!
Using the master grocery list in this way, you're going to be much less likely to forget something you need, as it's already written down on the list to spark your memory!
Here is my free master grocery list, divided by category to make it easy to shop the grocery store:
Vegetables
potatoes
sweet potatoes
carrots
turnips/rutabaga
beets
onions
garlic
cabbage
butternut Squash
kabocha/Japanese squash
spaghetti squash
acorn squash
pumpkin
radishes
cauliflower
broccoli
brussels sprouts
kale
head lettuce
spinach
mixed salad greens
parsnips
cucumber
bell peppers
jalapeños/hot peppers
snap peas
beans
tomatoes
cherry tomatoes
mushrooms
Fruits
apples
oranges
bananas
clementines
lemons
limes
grapefruit
grapes
kiwis
watermelon
pineapple
strawberries
blueberries
raspberries
mango
pears
Fresh Herbs
cilantro
parsley
thyme
rosemary
basil
mint
Pantry Staples
Dry Goods
flax seeds
pumpkin seeds
sunflower seeds
sesame seeds
almonds
peanuts
walnuts
trail mix
dried chickpeas
dried red lentils
dried green lentils
dried split peas
raisins
dates
dried apricots
dried figs
banana chips
apple chips
prunes
dried mango slices
breakfast cereal
natural peanut butter
cornstarch
bouillon cubes
stock (veggie, chicken, beef)
sun-dried tomatoes
dried mushrooms
nori wraps
Grains
steel cut oats
quick oats
white basmati rice
brown basmati rice
barley
couscous
spaghetti or spaghettini
fettuccine or linguine
penne
fusilli or rotini
macaroni
fun shaped pasta: shells, bowties, etc
lasagna
rice noodles
rice paper
crackers
popcorn kernels
cornmeal
Bread & Baked Goods
whole grain sourdough bread
hamburger buns
tortillas
pita
naan
croissant
Baking Supplies
whole wheat flour
all-purpose flour
white sugar
brown sugar
powdered sugar
honey
baking soda
baking powder
cocoa powder
chocolate chips
unsweetened shredded coconut
yeast
Canned Foods
diced tomatoes
whole tomatoes
tomato sauce
tomato paste
canned corn
canned baby corn
canned olives
pickles
pesto
canned peaches
canned pears
applesauce
canned orange slices
canned pineapple
fruit cocktail
canned pumpkin
coconut milk
canned salmon
canned tuna
mackerel/sardines
canned kidney beans
canned chickpeas
canned black beans
canned brown lentils
Oils & Vinegars
olive oil
neutral cooking oil: avocado, canola, or sunflower oil
coconut oil
flavored oil: chili oil, garlic oil
white vinegar
balsamic vinegar
apple cider vinegar
red wine vinegar
rice wine vinegar
Herbs & Spices
pepper, ground
whole peppercorns
salt
oregano
basil
thyme
curry powder
garam masala
turmeric
chili flakes
cayenne
chili powder
paprika
cumin
cinnamon
nutmeg
ginger
cloves
bay leaves
mustard
parsley
rosemary
sage
Italian seasoning
Poultry seasoning
Herbes de Provence
Prepackaged Snacks
granola bars
potato chips
tortilla chips
dark chocolate
rice cakes
Fridge
Dairy/Dairy Alternatives
milk/plant based milk
greek yogurt/plant based yogurt
cheddar cheese
parmesan cheese
mozzarella
butter
eggs
Meat, Poultry, Seafood, & Plant Protein
ground beef
beef roast
whole chicken
chicken legs/drums/thighs
chicken breasts
ground chicken/turkey
salmon/trout
white fish: tilapia, basa, etc
shrimp
tofu
tempeh
Condiments & Sauces
honey
yellow mustard
dijon mustard
ketchup
mayonnaise
salad dressing
soy sauce
fish sauce
Worchestershire sauce
pickled ginger
salsa
tahini
hot sauce
chili sauce
horseradish
jam
hummus
Freezer
frozen peas
frozen corn
frozen beans
frozen spinach
frozen berries
frozen tropical fruit blend
spring rolls
dumplings
perogies
Beverages
coffee
green tea
peppermint tea
sparkling water
wine
beer
spirits
Household & Personal Care
parchment paper
aluminum foil
coffee filters
toilet paper
paper towel
dish soap
facial tissue
shampoo
conditioner
bar soap
liquid hand soap
toothpaste
toothbrush
floss
deodorant
lotion