Lets start off with the question that begs to be asked:
What is a frugal minimalist pantry?
A frugal minimalist pantry contains the must have pantry items including dry goods, pantry basics and other staple foods you'll find in a minimalist kitchen.
It includes dried and canned foods, rice, pasta, oil, vinegar, baking supplies and herbs and spices.
The pantry list doesn't include seasonal or occasional items that are only used for that special recipe once per year. It also doesn't include fresh, refrigerated, or frozen foods. While you likely keep those on hand, they aren't counted as pantry staples.
These items are super inexpensive and versatile and can be used in many different recipes. Simplify your pantry down to these core ingredients to minimize pantry clutter, reduce food waste, and save time and money!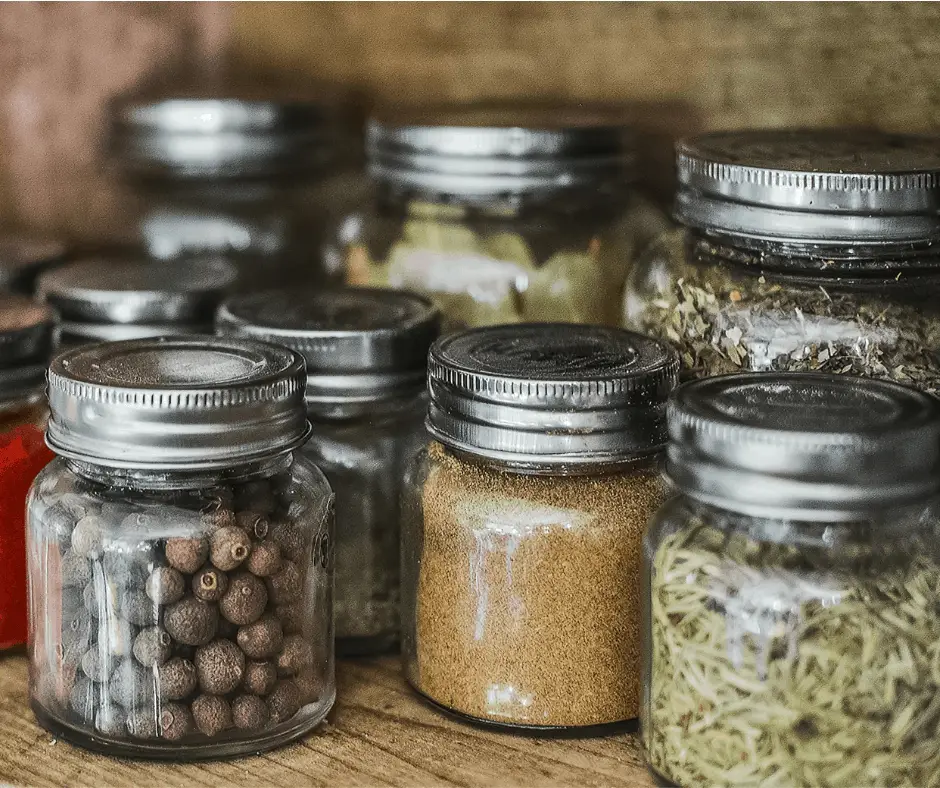 This page contains affiliate links which means I may earn a commission if you use them, at no additional cost to you. See disclosure policy for details.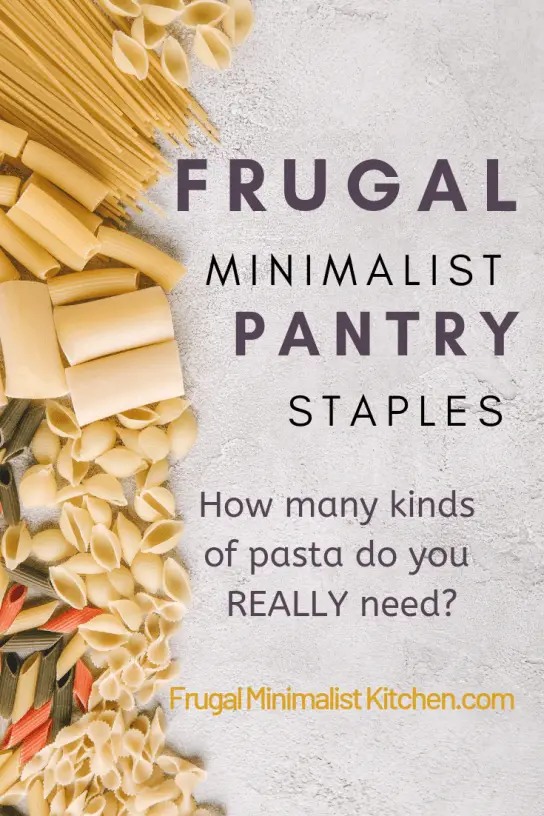 The key to a frugal minimalist pantry:
Don't keep multiples of everything on hand. The stores usually have sales every 6 weeks or so, so you probably don't need dozens of each item.
You also don't need to have one of every kind. For instance, you could have 2 or 3 types of pasta on hand at a time. You really don't need every type! If you don't plan to eat pasta every meal this week, you don't need every type of pasta in your house at once!
I recommend having one short pasta and one long pasta on hand at all times. Then you still have options, but it's not cluttering your pantry. You don't have to worry about getting sick of a certain type of pasta because once you use the one package up, you can buy a different variety the next time.
The same goes for almost any pantry staple you can think of: breakfast cereal, nuts & seeds, or beans. As long as you have a couple choices in each category, you can still have some choice at meal times, but you don't need every kind stocked in your pantry all the time!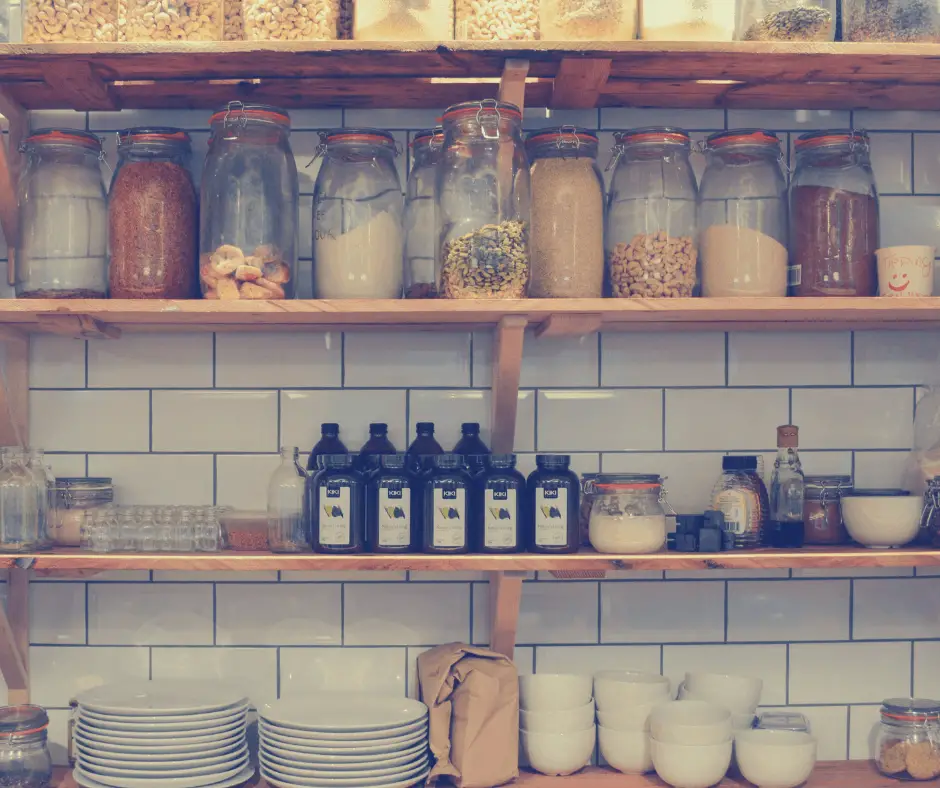 Keeping a frugal minimalist pantry…
…reduces clutter and overwhelm
Have you ever heard of decision fatigue? It basically refers to having too many options and allowing the options to overwhelm you. It doesn't even matter if the decision is big or small, they all drain our mental energy.
We only have a limited decision-making capacity so why waste it on which bean to put in your soup? Stick to this kitchen list of pantry basics to keep it simple!
…saves time
Having fewer options saves time, plain and simple.
Spend less time deciding which one to choose. Ever tried to order at a restaurant that has a 10 page menu? It takes so much longer to decide because there are simply too many options!
Spend less time knowing about each type of food. If you have 6 types of rice in stock, not only do you have to make a decision about which one to use, you have to take the time to learn how to cook each one, and then take extra time watching it because you're not familiar with cooking it yet.
Spend less time sorting and organizing all the varieties. The less cluttered, the easier it is to find things. No one wants to spend time looking for things!
Spend less time making a grocery list. With fewer individual items, it takes less time to check how many you have before you go to the store.
…saves money
By not having to have all varieties on hand at all times, you can take advantage of sales and get your pantry staples on a budget!
What I mean by this is, say you normally eat cereals A and B, but you're out of cereal B. Cereal C is on sale, while cereal B is full price. Why not get your 3rd choice cereal (cereal C) since it's on sale, and don't restock cereal B this time around.
If you normally keep 3 kinds of cereal on hand, you'd buy them when you run out, no matter the price. If you can be flexible, just get the sale option and only have 2 types of cereal for the week.
You could also try a different variety that's on sale instead of your usual one, or even have a different breakfast option, like oatmeal, until your favorite cereals go on sale again.
This way you'll save money and increase the variety in your diet because you're switching it up! It's the perfect way to manage your pantry staples on a budget!
Read more tips about saving money in the kitchen
…reduces food waste
Stocking all varieties of the same food category can potentially lead to unnecessary food waste. If you're unable to eat them all before they go stale, it is a total waste. Having fewer varieties of each on hand reduces the chance that this will happen.
For example, if you have 4 types of crackers at all times, your family may eat their first and second choices. Their third choice might be opened and tasted but they don't like it as much as the top choices.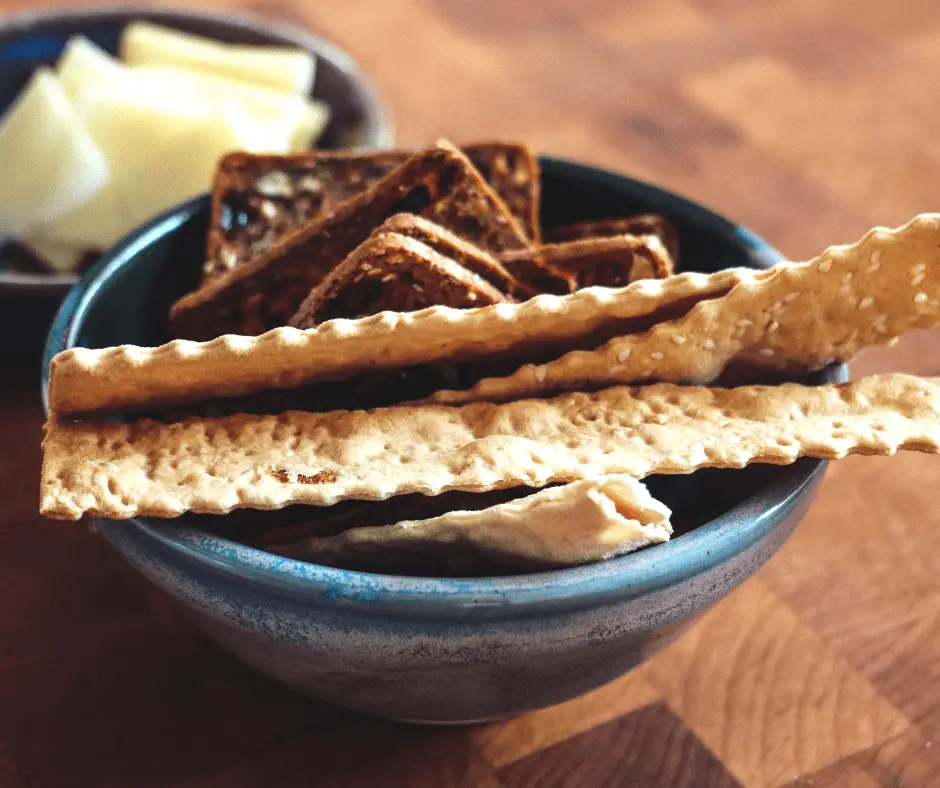 Once you see those varieties are gone, you stock up on them at your next grocery shop. The 3rd and 4th option sit there for months and then go stale!
I recommend just getting the top choices, or having one top choice and one other choice to keep variety. You know your family best so do what works better for you.
Now that I've (hopefully) convinced you why keeping your pantry staples both frugal and minimalist is the way to go, read on for my handy list of frugal minimalist pantry staples. It's a simple list of kitchen staples including pantry basics and must have pantry items.

Or get a free pantry staples list printable below!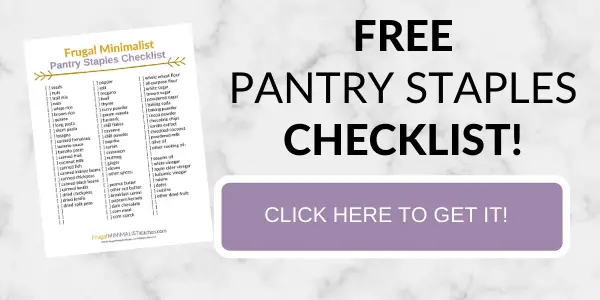 Please note, your pantry staples list can and will vary from this, and that's totally ok! Use this as a basis and add foods you eat a lot, or take away foods you never eat. The whole point is to help you find what works for you!
You might also like creating a simple kitchen
Frugal Minimalist Pantry Staples:
Dry Goods
The dry goods are the base of your pantry. They are usually inexpensive and store for a long time. They make the base of many meals.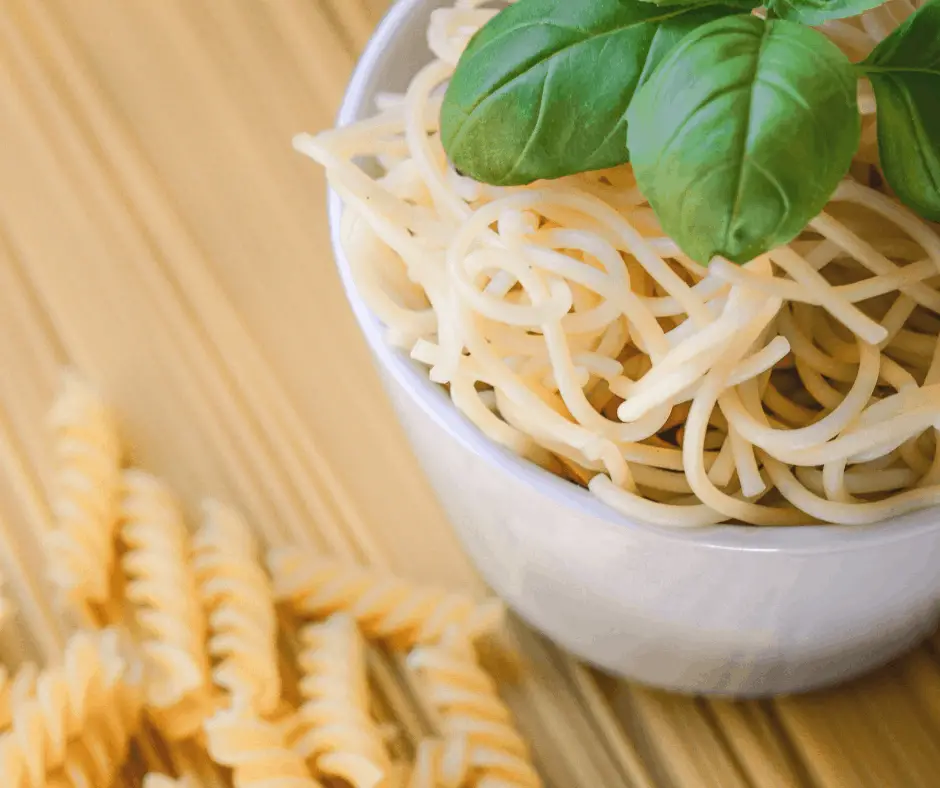 Nuts & Seeds
seeds: 1-3 of chia seeds, pumpkin seeds, sunflower seeds
nuts: 2-3 of almonds, peanuts, other nuts
trail mix
Grains
oats
white rice
brown rice
long pasta: one of spaghetti, spaghettini, fettuccine, or linguine
short pasta: one of penne, fusilli, rotini, macaroni, shells, other
lasagna: I don't always have on hand as we don't make lasagna that often
Canned foods
canned tomatoes
tomato sauce
canned fruit: usually peaches, pears, applesauce
coconut milk
canned fish: 1-2 of salmon, tuna, mackerel, sardines
Beans & Lentils
canned kidney beans, chickpeas, black beans
canned brown lentils
dried chickpeas
dried red lentils, green lentils
dried split peas
Dried fruit
raisins
1-2 of dates, craisins, other dried fruit
See my list of other long lasting fruits
Other dried goods
2-3 types of breakfast cereal
peanut butter
2 types of crackers
dark chocolate
popcorn kernels
cornmeal
cornstarch
Baking Supplies
Depending on how much you bake, these might be optional items.
If you never bake, at the very least I'd recommend having all-purpose flour and sugar on hand, as they're often called for in recipes.
I'd also recommend having baking soda because it does wonders for cleaning!

Read 21 uses for baking soda in the kitchen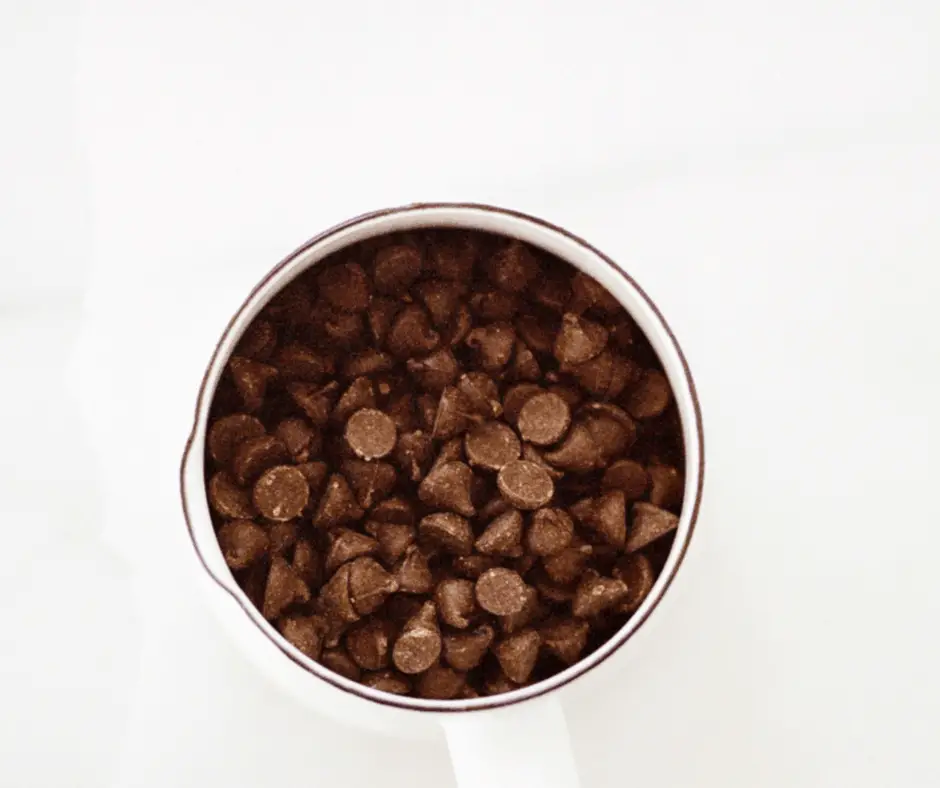 whole wheat flour
all-purpose flour
white sugar
brown sugar
powdered sugar

mainly for making icing if you bake cakes, cupcakes or cookies

baking soda
baking powder
cocoa powder
chocolate chips
unsweetened shredded coconut
powdered milk

I always sub powdered milk for fresh in baking to save money!
Oils and Vinegars
Oils and vinegars are mainly for cooking and seasoning food. They're so versatile and inexpensive so they're worth always keeping on hand!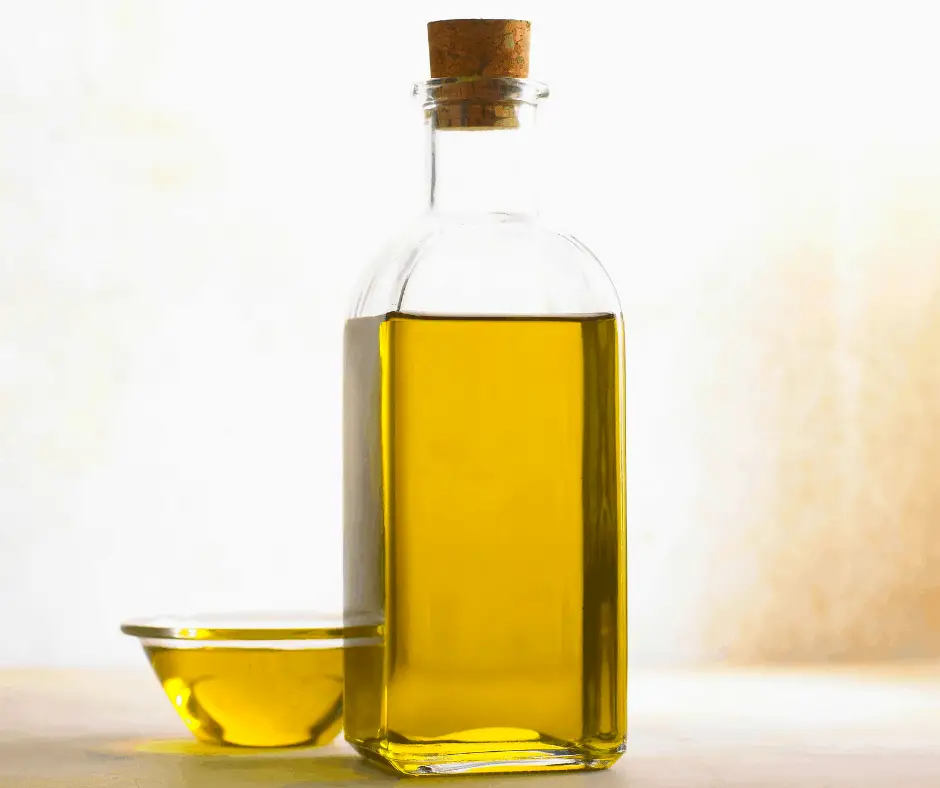 olive oil

good for salads and low heat cooking

neutral cooking oil: avocado, canola, or sunflower oil

something that withstands high heat and has a neutral flavor that can be used in baking
choose one

flavored oil: sesame oil, coconut oil, chili oil, garlic oil
white vinegar

use for cooking and cleaning!

flavored vinegar: apple cider, red wine, etc

use for salad dressings and marinades
choose one or two
Herbs and Spices
I would choose all of these on the list because I use them all regularly.
There may be some that you never use, or others that you use all the time.
The key here is to only keep spices you use regularly, otherwise they're just going to clutter your cupboard while getting stale. Just saying!
In addition to only keeping on hand what you regularly use, only buy herbs and spices in amounts that you'll use up as well.
There is no point in getting a good deal on a Costco-sized container of something if you won't use it up before it goes bad!
Personally, I don't like buying most spice blends because I find that it only takes a few extra seconds to make the blend myself.
For example, pumpkin pie spice is just a ratio of 4:2:2:1 cinnamon, nutmeg, ginger and cloves. Why keep an extra jar when you can easily just mix it when you need it?
On the other hand, I can see how you might prefer to have the premixed seasoning if it was a bit more complicated, or if you use it all the time. I do that with curry powder blend!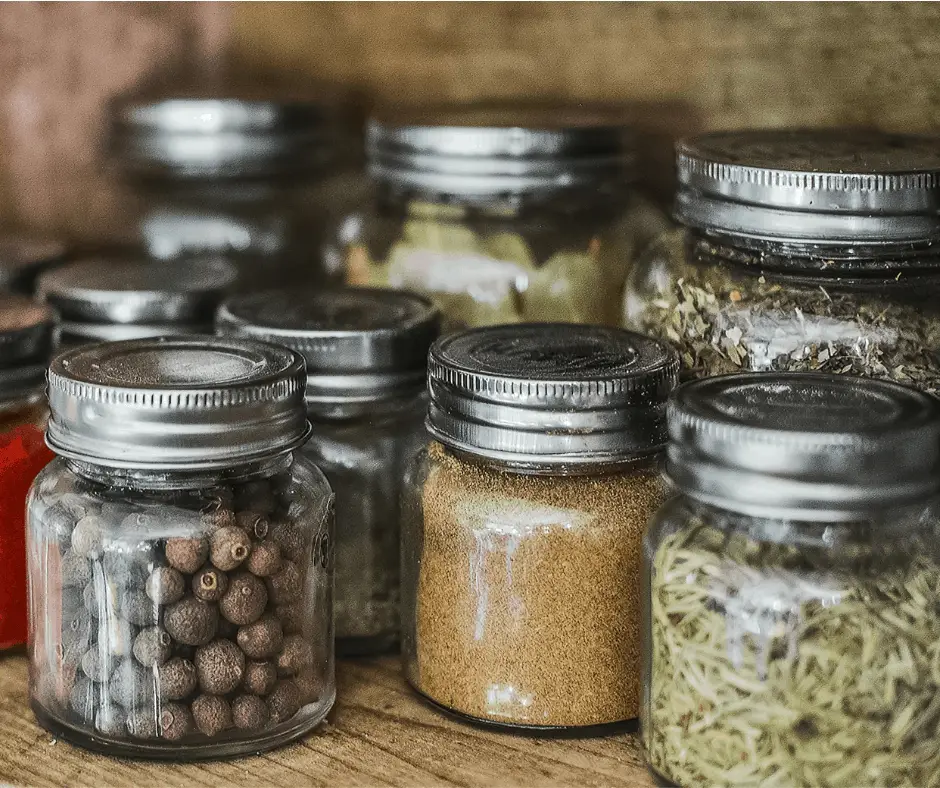 pepper
salt
oregano
basil
thyme
curry powder
garam masala
turmeric
chili flakes
cayenne
chili powder
paprika
cumin
cinnamon
nutmeg
ginger
cloves
Read: Cute Pantry Label Ideas
The pantry staples we go through most are flour, rice, oats, sugar, salt, pepper, nuts, seeds, canned tomatoes, coconut milk, cinnamon, curry, peanut butter.
What you won't find regularly stocked in our frugal minimalist pantry:
chips
pop
candy
heat-and-eat meals
canned/instant soup
It's not that we never eat these foods, it's just that we don't regularly keep them in stock.
We buy them occasionally for a treat or if there is a good sale, but once they're gone, we don't bother restocking.
bouillon cubes
extras of refrigerated foods like condiments

We usually just buy them when there's about 1/4 left and keep the next container in the fridge so it stays organized. Then we don't have a bunch of miscellaneous things in the pantry.
I also didn't include things that we buy occasionally or seasonally, just our regularly stocked pantry staples.
As you can see, the frugal minimalist pantry staples I listed are versatile and affordable.
They can be used in many different recipes which makes it easy to minimize pantry clutter, reduce food waste, and save time and money!
Anything you'd add or take away from this list? Let me know in the comments!