A simple kitchen is one where you have what you need to cook and enjoy your time in the kitchen, but nothing more. It is clutter-free, clean and organized, as well as styled in a way that appeals to your simple design aesthetic.
The kitchen is where we gather to eat and spend time with loved ones, but it's also where we cook, prep, and clean.
So it's no wonder that creating a simple kitchen can feel like a daunting task.
But don't worry! In this blog post, you'll learn how to create a simple kitchen in just a few easy steps.
By the end, you'll have a beautiful and functional space that you can be proud of.
This page contains affiliate links which means I may earn a commission if you use them, at no additional cost to you. See disclosure policy for details.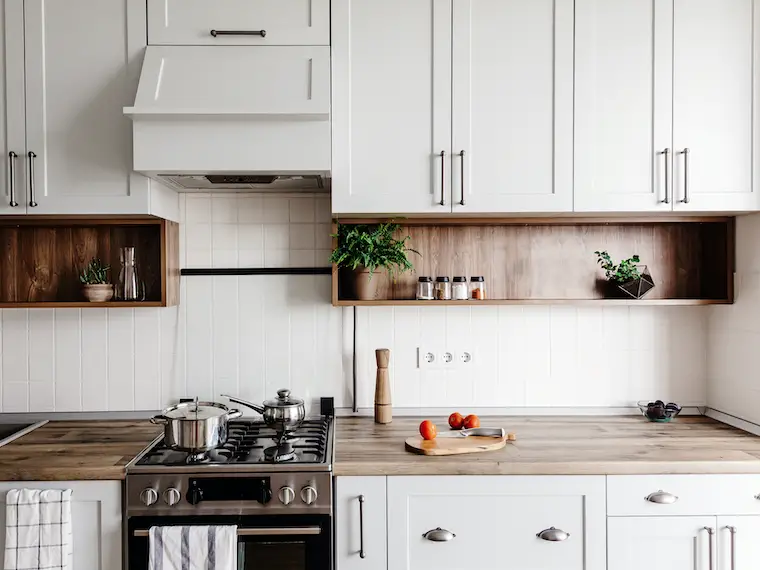 Define Your Kitchen Goals
There is no one-size-fits-all answer when it comes to creating a simple kitchen, as the function and style will be tailored to your individual needs and goals. However, by defining your goals for your kitchen, you can simplify the process significantly.
You're going to want to define what areas of your kitchen you want to simplify.
Do you have too many kitchen gadgets and want to declutter?
Is your pantry disorganized and overflowing with food but you can never find what you're looking for?
Do you struggle to cook and meal plan because it's all too overwhelming?
Do you just want a more simple, understated kitchen design?
Remember there's no one right way to create a simple kitchen. Just do what feels right for you!
If you need a bit more convincing on why a simple kitchen would benefit you, here are few points:
A simple, minimalistic kitchen is easier to keep clean because there are fewer items.
This means that it will be less likely that dirt, dust, or grease will accumulate unnoticed.
Additionally, a minimalist layout allows for enough storage space so that all of your cookware and utensils can be easily accessed.
It's also important to consider what you actually use in your kitchen – this helps to create a functional layout.
For example, if you often meal prep or ingredient prep, then include provisions for doing so in your kitchen design, such as a handy compost bin and enough room for meal prep containers.
If you frequently bake then consider creating a baking section that has the baking supplies nearby, sufficient counter space, and is in a convenient proximity to the oven.
By taking these factors into account during the planning stage of your kitchen project, you'll have a much simpler overall experience!
Gather Simple Kitchen Inspiration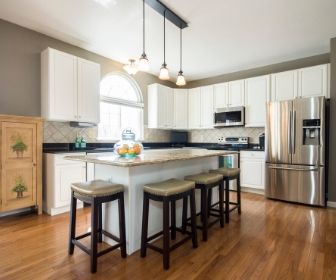 Think of how you want to feel in your kitchen and think of the projects you'd like to do that will help you get there.
When you're simplifying your kitchen, it's important to keep in mind the following tips:
Look for kitchen ideas that make you feel relaxed and happy. This will help to create a functional and comfortable space in which to cook.
Keep it simple. Choose a style that is easy to maintain. This will save you time and money in the long run.
Consider what you really need in your kitchen and get rid of anything that is superfluous. For example, if you don't frequently use a certain type of knife or appliance, get rid of them to save space and reduce clutter in your kitchen.
Essential Minimalist Kitchen Knives: How Many Do You Actually Need?
Finally, remember to buy quality over quantity. Buy fewer things that will last longer. This can be tough when it comes to cooking supplies, but it's worth it in the end!
Assess Your Kitchen's Needs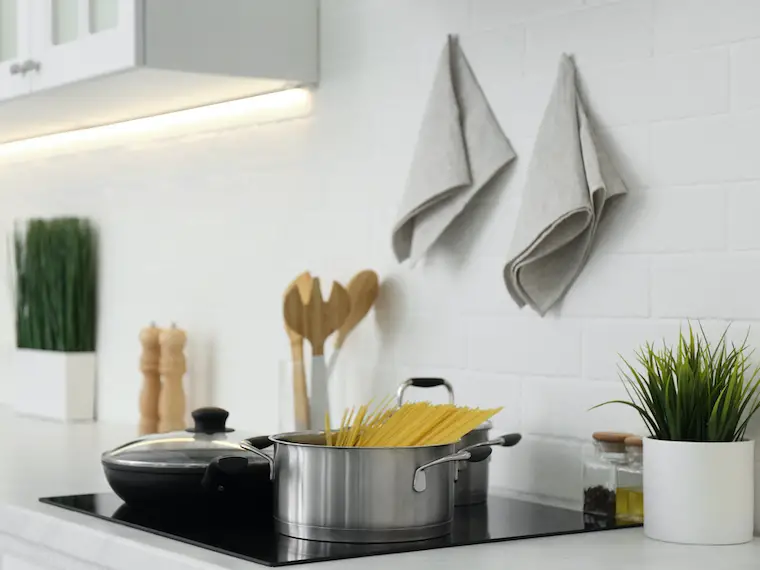 Making the kitchen more functional can also be helpful when it comes to simplifying. Remember that simplifying is about more than just having fewer things! It's also about making your life easier and less stressful!
For example, adding a dishwasher will reduce the amount of time you spend washing dishes. Plus it will minimize the visual clutter of dishes in the sink. Now you'll have more time and mental energy to use for things you enjoy more than washing dishes by hand!
Kitchen appliances can be a big investment, and it can be difficult to decide which ones to buy.
However, you don't need many appliances to cook simple meals. In fact, you may only need three or four key kitchen items in order to cook a meal. Think: stove, pot and spoon; or oven, baking dish, oven mitts, and a spatula.
In order to make the most efficient use of your kitchen, it is important to assess its needs. This will help you decide what appliances are necessary for cooking simple meals.
For example, you may only need a convection oven like this one that is specifically designed for baking or roasting food with the convection option, and can do away with a counter top air fryer. This will save you money and space in your kitchen.

Finally, get rid of anything you don't use on a regular basis. This includes old spices, outdated pots and pans, and any junk items in your kitchen cabinet.
4 Signs You Need to Declutter Your Kitchen
Unique Tips on How to Maximize Space in a Small Kitchen
Doing this will not only make your kitchen look cleaner, it will also free up storage space in your home for other things.
Create a Plan
Creating a simple kitchen starts with creating a plan.
When creating your kitchen plan, it is important to consider both your needs and wants. By understanding your preferences, you can create a kitchen that meets all of your needs and wants.
Additionally, by considering the layout of the kitchen, you can create a space that is both functional and efficient.
When designing your kitchen, keep in mind the following factors:
How much counter space do you need?
Do you prefer open or closed spaces?
Do you want an organized or unorganized space?
What type of appliances do you have (stovetop, ovens, refrigerators)?
Once you have answered these questions, it is time to start putting pieces together.
Declutter and Donate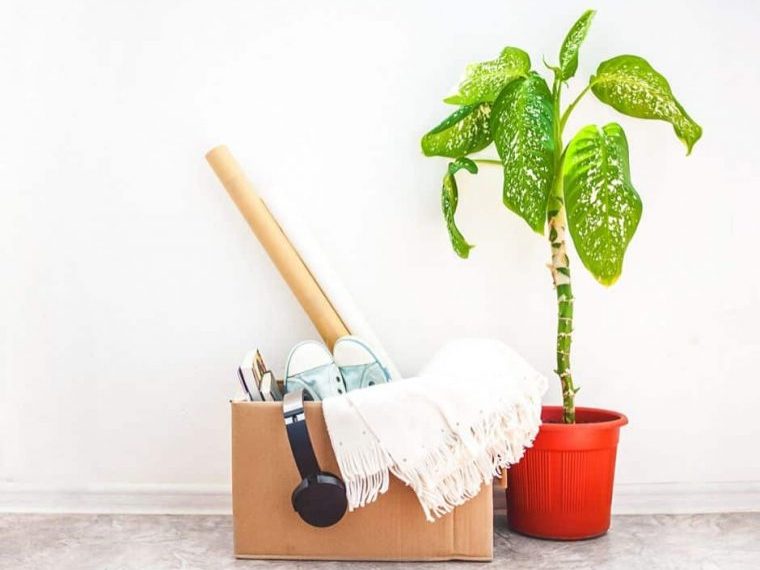 If you're like most people, you have a lot of junk lying around your house that you don't need or use. Think of the outdated pantry food, or multiple wooden spoons.
Get rid of expired items and duplicates. Go through your pantry, fridge, and cabinets, and get rid of anything that's old or that you don't use regularly.
This will save you time and energy later on, when you're cleaning and organizing what's left.
Donate or sell any items you don't need.
If you have appliances or other kitchen gadgets that you never use, get rid of them!
7 Minimalist Decluttering Tips to Help You on Your Minimalist Journey
4 Signs You Need to Declutter Your Kitchen
Mini Pantry Purge Challenge

Deep Clean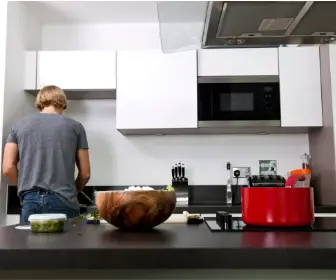 Now that you've gotten rid of what you don't want or need anymore, it's time to deep clean your kitchen!
While everything is out, clean the inside and outside of you cupboards. You don't often have your cupboards clear, so take advantage of this time to quickly wipe off any dust, grease or smudges.
Next, thoroughly clean your fridge and freezer.
Remember to also wipe down any dust or spills on your small appliances or outside of food containers before you put them back.
This ensures you won't be slowed down by cleaning when you go to organize things in the next step.
If this all seems a bit overwhelming, you might find some helpful tips in How to Get Motivated to Clean When You're Overwhelmed by Mess
You might also like:
Why Is Your Kitchen Cleaning Taking so Long?
The Best Fridge Liners to Keep Your Fridge Clean
Organize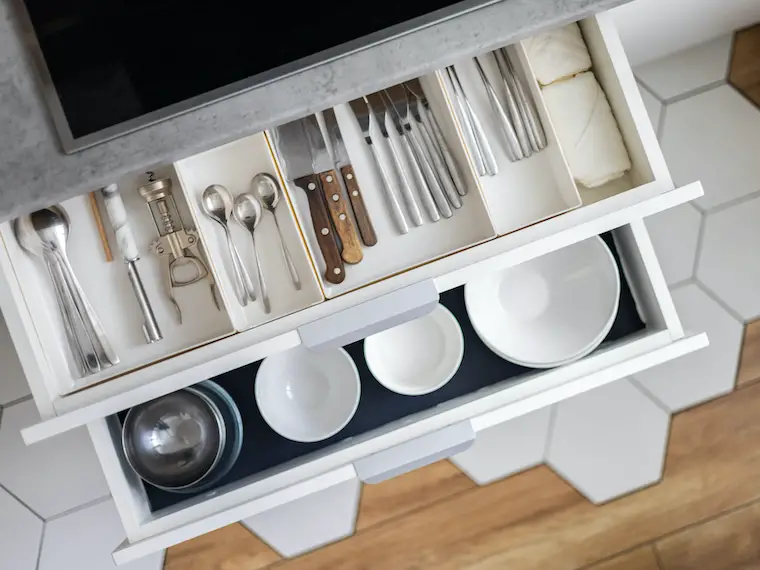 Organizing your kitchen can be a daunting task, but it's important to take the time to do it if you want a simple kitchen.
It may seem simpler at first to just put everything away as quickly as possible, however, taking a bit of time to intentionally put things away in an organized manner will help you keep your kitchen tidy and running efficiently in the long run.
By organizing your kitchen in a way that is functional and efficient, you will make it easier to access the items you need.
Once you're ready to get going, it's time to start assigning places for everything. This may seem like an impossible task at first, but start small, like organizing the spices on one shelf.
Don't try too hard to make everything perfect right away.
Instead, allow yourself some room to grow and edit your organizational system over time. It doesn't have to be final so don't let that stop you before you even get started!
When all is said and done, you'll be left with a beautifully simplified space that feels more comfortable and functional than ever before!
You might also like:
25 Fridge Organization Ideas You Need Now!
Freezer Organizers: Use These Tools & Ideas to Tame Your Freezer
Simplify Meal Time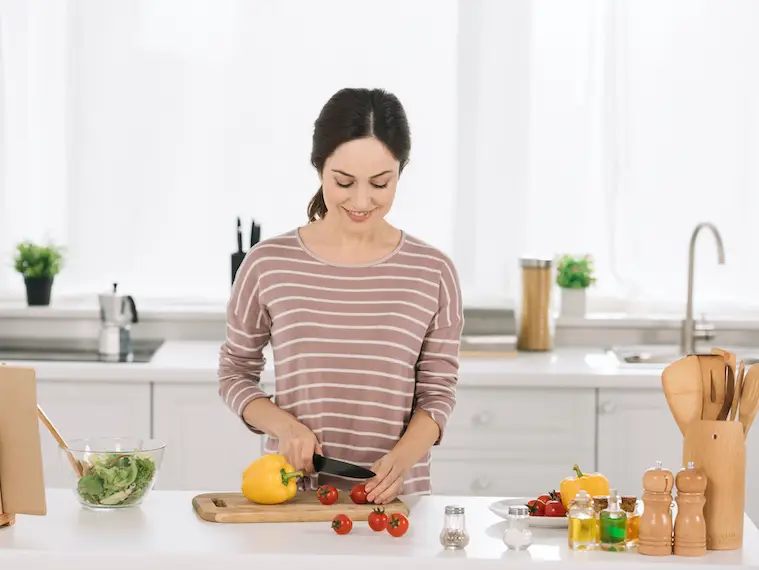 Having a simpler kitchen forces you to be more organized and intentional with what you cook and eat.
This means that you'll save time and money by not having as many appliances, dishes, and food items.
Cooking may actually become more enjoyable when it's not such a production.
One of the best ways to simplify your meal time is to cook fewer dishes for each meal.
Instead of having a main dish and multiple side dishes every meal, try cooking with just one or two recipes per meal. This might look like cooking "one dish" recipes such as slow cooker, instant pot, stir fry, curry, soup, casserole, etc.
Additionally, try cooking meals and prepping ingredients in batches so that you don't have to constantly clean pots, pans, cutting board and knives and can even plan it so that you don't have to cook a new meal every night of the week!
We like to make a double batch of a recipe and eat it one night, then freeze the leftovers for a quick meal some other night.
It's also helpful to chop vegetables for the next few days in one sitting, instead of chopping them while cooking each meal.
Additionally, a simpler kitchen is easier to keep clean.
Remember, you can't have a pile of dozens of pots and pans to wash when you only keep what you will use to cook a meal. This way the mess won't build up to unmanageable levels.
If you're looking for more ways to simplify meal time, check out these simple meal planning ideas.
Enjoy Your Simple Kitchen!
Finally, by decorating your kitchen in a way that reflects your personal minimalist style, you can create a space that is both uncluttered and serene. This appeals to the minimalist aesthetic more than the functional aspects of minimalism, but if this is a priority to you, then it's worth doing!
Consider items such as a minimalist dinnerware set with coordinating mugs and plates, minimalist utensils, small appliances, and linens such as dish towels, etc.
You might like: The Kitchen Essentials List You NEED
In addition to accessories, consider adding decorative elements such as potted herbs on a shelf, art or framed prints on the walls, etc.
Finally, once everything has been selected and placed where it should be in accordance with your design plan, take some time to test different layouts until you find one that works best for YOU!
Creating a simple kitchen doesn't have to be difficult. By following these easy steps, you can create a beautiful and functional space that is perfect for your needs.
So what are you waiting for? Get started today!
You might also like:
Minimalist Kitchen Organization Ideas to Get Your Kitchen Under Control
4 Signs You Need to Declutter Your Kitchen
7 Minimalist Decluttering Tips to Help You on Your Minimalist Journey
12 Effortless Kitchen Organization Tips, Ideas, & Hacks