Last year we got a new dinnerware set. It is simple, classic, minimalist dinnerware.

Let me tell you, being frugal and a minimalist, I didn't see the need for a new set of dishes. The ones we had were a simple white set.

Sure they had a few chips and we were missing a bowl and a couple mugs from the set, but they were doing their job of serving us food just fine!

So you may ask, why did I get a new set then?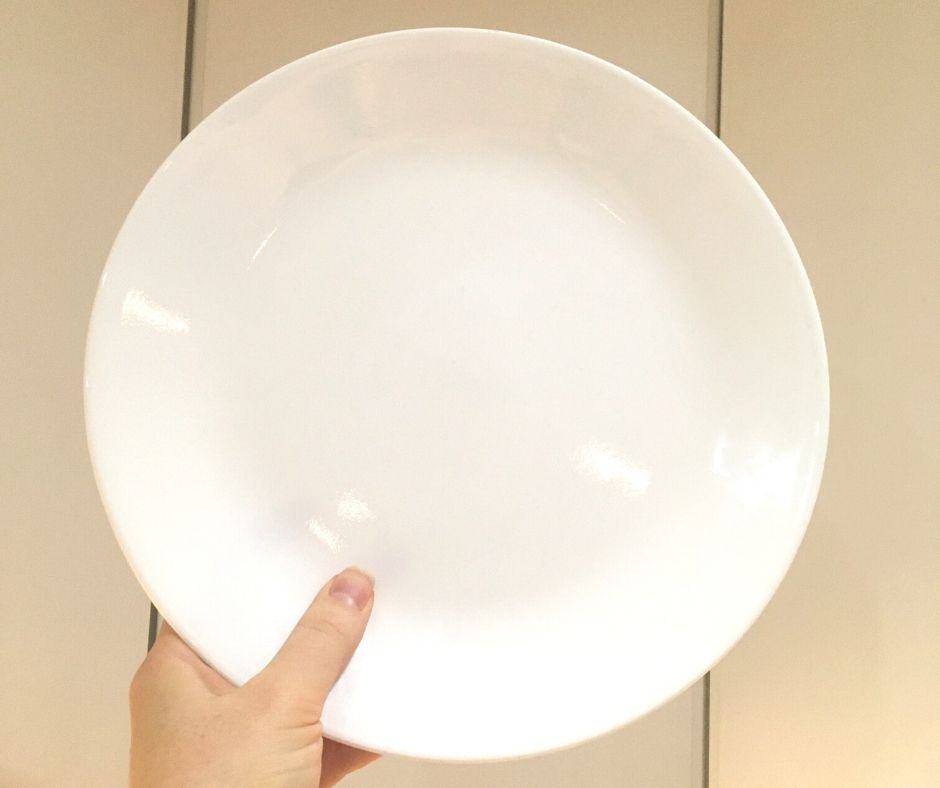 Well, it was around the time of G & my birthdays and his mom was asking what we would like as a gift. Of course we said thank you, but we really don't need anything.
As she insisted, G mentioned he wouldn't mind a new set of dishes. He didn't like that our current dishes didn't stack well in the dish rack and often fell and made a clamour.
Of course he didn't feel super strongly that we needed a new set or anything, but since that was the only thing that came to mind, we accepted MIL's gift of a new set of dishes.
She insisted we pick something out ASAP.
G and I had both grown up using Corelle dishes and liked that they are very durable and long lasting, as well as affordable. They have lots of attractive designs too!
Since we're minimalists (ok, mainly just I'm a minimalist) we decided to go with this timeless minimalist dinnerware: white Corelle dishes in the Winter Frost collection.
We liked the clean lines that will go with any tableware setting, whether casual or fancy.
We like that the simple white dishes with clean lines will never go out of style or be discontinued.
If we need to replace a single piece or expand our dish set, they're available as open stock.
Most Corelle servingware is simple white so if we choose to add those to our collection, it will still be cohesive. Corelle also has lids that fit on the bowls!
As I mentioned earlier, we also like that Corelle is well known for it's durability. Corelle dishes are very break and chip resistant!
You know it's true because I bet you have someone in your family who had these dishes!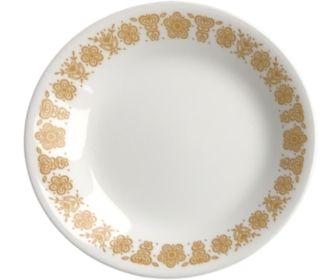 We're the dropsy type and we have tile floors. Needless to say, we went through quite a lot of dishes before getting this set!
Overall I'd have to vote Corelle Winter Frost White dinnerware as the best set of minimalist dishes for everyday use!
The design is attractive and timeless.
They're durable and long lasting.
They're affordable.
They're available in sets or individually.
Best Minimal Dinnerware Set for Everyday Use
Corelle sells a variety of minimalist dinnerware sets in their Winter Frost White collections. I listed a few different sets below because every family has different needs!
For some, 4 plates might be the perfect amount, but other families need 12 or more!
To keep a minimalist kitchen, I try to not have more than what I would normally need when having guests over. For us (a couple with no kids) a place setting of 8 is perfect. We regularly have family over and there are 7 of us.
This way we have just enough to entertain our family every few weeks, plus one extra just in case. But there are not so many extra that we'll be tempted to let the dishes pile up in our everyday life!
Read:
The Kitchen Essentials List You Need
Minimalist Kitchen List
We got 2 sets of 4 with the pieces we needed.
Like I said, determine what works for your individual needs. The good thing is that Corelle also sells individual pieces so if the exact right number for you happens to be an odd number that doesn't have a set, you can easily add another individual place setting from Corelle's open stock without having to purchase a whole other set!
If you're like us, and want to have a few extra on hand (just in case), it's great that Corelle dishes are super thin and stack really nicely!
8 Corelle plates take up about the same space as 4 of our previous plates! 8 Corelle bowls take up the same space as 1 bowl from our previous set!
There is a lot more visual space in our cupboard now! It won't feel like you have cluttered cabinets.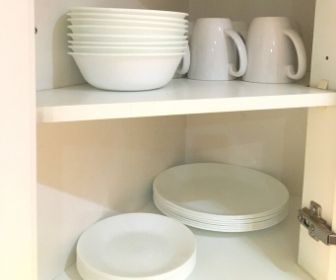 Corelle dishes on Amazon are easy to find and your order will ship right away (especially if you have Amazon Prime!).
This page contains affiliate links which means I may earn a commission if you use them, at no additional cost to you. See disclosure policy for details.
Corelle Winter Frost White Dinnerware Sets
Corelle Dinnerware Set of 12 – Service for 4
This beautiful minimalist dinnerware set includes 4 of each dinner plates, side plates and bowls. Just the basics you'd need for serving 4 or fewer people!

See more details about it here.
Corelle Dinnerware Set of 16 – Service for 4
This dinnerware set has 4 of each: dinner plates, side plates, bowls and mugs.

See more details about it here.
Corelle Dinnerware Set of 18 – Service for 6
This set includes dinnerware for 6. It has 6 of each: dinner plates, side plates and bowls. Just the basics you'd need for serving up to 6 people!

See more details about it here.
Corelle Dinnerware Set of 38 – Service for 12
This set includes place settings for 12, plus 2 serving platters.

See more details about it here.
Corelle Dinnerware Set of 78 – Service for 12
This sounds like a lot, but it has place settings for 12, plus serving bowls and lids for the bowls.
It could be perfect if you regularly entertain a crowd and need some serving dishes as well!
The lids make storing leftovers super easy! You would need to have fewer storage containers since the bowls do double duty for both serving and storage.

See more details here.
If none of these sets is exactly what you're looking for, you can buy individual pieces to combine into your own sets as well!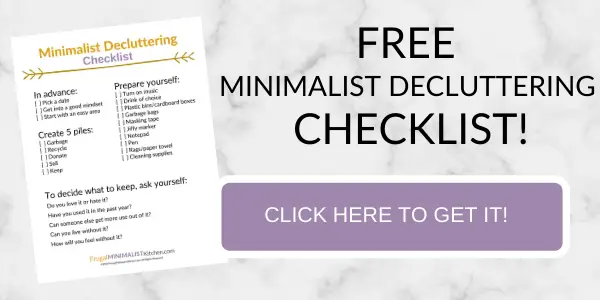 Wondering where to buy Corelle open stock or replacement dishes?
Open stock just means individual pieces that can be purchased outside of a set. This is super important in case you want to add to your set or replace a piece.
The easiest place to buy Corelle open stock dinnerware is on Amazon. I've listed all the individual pieces for the Winter White set below.
Minimalist Plates: Winter Frost White Corelle Plates
There are 3 plate sizes to choose from in this collection.
Based on the size you use most you can choose what works best for your family! That might mean you get only one size of plates, or all 3. You may even choose to get more of one size you use a lot, and fewer of another size
Corelle Dinner Plates Only
The dinner plates in Corelle's Frost Winter White collection are 10.25 inches in diameter.

You can get the dinner plates in a set of 6 or set of 8, or a set of 12 on Amazon.
Corelle Lunch Plates Only
The lunch plates in this collection are 8.5 inches in diameter.

Get the lunch plates in a set of 6, set of 12, set of 18, or set of 24 here.
Corelle Dessert Plates Only
The Corelle dessert plates are also referred to as bread plates or appetizer plates. The diameter is 6.75 inches wide.

Get a set of 8 here, or check out these adorable ones that coordinate perfectly with the Winter White set!
Minimalist Bowls: White Corelle Bowls
Corelle Winter White collection has several sizes of bowls to choose from.

To keep your dishes minimalist, choose one or two sizes of bowls maximum, and let them be multipurpose! You don't need a separate kind of bowl for each type of food you eat.
Corelle 10oz Dessert Bowls
The dessert bowls are the same shape as the soup bowls. 10oz is just over 1 cup, so they're the perfect bowl for yogurt or a scoop of ice cream!
Corelle 15oz Rimmed Soup Bowls
These rimmed soup bowls would be perfect if you love to have soup and a sandwich for lunch. The rim makes it easy to carry your soup without spilling.

Get a set of 4 or set of 6.
Corelle 18oz Soup Bowls
The 18oz bowls are medium sized and the same shape as the dessert bowls. They are perfect for a side soup, salad, or bowl of cereal.

You can get a set of 4, set of 6, set of 12
Corelle 20oz Bowls
These bowls are labelled pasta bowls. They're much wider and shallower than the other styles of bowls in Corelle's Winter Frost White collection but would be good to serve pasta or a large meal-sized salad.

You can get a set of 6, set of 8, set of 12, set of 18, set of 24 here.
Corelle 28oz Bowls
These bowls are much deeper than the other bowls. They'd be perfect for a large salad or soup, like Pho.

If you're limited in cupboard space, these could be a good option because the diameter of the bowl is less than some of the other wide-shaped bowls, so would take up less space.

Get a set of 3, set of 4, set of 6, or set of 8 here.
Corelle Lids for Bowls
Some of the sets come with lids to fit the bowls. If you didn't get one of those sets, or need more lids, you can buy the Corelle lids only.

These lids fit the 18oz bowls and would be perfect to easily store leftovers without using plastic wrap!

Get the 1 pack, 2 pack, 4 pack, or 6 pack here.
Minimalist Serving Dishes
Corelle Serving Bowls
Corelle Winter Frost White has both 1 quart and 2 quart serving bowls that match with the set. The shape of the bowls is the same as the 10oz dessert bowls and the 18oz soup/cereal bowls.

The 1 quart bowls are 8.5″ wide. See them here.

The 2 quart bowls are 10″ wide. See them here.
There are other white Corelle serving bowls in different shapes and sizes but I don't know if they exactly match the Winter Frost White set.
Corelle Platter
Having a platter is useful for serving food.

This platter is 12.25″ wide, which isn't very big. In fact, many dinner plates are 12″!

It would work for a small roast, a fruit platter or charcuterie board for entertaining though.

You can get an individual one, or a set of 4 here.

Read: Simple Party food Ideas on a Budget
Minimalist Mugs: Corelle Mugs
Corelle Coffee Cups
The coffee mugs that match the Winter Frost White collection come in some of the sets, or you can buy them individually in a set of 2, set of 4 or set of 6 here.
Please note, while these mugs are part of the set, they are made of a different material than the plates and bowls. Read more about that here.
In case you're not familiar with Corelle, here are some FAQ
What is Corelle made of?
Corelle dishes are made of a type of glass called Vitrelle. It is similar in appearance to fine china but it's much more affordable and durable!
Some people wonder if Corelle is made of bone china, but it's not. But that is a good question because it shows that Corelle dishes are beautiful if they can be mistaken for fine china!
Is Corelle microwave safe? Is Corelle oven safe?
Yes Corelle dishes are both the microwave safe and oven safe! They can be heated in the microwave or oven up to 350° F (176° C).
Is Corelle dishwasher safe?
Yep! Corelle dishes are also dishwasher safe! I definitely wouldn't recommend getting any dishes that are hand wash only (just like I never buy hand wash only clothes!).
If you have any other questions about Corelle dinnerware, you can read their FAQ here.
As you can probably tell by now, I'm a big fan of the minimalist dinnerware design that the Corelle Winter Frost White Collection offers.
While you probably don't need every piece in the set, I love that you can mix and match the pieces to build the set that suits your family's needs perfectly.
Tell me, what minimalist dinnerware set is your favorite?