Whether you're starting a kitchen from scratch, becoming a minimalist, or looking to simplify, setting up your kitchen with just the kitchen essentials will allow you to get the cooking done without needing a lot of tools!

This list contains just the kitchen necessities to help you cook most dishes.

If you're looking for the core kitchen essentials you need, this list is for you! It contains the essential cookware, bakeware, utensils, dinnerware and other kitchen essentials.

If you're looking for more than just the very basic kitchen necessities, check out this minimalist kitchen list which includes more options for flexibility and convenience that'd I'd recommend if you're just looking for the pure necessities.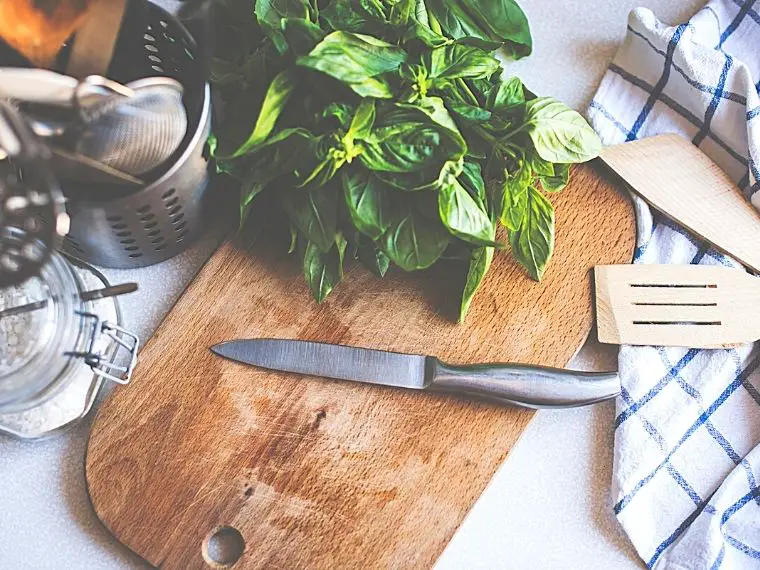 When assessing what's essential to have in the kitchen, it's equally important to include the number of items in addition to which items. For the purpose of this article, I've left out numbers of items because it's quite individual to each family.
Use this kitchen essentials list as a starting point. Don't hesitate to include the number and type of items that suits your needs.
Whatever you deem to be essential in your kitchen, choose restaurant quality tools whenever possible. Many of the items I'm recommending on this list will last a lifetime with proper care.
Essential Cookware & Bakeware
I recommend choosing 100% stainless steel or cast iron cookware. It's a good idea because then the pot is oven safe and can be placed in the oven to keep food warm or even used for baking or roasting.

Once they're properly seasoned and cared for they will be non-stick and will last a lifetime.
A medium to large sized stockpot is essential for any kind of batch cooking. It's also excellent for boiling pasta because there is lots of room for the pasta to move around without sticking.

I used the stainless steel stock pot as a dutch oven to bake sourdough bread and it worked pretty well!
Choose a medium sized saucepan for cooking smaller amounts of food like boiling eggs or cooking rice. It's helpful to have more than one but if you have the stock pot plus a saucepan that should meet the necessities.
A good cast iron pan will last a lifetime. Choose one with a large cooking area and straight (rather than curved) sides for the most versatility. Season it well so it becomes a super versatile non-stick pan. If it's 100% cast iron it can also go in the oven which is just what you need in order to sear meat then roast it all in the same pan.
Baking sheets are for so much more than baking cookies! Choose ones with a lip rather than a straight edge so they can be used to roast meat and vegetables, or use them as a serving platter.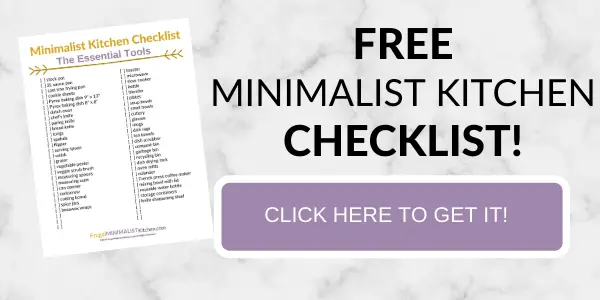 Essential Kitchen Utensils
Kitchen utensils can get out of hand pretty quickly if we're not careful. There are so many little gadgets that only do one specific task. To keep your kitchen down to the necessities, skip the single use tools in favor of ones that can do multiple jobs.
The chef's knife is the ultimate multipurpose kitchen tool. I would say this is the most essential item on the list and is something worth spending more on. You don't want to go cheap here or you'll constantly be dealing with dull knives and making more work for yourself having to replace it every few years. A good quality chef's knife should last a lifetime!
Paring knives are perfect for smaller cutting and peeling jobs that would be difficult to do with a larger chef's knife.
Read more about which minimalist kitchen knives you really need.
Get a grater that includes at least a regular shred size and a microplane size. That way you can easily grate cheddar or finely grate parmesan cheese, shred carrots and zest citrus fruit.

Even better if it folds flat to easily store without taking up a lot of space.
Metal tongs are needed for handling food while cooking. They can also be used dual purpose as salad tongs.

Choose a set of stainless steel tongs without a spring so they'll last for a very long time.
A large serving spoon is for stirring, scooping and serving larger amounts of food. Choose one that is deep so it can also be used as a soup ladle.
A metal spatula is a good option because it works well, is heat proof and will last a long time. Since you're using only cast iron, stainless steel or glass cookware you don't have to worry about scratches like you do with non-stick surfaces.
Silicone spatulas are definitely required to scrape the last of the food out and avoid waste. They're also helpful for stirring, spreading, or even serving.

Get one that has a both a regular sized head and a mini one and ensure it has a flat side and a curved side so it can be used in every situation!
There isn't anything that can really do the job of a can opener so it's included in the essential kitchen list even though it's a single use tool.
You could make do with a paring knife instead of using a peeler so this is kind of optional, but I think the time savings is worth it. Get a multipurpose one with a vegetable scrub brush attached, like this one, to allow the peeler to do double duty.
Essential Dinnerware
Choose your dinnerware in amounts that you will use regularly.

If you have a big family or entertain regularly, having a set of 12 or 16 might be essential to you. If you're a single person who never entertains, you might prefer one of each.

Everyone's needs are different so I've just mentioned the type of dinnerware to get, without focusing on the amounts.
I recommend these stemless wine glasses because they're so versatile. They can be used for regular drinking glasses or wine glasses! We even serve desserts like mousse or parfaits in them.
Get a simple set of coffee mugs in the number that you need. I personally prefer my mugs to match my dinnerware but you might prefer unique hand made mugs. asdf
Choose a dinnerware set that is simple and multipurpose. These plates are simple and elegant enough to be dressed up for a special dinner but also practical enough for everyday use. We use a side plate and a dinner plate.
Choose a set of bowls that can serve multiple purposes rather than having a different bowl for soup, desserts, etc.
Read about the perfect minimalist dinnerware set.
Get a cutlery set that is plain but elegant enough to use for all occasions. Most people probably don't need a set with a salad fork and a dinner fork unless that's really important to you.
Despite their name, steak knives are useful for more than just steak. Use them for cutting food at the table that wouldn't be able to be cut with a regular butter knife, such as vegetables or other meat.
Use them for storing leftovers, packing lunches, and food prep. Some brands are even oven safe so you can bake in them.
Miscellaneous Kitchen Essentials
This assortment of tools round out the essential kitchen list to make your kitchen fully functional.
A blender is essential for making soups and smoothies and can also be used in place of a food processor. Our high powered Vitamix blender is over 10 years old and still works like a charm!
A good set of tea towels keeps your kitchen tidy and sanitary. Flour sack towels are excellent because they are absorbent but thin and dry quickly. Get a set in plain white so you can easily remove stains.
A glass baking dish with a lid is perfect for baking cakes, cooking a roast, or storing leftovers.
Choose stainless steel for mixing bowls. Stainless is light and not breakable like glass, but can also be heated up, unlike plastic bowls.

A mixing bowl is a necessity for baking, preparing food, and serving food like salads. You'll find having a large and a medium sized mixing bowl to be useful, but might not need a whole set. Get ones with a lid so you can also use them to store leftovers!
A large mesh strainer can be used as both a colander to drain pasta and as a sieve when you need one. It's also helpful in washing and air-drying fruits and veggies and can even be used to steam vegetables over top of a pot of boiling water.
Any cutting board will do here but I do prefer wood because it's antimicrobial and also looks nicer than cheap plastic cutting boards.
A set of stackable measuring cups that includes at least 1/4, 1/3, 1/2 and 1 cup measures. If you bake a lot, you might want a set that includes 2/3 and 3/4 as well.
Choose a set of measuring spoons that stacks and includes at least 1/4 tsp, 1/2 tsp, 1 tsp, and 1 Tbsp. If you bake a lot, you may want a set with more measurements but these 4 would be the essentials.
If you found this essential kitchen list helpful, read this list of minimalist kitchen tools as well.