You can find all sorts of classic and unique lunch bags on Etsy. I like shopping Etsy to support small businesses and because many of the items are handmade or sustainable.
You'll find all sorts of classic lunch bag designs as well as more modern styles from independent creators. There are even versions that double up on functionality by doubling as a hand bag or storage container when you're not using them for your lunch.
Shopping online can save you a lot of time and money, but it's also important to support small businesses. To save you time, I've scoured Etsy to find the best lunch bags and lunch boxes in a curated list below, or feel free to click through to Etsy to browse all their lunch bag and lunch box options!
This page contains affiliate links which means I may earn a commission if you use them, at no additional cost to you. See disclosure policy for details.
Top Recommendation:
3-in-1 Eco-Friendly Insulated Lunch Bag & Bento Box Set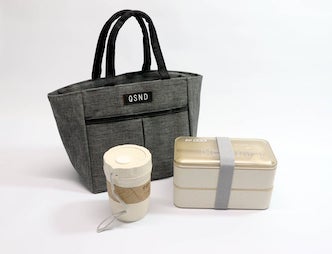 This 3-in-1 set is the ultimate lunch kit! It comes with the insulated canvas lunch bag, eco-friendly bento box and insulated mug.
The high end canvas fabric has been used on the exterior with waterproof lining inside making it so easy to wipe clean. Plus you can adjust the size of the bag to fit different amounts of food from day to day!
The biodegradable bento box is made from wheat straw, making it an ethical alternative to plastic that doesn't have any negative environmental effects!
The convenient size of this 2-layer design with included cutlery means you can easily pack & organize your your food in your insulated lunch bag!
Etsy Lunch Bags
When deciding on a lunchbag, it's important to find one that suits your needs. Whether that means it has the specific features you're looking for, can be monogrammed with your name, or comes in your favorite color. If you're looking for something trendy or something practical, Etsy has the perfect bag for you!

I've listed a few of my favorite stand-out lunch bags on Etsy below, or feel free to shop all Etsy lunch bags.
Personalized Insulated Lunch Bag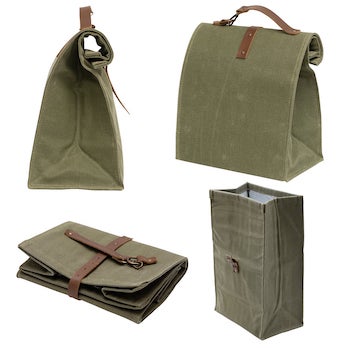 This large capacity insulated lunch bag can easily be personalized with a genuine leather tag monogrammed with your name.
The bag itself is a classic lunch bag style made out of waxed canvas, genuine leather handles, and heavy duty insulating materials to keep your food cold for a long time.
It holds a lot but also folds flat for easy storage without taking up a lot of space in your cupboards
Classic Reusable Lunch Bag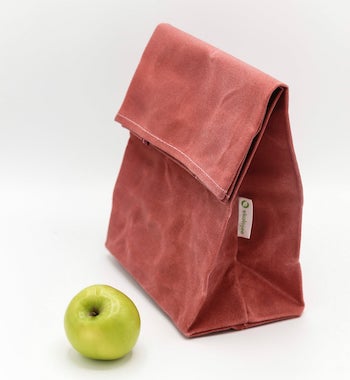 These reusable lunch bags are a classic staple. Made of waxed cotton that is both spill-resistant and easy to clean, they're also trendy enough for school or work.
A brown paper bag has never been as stylish and functional as these reusable lunch bags!
Multipurpose Hand Bag With Lunch Bag Compartment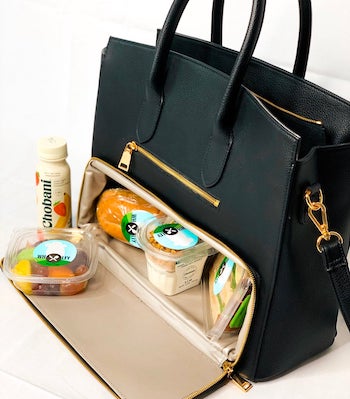 I absolutely LOVE this stylish vegan leather lunch bag!
It's basically a high end handbag with an insulated lunch compartment. Perfect for someone who doesn't want to carry around multiple bags to and from work.
The insulated compartment would be great for keeping your food cool until you eat it, and could even be used to keep your minimalist water bottle cool on hot days!
I've never seen anything like this except this handmade one on Etsy.
Etsy Lunch Boxes
Lunch boxes are great for keeping your food protected while carrying it to and from work or school. There are many styles of lunch boxes out there.
One option is a classic firm sided one that keeps your food protected while it's inside your backpack.
Another type – the super functional bento box style ones – have compartments for every food item in order to keep your food separated without having to pack multiple containers. The bento style also makes a packed lunch a little more fun because it always looks appealing!
Etsy Bento Boxes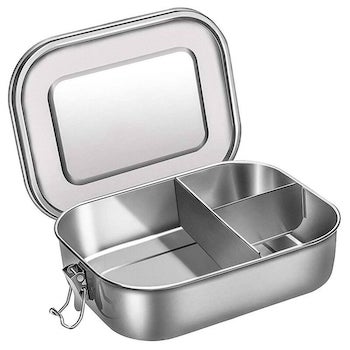 This spill proof stainless steel lunch box is the classic bento style box. It has dividers to keep your food separate and clasps on the sides to keep the lid secure. Stainless steel is durable and easy to keep clean so it's perfect for a lunch box!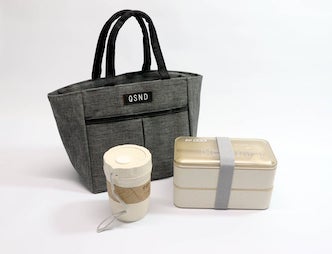 Like I mentioned earlier, this is my top choice for lunch boxes. It comes with the plastic-free bento box, soup mug, and insulated lunch bag to carry it all.
I hope this blog post helps you find the perfect Etsy lunch bag or lunch box for your needs. If not, don't worry! There are so many options to choose from on Etsy that it shouldn't be hard at all to find something perfect for you.
Whether you choose a lunch bag or lunch box, or combo of the two, I hope you found the perfect option for you! I love supporting independent small businesses on Etsy!