You're in the market for a new water bottle, but you want a water bottle that is beautifully designed and aesthetically pleasing? You need to check out our list of minimalist aesthetic water bottles! I've compiled some of the best minimalist water bottles on the market and made sure they have a simple design and are aesthetically pleasing!

Not only do these water bottles have an appealing aesthetic vibe, they're highly functional too! There are options that include minimalist glass water bottles, classic stainless steel with aesthetic designs, tumbler style water bottles with a straw, and some super unique aesthetic designs as well if you're looking for something a bit more fun!

Scroll through this curated list of water bottles and find exactly what you're looking for! Clicking any of the images you like will take you right to the exact water bottle shown, or browse a variety of similar styles at the buttons below each section.
This page contains affiliate links which means I may earn a commission if you use them, at no additional cost to you. See disclosure policy for details.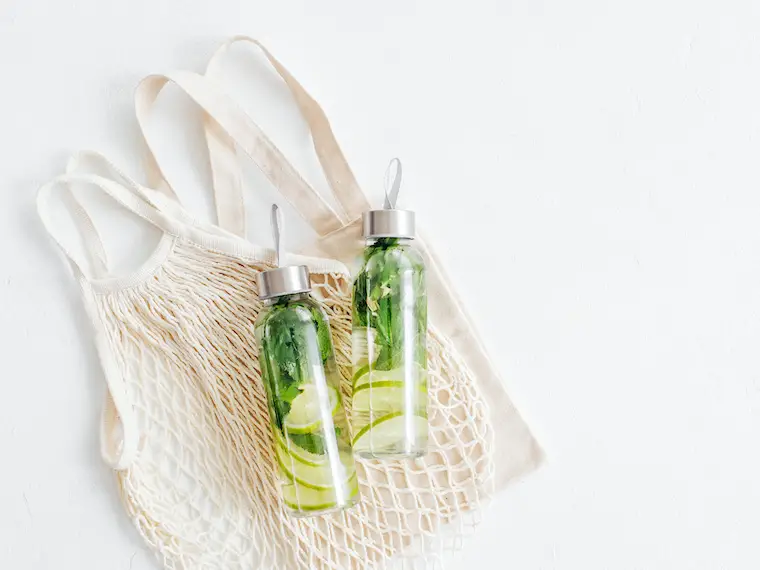 Aesthetic Clear Water Bottles Made of Glass
These minimalist glass water bottles are so pretty! Made of food safe and shatter-resistant borosilicate glass, glass water bottles are some of the healthiest options (no chemical leaching of plastics and no other potentially harmful chemicals).

Many of these glass water bottle options also come with covers that are aesthetically pleasing and provide additional protection to your water bottle. Some covers are made with vegan leather or colored silicone.

Even though borosilicate glass is shatter resistant, the cover still helps give additional protection and also lightly insulates your drink to keep it cool longer. Choosing an aesthetic clear water bottle also allows you to easily see how much water you have.

I love the ones with bamboo or wooden lids, but the metal lids also create a beautiful minimalist water bottle vibe too!
Minimalist Aesthetic Stainless Steel Water Bottles
I have to say the stainless steel water bottles are my top choice because they are the perfect blend between beauty, form and function. They're lightweight and durable and there are so many aesthetic water bottles made from stainless steel because stainless can be made in any color or design! Plus, stainless steel doesn't leave a metallic taste in your water like some water bottle alternatives made of other metals like aluminum.

Click any of the options in the images above to shop the range from the classic S'well & Kleen Kanteen, to lesser known brands with beautiful aesthetic designs.

In addition to looks, these water bottles have a variety of spout options from a classic screw off cap to a sippy spout to a straw for the tumblers. Many of these are also double wall insulated to keep your water cool for hours!
Minimal Water Bottles Made of Plastic
There are lots of aesthetic water bottle options made of plastic! All the options shown in the images above are made of BPA-free plastic to keep it healthy.

I love the different designs available in these water bottles! Get something unique and fun like a milk carton water bottle, or something super handy like the flask-style water bottle that will easily fit into your handbag without taking up so much space!
Or how about ones with line markers so you can easily keep track of how much water you're drinking throughout the day?

Plastic water bottles are the perfect option if you like to use aesthetic water bottle stickers like these because they will stay on very well.
With all these aesthetic options for minimalist water bottles, I'm sure you will be able to find the perfect option for you!
While you're looking for water bottles, check out these minimalist aesthetic lunch boxes and these adorable lunch bags on Etsy!
Check out these top rated Amazon kitchen appliances too.