Amazon is a great place to search for kitchen appliances, but sometimes it can be hard to find what you're looking for. Because of this, I've compiled a list of Amazon kitchen appliances for you so you don't have to spend so much time scrolling through irrelevant products on Amazon.
Making purchases like these can be overwhelming when there are too many options, so I also wanted to make your life easier by giving you some of the top rated small kitchen appliances on Amazon in one place.
In this article, I break down each type of product and give a brief overview of helpful features so you will quickly know which one is right for you.
This page contains affiliate links which means I may earn a commission if you use them, at no additional cost to you. See disclosure policy for details.
The small kitchen appliances in this list are from the highly reviewed AmazonBasics line which comes with the AmazonBasics Warranty, so you know it's great value!
Feel free to check out the entire AmazonBasics kitchen line, or continue reading below for the curated list of AmazonBasics small kitchen appliances.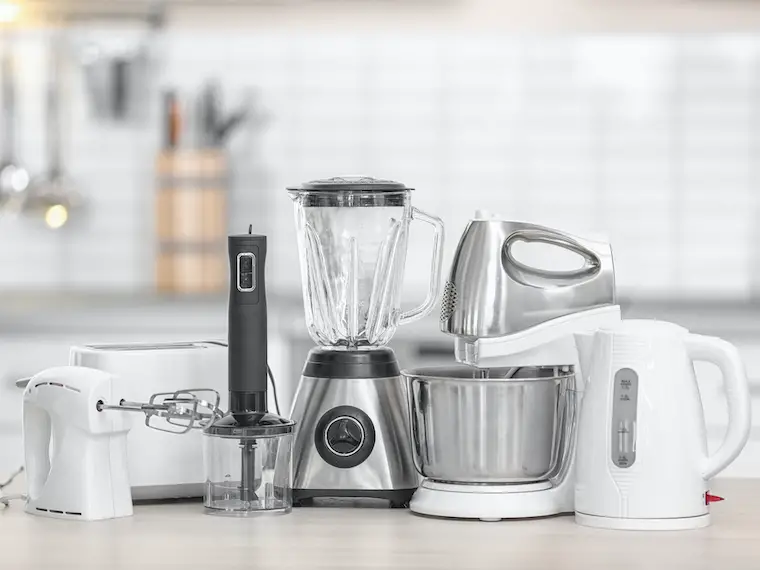 Amazon Kitchen Appliances
AmazonBasics 2-Slice Toaster
A toaster is no doubt considered a kitchen essential in most homes. This simple 2-slice toaster has all the functions you need including bagel, defrost, and adjustable browning settings. It has a sleek design that comes in stainless steel, white, or black to match your kitchen.
AmazonBasics Stainless Steel Electric Kettle
An electric kettle is another essential included even in the most minimalist of kitchen appliances lists. This attractive and convenient stainless steel electric kettle boils water quickly and easily.

The kettle is detachable from the electric base for cordless serving. The cord wraps seamlessly into the base to be hidden when not in use.

Safety features include the concealed heating element which shuts off when the water reaches its boiling point and boil dry protection.
AmazonBasics Espresso Machine and Milk Frother
The espresso machine is perfect for making cafe-quality coffee drinks at home and is sure to pay for itself after just a few uses compared to buying fancy coffees from the coffee shop every day.

This fully automatic device has a built in milk frother that creates fresh, foamy topping and easy to use controls with an adjustable steam knob which will have you brewing up some tasty cappuccinos or lattes in no time!
AmazonBasics Stainless Steel Digital Kitchen Scale
A kitchen scale is so helpful to make sure you're adding just the right amount of food to a recipe or to weigh out food when you need to.

This stainless steel digital kitchen scale weighs up to 11 pounds of food and has advanced sensor technology that displays results in pounds, ounces, or grams.
AmazonBasics Coffee Grinder
A coffee bean grinder is necessary for coffee drinkers who love the freshest brew, as whole beans that are freshly ground have a lot more flavor than pre ground coffee.

A coffee grinder like this one is also a multipurpose tool because you can easily grind small amounts of nuts, spices, grains, and more in just a few seconds!
AmazonBasics Food Processor
This 4-Cup Food Processor from the AmazonBasics kitchen appliances line is perfect for chopping herbs, slicing vegetables, and making smooth sauces and dips.

Because of the dishwasher safe interchangeable blades, it has many different functions to make your culinary creations more easily and quickly!
AmazonBasics Immersion Blender
Hand-held immersion blender is a must for the home chef. The powerful 300 Watt motor will be able to blend just about anything you can think of, including soups, sauces, and smoothies.

With its dishwasher safe attachments including the blender stick, whisk, and chopper blade (to dice) it's easy clean up!
AmazonCommercial Microwave Oven
Microwaves are so convenient to have and this particular model has features like being able to cook food at different power levels or from 100 custom cooking programs!

It also comes in a compact size that will fit nicely into your kitchen without taking too much space on your countertop thanks its small cubic feet capacity – perfect for everyday cooking needs!

The durable stainless steel construction is stronger than typical plastic microwaves and is actually designed for commercial use so it's sure to last a long time.
AmazonBasics Air Fryer
This digital air fryer is the perfect tool for healthier eating and faster cooking. With a 3 liter/3.2 quart capacity, it's easy to make crispy fried foods without a lot of oil!

The non stick basket also ensures safety so you can cook anything from fries to crispy veggies in no time at all – handling everything with just one device.
AmazonBasics Bread Machine
Have freshly baked bread using a simple recipe and this handy bread maker! Simply add the ingredients and let the machine do the work to make you a fresh loaf of bread in just 90 minutes!

It will no doubt pay for itself in just a few weeks as compared to buying fresh bakery bread.
AmazonBasics Juicer
This compact-sized centrifugal juicer makes delicious juice without taking up a lot of room in your kitchen.

The wide mouth chute accommodates most whole produce, saving time on food prep and the easy-to use design makes cleaning a breeze too-all removable parts are dishwasher safe.

Plus, like all AmazonBasics brand products, it's backed by Amazon's 1 year warranty!
AmazonBasics Food Steamer
This stackable food steamer is an easy way to quickly cook healthy food.

The size allows you to steam an entire family-sized meal in one, but the pieces compactly nest together for storage, making it a great option for kitchens without a lot of cooking space.

You can cook 2 different foods at once by adjusting the time and temperature settings.
Small kitchen appliances can make a world of difference in making your prep and cooking faster and more efficient.
Hopefully this list of Amazon kitchen appliances makes it easier for you to find the perfect thing you're looking for! As always, make sure to only purchase things you want and need.
Continue reading more like this Amazon kitchen Appliances list:
10 Handy Amazon Kitchen Accessories You'll Use All The Time
Top Kitchen Essentials List
List of Minimalist Kitchen Tools You Need!
9 Best Grocery List Notepads on Amazon
Budget-Friendly Pantry Staples List for Minimalists
5 Etsy Lunch Bags & Boxes
18 Gorgeous Aesthetic Water Bottles
Minimalist Aesthetic Lunch Boxes To Make Your Lunch Pretty