Amazon is a great place to search for kitchen accessories, but sometimes it can be hard to find what you're looking for. Because of this, I've created a curated list of Amazon kitchen accessories for you so you don't have to spend a bunch of time searching through hundreds of products on Amazon.
Kitchen accessories include things like cookware, bakeware, utensils, linens, handheld appliances and multipurpose gadgets – basically
It can be overwhelming to decide what to buy when there are too many options, so I wanted to help simplify your life by giving you some of the top rated kitchen accessories on Amazon in one place.
In this article, I give a quick description and summary of the features, plus some highlights from the product reviews. This will help you quickly determine which one is right for you!
This page contains affiliate links which means I may earn a commission if you use them, at no additional cost to you. See disclosure policy for details.
The small kitchen accessories in this list are from the highly reviewed Amazon Basics line which comes with the Amazon Basics Warranty, so you know it's great value!
Feel free to check out the entire Amazon Basics kitchen line, or continue reading below for the curated list of Amazon Basics kitchen must haves.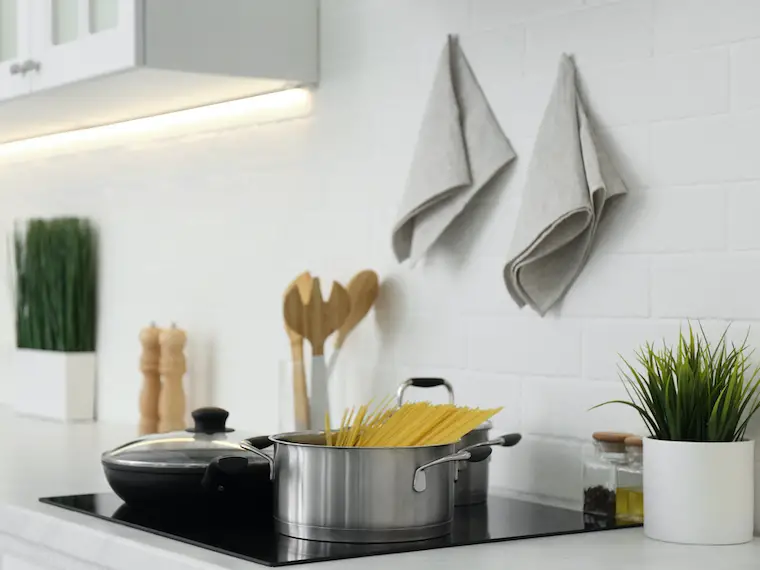 Amazon Kitchen Accessories
Amazon Basics Color-Coded Kitchen Knife Set
A good set of knives are no doubt considered a kitchen essential in most homes. This attractive set of 6 color-coded kitchen knives comes with a matching set of blade guards for each knife to keep your blades sharp and your family safe. This set has all the essential knives I recommend.
Customer reviews say they're ergonomic and easy to hold, as well as easy to clean and are a good value for the money.
Amazon Basics Enameled Cast Iron Dutch Oven
This large enamelled cast iron dutch oven from the Amazon Basics kitchen line is comes in so many gorgeous colors to match your kitchen decor. Who says kitchen accessories have to be utilitarian?
Customers love that it's durable and versatile. It has good heat distribution and overall rated very good value for the money (especially when compared to similar le Creuset pans!).
Amazon Basics Non-Stick Silicone Baking Mat
I always questioned whether I needed silicone baking mats or not but after years of using parchment paper whenever I bake something, I think a set of silicone baking mats would definitely pay for themselves!
They make cleanup a bit easier and are safe to put in the top rack of the dishwasher. Plus they are better for the environment too because you don't use single use parchment paper or aluminum foil.
This set fits half size sheet pans – the standard 9″x13″ size you'll find in a kitchen, but double check they're the right fit for your pans before you buy.
With almost 50000 positive reviews, you can be confident this is a good buy!
Amazon Basics Dish Towel Set
Dish towels are another essential included even in the most minimalistic kitchen lists. This attractive and durable set of dish towels and cloths will serve you well for years to come!

The simplistic design matches any decor while adding a touch of chic styling.

Reviewers say they're easy to care for, wrinkle-free, soft and absorbent. They're also made with 100% Sustainable Cotton from the Better Cotton Initiative (BCI).
Amazon Basics Black & Gold Stackable Storage Basket Set
These attractive stackable wire storage baskets are super versatile to store pantry staples, coffee pods, napkins or even fruit and vegetables.
They're made of sturdy black wire with a modern gold handle accent. The handle can be folded in to stack the baskets, or out to use as handles.
I love the idea of using them as a modern upgrade to a fruit basket. Click through to see pictures of how it looks as a double-layer fruit basket. Head down to the reviews to get ideas of different things to store in them and see pictures of how they've used these baskets.
Amazon Basics Stainless Steel Digital Kitchen Scale
A kitchen scale is so helpful to weigh food. We use ours when we buy food in bulk at Costco and then into meal-sized portions. For example, we divide up a big pack of ground beef into 1lb portions and freeze it when we get home from the grocery store.

This stainless steel digital kitchen scale weighs up to 11 pounds of food and has advanced sensor technology that displays results in pounds, ounces, or grams.
With nearly 40000 reviews on Amazon and rated 4.6/5 stars you know it's worth getting if you're in the market for a digital kitchen scale.
Amazon Basics Cast Iron Skillet and Dutch Oven Set
This is an awesome multipurpose set of cast iron cookware. It's a skillet and dutch oven combo, but the cool thing about it is that the skillet actually doubles as a lid for the dutch oven!
So imagine searing your roast, then simply turning it into the dutch oven with the skillet as the lid. One reviewer said "Love the fact that the lid can be used as a frying pan in those cases where you want to sear the meat first. The drippings from the frying pan can then add to the flavor when you put the lid on." All the juices and mess stay together, and you save dishes by not having to also wash a lid.
Having multipurpose kitchen accessories like this saves a lot of space in your kitchen by not having to store both the lids and the bases.
Amazon Basics Immersion Blender
Hand-held immersion blender is a must for the home chef. The powerful 300 Watt motor will be able to blend just about anything you can think of, including soups, sauces, and smoothies.

With its dishwasher safe attachments including the blender stick, whisk, and chopper blade (to dice) it's easy clean up!
One review says "The product does exactly what it is suppose to do-I have made smoothies, beat eggs, pancake batter and cake mixes. It is nice not to haul out the Kitchen Aid for small jobs. It is a well made appliance, the cord is long enough to make it comfortable to use, and clean up is a breeze."
Amazon Basics 6-Piece Nonstick Bakeware Set
Most kitchens aren't complete without bakeware to make cookies, muffins, loaves, cakes, or brownies. This set provides the basics of what you'd need to make any of those!
You can also use them for cooking dinner. For instance, use the loaf pan to make a meatloaf and use the baking tray to roast some vegetables!
One person used this set and said "This is a good, simple baking set. The pieces are easy to clean & really are non-stick. I have yet to have any issues w/ the pieces. This set is great for someone who might be a novice @ baking as the baking set is multipurpose. I've also discovered these to be freezer safe".
Amazon Basics Coffee Grinder
If you're a coffee lover who wants the freshest brew, a coffee grinder is a necessity. Did you know that freshly ground whole beans have way more flavor than pre ground coffee.

You might think a coffee grinder is a single use appliance, but you can actually use it to grind small amounts of any kind of food. It comes in particular handy for pulverizing small amounts of nuts or whole spices like cloves.
Customers rate this grinder at 4/5/5 stars so definitely see the value in it!
The right kitchen accessories can make a world of difference in making your kitchen prep more enjoyable and not to mention, more efficient!
Hopefully this list of Amazon kitchen accessories makes it easier for you to find the perfect thing you're looking for, but feel free to browse them all on Amazon here. As always, make sure to only purchase things you want and need.
You might also like these similar articles to this Amazon kitchen Accessories list:
12 Highly Rated Amazon Kitchen Appliances You'll Want To Use Daily
Top Kitchen Essentials List
List of Minimalist Kitchen Tools You Need!
9 Best Grocery List Notepads on Amazon
Budget-Friendly Pantry Staples List for Minimalists
5 Etsy Lunch Bags & Boxes
18 Gorgeous Aesthetic Water Bottles
Minimalist Aesthetic Lunch Boxes To Make Your Lunch Pretty