I'm excited to share with you these free meal planning printables. They are made for people like you who have a busy schedule and don't want to spend hours making dinner every night.
Not only will these free printables help you save time in the kitchen, they'll also help you simplify meal planning!
This curated list includes PDF meal planning templates, grocery lists, recipes, and weekly meal plans all created by Registered Dietitians – so you know you're getting high quality meal planning resources.
Check out these free meal planning printables and get started today. Simply click through and sign up to download all the resources you're interested in for free!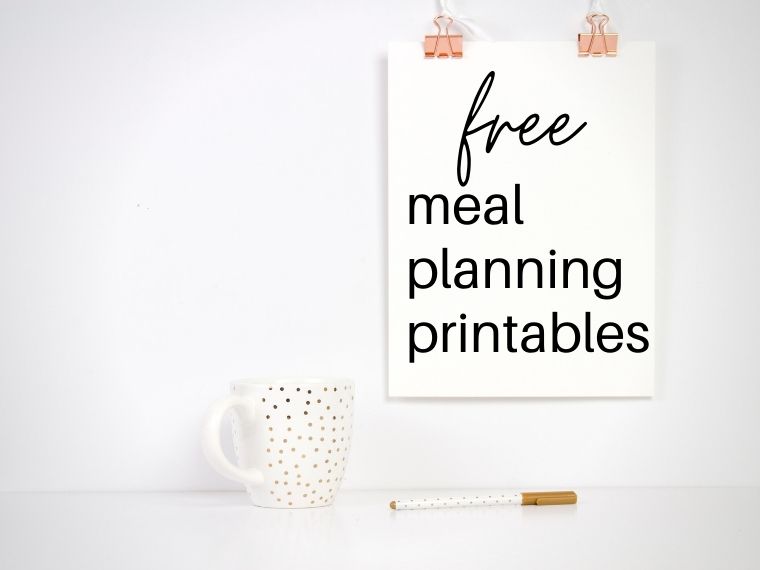 Free Meal Planning Printables:
Minimalist Meal Plan Printable
Minimalist meal planning simplifies meal planning down to the core essentials so you spend less time meal planning and can avoid the overwhelm that comes with complicated meal planning systems.

If you struggle to stick with meal planning, or do meal plan regularly but it takes you more than 10 minutes a week, this free meal plan printable can help you!

This freebie includes a printable meal plan template plus a 1 week sample meal plan that will help you get started meal planning!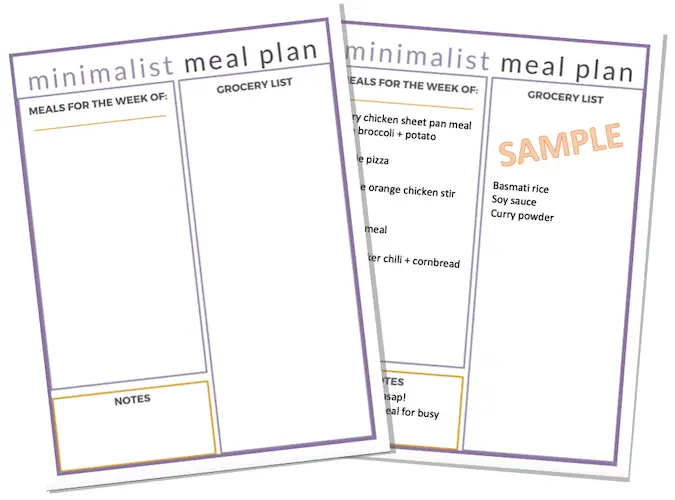 Learn more about why you need a minimalist meal plan or keep reading for more free meal planning printables!
Free Printable Meal Planner with Grocery List
Create your own meal plan full of foods your family loves. This free guide full of meal planning printables created by Amanda Claxton, MS, RD owner of Amanda Claxton Nutrition, LLC, will help you make meal planning easier! 
It includes a printable meal plan template, grocery list printable, favorite meals list, plus some questions to help you plan meals that will fit into your life while practicing intuitive eating.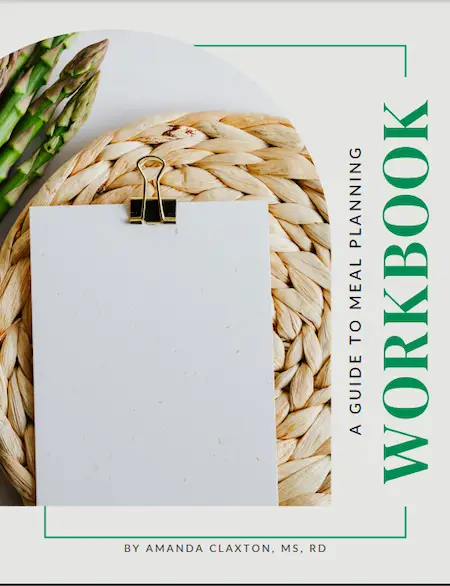 Quick & Easy Weeknight Recipes
Ready to spend less time wondering what's for dinner? Grab the free recipe guide "15 QUICK FAMILY DINNER IDEAS FOR BUSY NIGHTS" from Jennifer House MSc, RD owner of First Step Nutrition.
These meals can be made with ingredients already in your kitchen, and are easy to modify. They're perfect if you are having a crazy night when your planned recipe is just too much effort or when you only have 10 minutes to get dinner on the table before you're rushing out to evening extra-curricular activities.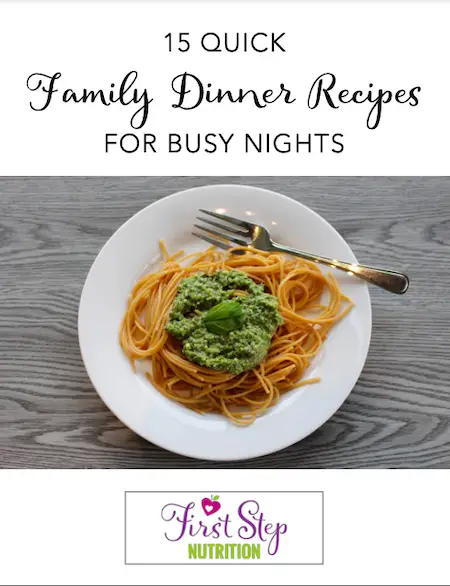 Healthy Meal Plan Checklist
This free meal plan checklist from Lacy Ngo, MS, RDN owner of Mindfulness in Faith and Food, LLC, helps you plan all the amazing nutrients into your daily life.

Sign up below to get the Meal Plan Checklist and other meal planning printables that will help you meal plan the right way!
Easy Meal Planning Tips for Eating at Home
The "Let's Eat In" printable by Kylie Paranto, MS, RDN is a 1 page quick win resource that contains simple tips to help you build meal planning and meal prep skills. It'll also help you reduce stress and time spent in the kitchen!
Balanced Meals Worksheets
The "Build My Fuel Mix™ Worksheets" by Body Trust Nutrition, LLC are a unique take on meal planning. They prompt you to choose balanced meals by including easy to remember food combos to help simplify the decision making process when it's time to eat.
The My Fuel Mix™ Framework is a personalized approach to meal planning that is flexible but adds structure as well. Perfect for people who are aiming to get off the diet rollercoaster and wanting to learn to trust their own body cues through gentle nutrition.
Non-Diet Cooking & Recipe Resource List
This simple list of recipe and cooking resources Guice Nutrition Counseling can be super helpful to reference before you start looking for recipes to include in your meal plan. All resources come from trusted sources that don't talk about harmful weight loss and dieting practices.
Minimalist Meal Planning Workbook
If you're tired of trying to piece together your meal plan each week using free meal planning printables, blog posts, and other resources, consider investing in a more comprehensive resource.
Your need something that guides you through the entire process of meal planning step-by-step, while also simplifying it by eliminating complicated binder systems and couponing that takes hours to create every week.
While this resource isn't free, it will free up your time and energy to put towards other things in your life. Plus it will pay for itself after preventing just one or two unplanned takeout meals! Get it below ↓
The Minimalist Meal Planning Workbook completely simplifies meal planning and takes you step-by-step through the process so you can stick with it once and for all!
The Minimalist Meal Planning Workbook completely simplifies meal planning and takes you step-by-step through the process so you can stick with it once and for all!
I hope at least one of these free meal planning printables was exactly what you're looking for! Let me know in the comments below which one you found most helpful, or what type of meal planning template you're looking for!
Keep reading:
Tips for When You Actually Hate Meal Planning
5 Ways Meal Prepping Helps Keep Your Kitchen Clean & Organized
Simple Meal Planning Ideas
Top 7 Minimalist Meal Planning Techniques To Simplify Meal Planning