The idea of meal prepping can be scary but only for those who are not familiar with its multiple benefits. Not only can meal preparation help you meet your nutrition goals, but it also plays a crucial role in keeping your kitchen clean and uncluttered. 
Meal preparation simply means shopping for ingredients and cooking one or more recipes ahead of time. It can also include prepping ingredients, like washing and chopping veggies, or marinating meat. That way, you don't have to cook from scratch every day. 
This practice comes in handy because heating pre-cooked food or eating batch meals straight from the refrigerator will keep your kitchen a lot cleaner and tidier throughout the week!
Let's find out five different ways meal prepping can ensure a cleaner and less cluttered kitchen.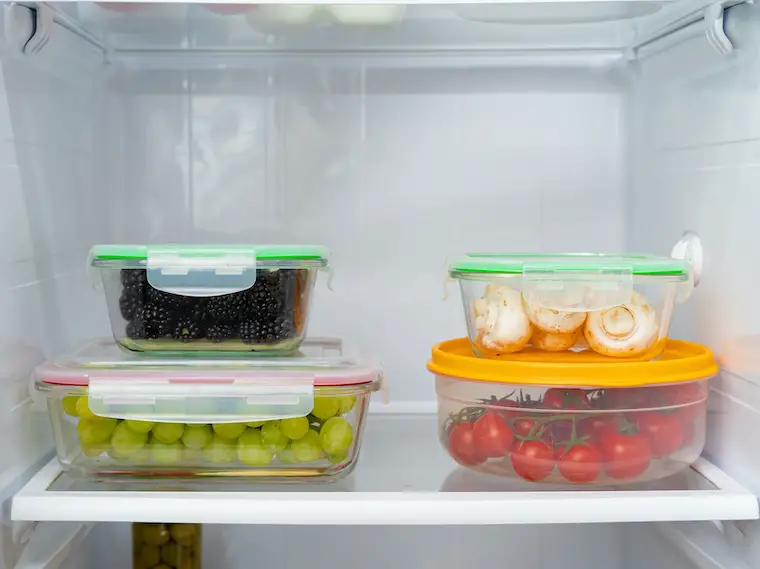 1. Helps You Need to Clean Less Often
If you're cooking just a once or twice a week then you only need to clean your kitchen once or twice a week!
While, yes, you will still have to do some dishes like plates and dinnerware each day, the major cleaning involved when you're cooking a meal such as cutting board, pots and pans won't have to be done every day. Since those things are usually the biggest chore of cleaning your kitchen, it will save a lot of mess!
Also there will be fewer spills, splashes and drips to wipe off the cupboards and fewer crumbs to sweep up when you're not extensively using the kitchen every day.
2. Helps You Organize your Refrigerator 
One of the major benefits of meal prepping is enjoying an organized refrigerator.
When you meal prep entire meals, you often pre package them in individual portion containers so they're quick to grab to put in your lunch bag or lunch box. Having food stored in matching stackable containers is visually appealing and keeps it super organized!
Simply take your meal out of your fridge and reheat it to enjoy meals in minutes rather than hours. This is so perfect for packed lunches or busy weeknights too.
The key to maintaining an organized refrigerator when meal prepping is to using easy-to-pack storage containers.
Be sure to find airtight containers that are BPA-free and are spacious enough to fit each meal you prep. By stacking your containers by each meal you plan on eating for the next few days, your refrigerator will stay organized and prevent your family from making a mess while trying to find the meal they're searching for.
If you're in need of a plan to keep your house in order, I highly recommend The Organized Home course.

Check it out here!

It's a popular online course by Hilary at Pulling Curls that goes over the realistic way to manage a home, reduce clutter & clean less.

It's awesome because it's based on real-life organizing systems that work!

I personally have gone through The Organized Home and was able to identify some easy win ideas to implement right away.

Most importantly, I've actually stuck with the changes I made because they actually made a positive difference in my ability to keep my home clean & organized!

If this sounds like it might be right for you, sign up now!
3. Helps You Buy The Right Amount Of Food
Often times meal prepping involves meal planning and creating a specific grocery list for the meals you're going to make.
When you stick to the list, you're less likely to have excess food that can make your fridge and pantry feel overstuffed and cluttered.
When you follow a specific shopping list based on your meal plan, you save yourself from a cluttered kitchen. Instead of having piles of unnecessary ingredients and foods cluttering your pantry and countertops you can keep these surfaces spotless.
Grocery shopping becomes so much easier when you know the things you have to buy for the week ahead, plus it can help you save money on groceries and is a big part in maintaining an overall frugal kitchen.
4. Helps You Create a Routine Cleaning Schedule
When you simplify the meal preparation and cooking processes, scheduling routine kitchen cleaning becomes easy.
That's because you have more time to plan and schedule a regular cleaning routine. While you bake or roast marinated meat or boil/steam pre-cut vegetables, you can clean up your kitchen within minutes. Washing the dishes as you go saves you from taking care of a big pile in the sink after your meal.
It's best to schedule your kitchen cleaning on the same day that you meal prep. This will ensure your kitchen stays clean and uncluttered all week long.
5. Helps Limit Food Waste
Food waste is a serious problem in today's society with almost 40% of America's food supply going to waste each year. Meal prepping can help to alleviate some of the main components that cause food waste like spoilage. 
By prepping your meals ahead of time, you'll know exactly what ingredients to buy and how much you'll need of each.
So what does food waste have to do with organization and a clean kitchen?
If you buy more food than you need, it's more likely to go to waste and cause a mess in the meantime. Think of all the uneaten soggy vegetables in the vegetable drawer or the over ripe bananas on the counter that attract fruit flies. Less food waste also means having to empty the compost bin less frequently too!
Conclusion
Whether you are a busy executive, a student, or a stay-at-home mom, meal prepping can save you tons of time and energy.
With work responsibilities, kids, and other chores, running to your local store every day and cooking in a messy kitchen is the last thing you want to do. Meal prepping (even a little bit) will give you more time for your work, family, and exercise. Above all, your kitchen will be cleaner, less cluttered, and more organized.
Author Bio: Forrest is a certified fitness trainer, health enthusiast, and owner of the blog TastyKitchenn where he helps others find the best kitchen supplies, recipes, and tips to craft superior foods.