We're all familiar with being overwhelmed with clutter but when we work on decluttering our lives, we often forget about the clutter and disorganization that happen on our phones and computers! Digital minimalism is the solution!

If you're not familiar with digital minimalism, it's basically like minimalism for non-physical clutter.
Think:

Thousands of unorganized photos on your phone, multiple apps, and notifications dinging all day long.

Digital minimalism helps you clear out that mental and digital "clutter".

Keep reading for tools and tips that you can implement today!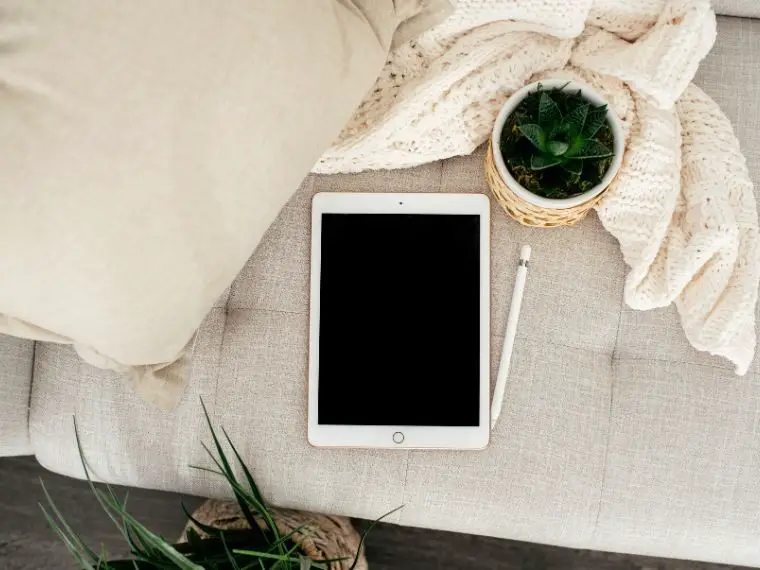 This page contains affiliate links which means I may earn a commission if you use them, at no additional cost to you. See disclosure policy for details.
According to Cal Newport, the author of Digital Minimalism:
Minimalism is the art of knowing how much is just enough. Digital minimalism applies this idea to our personal technology. It's the key to living a focused life in an increasingly noisy world.

Cal Newport, Digital Minimalism
Read more minimalism quotes
This article is a guest post written by Mr. SR. He writes about personal finance, decision-making, and early semi-retirement at Semi-Retire Plan.

He has been featured on MSN, Yahoo Finance, and Databox and holds a Master of Science degree in business marketing. Mr. SR is a fan of college football, Taylor guitars, and extra-large coffee mugs.
Minimize your bills, notifications, and inbox with these tips:
Digital minimalism to focus your attention
Our attention is constantly being drawn in multiple directions, especially since we have everything from work to entertainment to our social lives on our phones. You can hardly check a text without being sucked into social media or work emails too!

Use these products, tools, and apps to help you.
Minimalist Desktop Wallpapers
Changing the wallpaper on you computer can do a lot to keep your desktop organized and make it feel more serene. You can add a background with a minimalist quote to get a daily dose of inspiration! Get this set of desktop wallpapers with quotes about minimalism and simple living, or check out this post with a curated selection of aesthetic minimalist desktop wallpaper organizers.
StayFocused 
Cost: Free
Benefit: Manage your time and eliminate distractions
I'd be lying if I said I haven't ended up on Twitter a few times while researching options for this article! We can all fall victim to the quick break from working that runs too long.
If you have serious web rabbit hole problems, the StayFocused browser extension can help. 
StayFocused helps you manage your time by limiting or blocking your access to sites that distract you. 
This browser extension can be configured to help with your specific tendencies. You can set it up to block or limit whole sites, pages, or even certain kinds of content (like videos).  You can also ask it to limit you during specific times or days. 
For extreme situations, you can use "the nuclear option" — set up a site or all-internet block for a certain time period that you can't cancel. 
Todoist
Cost: Free
Benefit: Remember everything on your to-do list, plus advanced features
Todoist helps you get your tasks out of your head and get them organized. 
Features like recurring tasks, subtasks, favorites, delegation, and progress visualizations make Todoist more than just a standard "check the box" approach. 
Former competitor Wunderlist was recently discontinued by Microsoft, and you have the option to import your data to Todoist. You can also integrate your Todoist data with other popular apps like Google Calendar, Dropbox, and Amazon Alexa. 
Plus, you can earn karma points and level up to keep your productive energy high. 
LastPass
Cost: Free for basic personal plans, other options available 
Benefit: One password to rule them all!
LastPass is a browser extension that allows you to manage all of your passwords from a "vault". You can access your vault with a single master password. 
Trying to remember all of your own passwords can be a serious problem — and it's the opposite of digital minimalism. Using the same passwords for multiple accounts is a security concern, while dozens of unique passwords can be impossible to remember. 
LastPass is a great solution to this problem. 
I like that the basic version is free and can stand on its own. Family plans for up to 6 users are $4 per month.
Turn off notification badges
Cost: Free
Benefit: Regain control over your mobile apps
I have found myself too often in a cycle of opening one smartphone app after another to view low-value notifications. 
This one isn't an app, but it's a technique I've found to be incredibly helpful. To escape the app notification-checking loop, turn off the notification badges. Turn off sounds. Turn off the big banner notifications, too. 
Your social media likes or new Groupon email can wait until you truly have free time to open the app. 
If you have an app for work communications that you can't ignore, you can adjust your settings on iPhones to show a single red dot instead of the notification number.

It's not helpful to know that I have 37 unread emails. Now it's 38. Now it's 39…

I've found turning off notifications to be freeing!
Digital minimalism to manage your finances
Reducing the "clutter" in life can enable you to focus on the things that matter most. 

Your personal finances are one of those areas. Ultimately, your money is just a tool that you can use in other, more meaningful areas of your life. So it's a win to keep it simple while staying in control. 
Finances can seem complicated and overwhelming. But with some conscious attention and a few handy apps, we can make it feel automatic and effortless!
Read more about minimalism and your finances, or keep reading for some tools I recommend:
Mint
Cost: Free
Benefit: Detailed financial dashboard for all of your accounts
Mint allows you to view your statements, create budgets, check your credit score, and monitor your bills all from one place — for free. 
Currently, my wife and I check all of our investment statements every month or two and we track it in a Google Sheets file. Logging into each account is the most time consuming part of the exercise. 
There's clear value in having all of this information consolidated in one location.
Mint is now owned by Intuit, the same company that owns TurboTax and QuickBooks. I know that millions of people and small businesses use those programs, so that gives it some credibility. 
Plus, Mint has security protocols like encryption and third-party monitoring, similar to most banks.
One aspect of Mint to watch out for is its recommendations.

Mint earns commission by referring users to external vendors for financial products like loans, insurance, banking, and investments. As with any recommendation that involves your money, it's smart to shop around before choosing any financial products based solely on Mint's guidance.
EveryDollar
Cost: Free or $129.99 for EveryDollar Plus
Benefit: Detailed budgeting app so you can gain full control over your money
EveryDollar is a deep-diving budgeting app developed by Dave Ramsey's team. 
The free version allows you to track your income, expenses, and day-to-day spending — with some manual entry efforts. 
EveryDollar is a powerful tool for walking you through the budgeting process. Plus, you can eliminate paper worksheets or Excel files that you might be inclined to use otherwise. 
One of the main perks of EveryDollar is the ability to log each of your daily expenses in the mobile app so that you can keep your budget fully up-to-date.
The EveryDollar Plus paid version allows you to connect to your bank accounts so that transactions and balances are automatically integrated into your budget. 
EveryDollar is a great option if you're struggling to budget regularly or if you want to get serious about paying off debt or investing.
Acorns
Cost: $1, $3 or $5 per month
Benefit: Automatically turn your spare change into investments 
For each of your daily transactions, Acorns "rounds up" to the next dollar and invests that money. The idea behind this micro investing is that you can build wealth while hardly noticing that the money is missing from your checking account. 
Acorns uses low-cost exchange traded funds (ETFs) and lets you choose from a few different diversified portfolio options. You also have the option to use Acorns to save for retirement in an IRA or to use an UTMA/UGMA to invest for your child.
I really like basic Acorns plan as a way to get familiar with investing, and it's great if you're just getting started. 
Personally, my one concern is that the monthly Acorns subscription cost is proportionally very high. If you invest $30 per month with Acorns, for example, the $3 fee would equate to a 10% cost and the $5 fee would be 16.7%. 
Once you get comfortable in Acorns, I'd recommend working with a fiduciary Certified Financial Planner to evaluate if you need to be investing more elsewhere to reach your long-term goals. 
Digital minimalism for inbox clutter
Your email inbox is an endless source of clutter. Sorting through the legitimate financial notifications, social communications, and spam can be a real time-sucking chore.

There are several free and affordable options, though, to help you keep the subscriptions in check.
Unroll.me
Cost: Free
Benefit: Manage your email subscriptions with the option to combine email subscriptions into daily summaries
I've personally used Unroll.me for a few years. 
My favorite feature is that it searches all of your emails and identifies lists you're subscribed to, then you can choose which ones to unsubscribe from — all within the Unroll.me dashboard.
If there are some subscriptions that you don't want to completely unsubscribe from, but you're less interested in, you can combine them into a daily "Rollup" summary.
The one downside is that I recently noticed this disclaimer on the Unroll.me website:
"I understand that my email data will be used to support Rakuten Intelligence's e-commerce measurement business."
You probably already assume that any free web app is using your data somehow, but in this case you can decide if you're uncomfortable with Rakuten using your email data.
Other things to note:
a recent update to Unroll.me forced me to enroll in 2-factor authentication with my email provider and
if you change your email password you'll be temporarily disconnected from Unroll.me. 
Overall though, Unroll.me is an easy-to-use service and it definitely de-clutters. Plus, the price is right: it's free!
SaneBox
Cost: Free trial for 14 days, then pricing starts at $59 per year
Benefit: Advanced email sorting and filtering
SaneBox offers more advanced, active features than Unroll.me. 
Your incoming mail can be automatically filtered into folders, you can turn on "do not disturb mode," kick tasks off to teammates, and dismiss unwanted contacts to the SaneBlackHole. 
SaneBox is a great tool if you use email as a primary communication channel for your work — especially if the price can be covered as a business expense. 
SaneBox seems like overkill for personal emails and may not be worth the annual price unless you'll be using it regularly. 
If you're looking for a solution somewhere in between the simplicity of Unroll.me and the advanced features of SaneBox, you may want to check out these other options:
Boomerang can help you manage when you send and receive email and InstAddr (iOS) and SpamBox (Android) can create temporary email addresses so you don't have to give away your primary one.
Bonus tip: Gmail email address variations
Cost: Free
Benefit: Easily sort and filter incoming emails to your primary address without any additional apps or services
I found this tip while reading a Reddit thread recently and I gave it a try. If you have a Gmail account, it will accept a few variations of your address, and that can be useful.
One option is to add the "+" sign plus additional text, like [email protected].

So, you can use [email protected] to give to sites that you don't want to receive emails from. 
To set up the filter, select message, click the "more" button (three dots stacked vertically), put the [email protected] address in the "To" field, and fill out the form to tell Gmail how to treat it. 
In theory, you could use this same technique to filter your emails more specifically beyond just junk. For example, you could use [email protected] to create a new "bills-only" folder and [email protected] for account statements.
My favorite thing about this trick is that you don't need to download any new apps or open new accounts!
Embrace digital minimalism 
These affordable tools can help you take control of your life and reach your personal and financial goals — whether that's time management or saving for retirement. 
Don't let notifications, bills, and the constant barrage of digital information take time away from your biggest priorities in life, whatever those may be!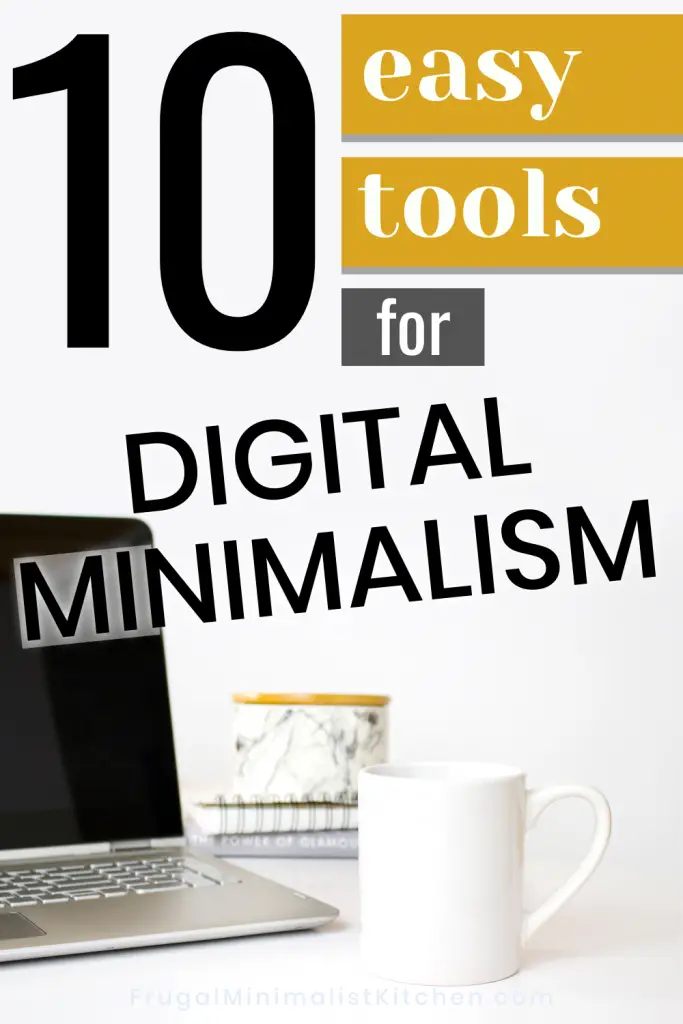 Read more about minimalism:
Minimalist Decluttering Tips
7 Simple Things Minimalist Millennials are Doing to Save Money
Minimalist Finances: 4 Tips to Manage Your Money as a Minimalist