Minimalist Christmas decor is all about simplicity and functionality. When applied to holiday home decor, minimalism can be a great way to keep your space organized and tidy while still looking chic and seasonally appropriate.
While some people might go all out with garlands, multi-colored lights, life-sized nutcrackers, Santa decor, and other traditional decorations, others may prefer a more minimalist approach to Christmas decor.
Minimalist Christmas decor is often a combination of natural elements like branches, greenery, and pinecones with some clutter-free Christmas decorations. Generally the colors will be neutral, but if you like color, it's great to add a few accents in classic Christmas colors too!
Minimalist Christmas decor ranges from a simple strand of lights and some Christmas music to full out Christmas decorations. Choose whatever is right for you!
If you love Christmas and feel that more is more this time of year, that's perfectly ok. You can still be a minimalist in the rest of your life so don't feel you need to tone it down if it makes you happy.
For those who prefer a more subdued style year round, you might be wondering how does a minimalist decorate for Christmas? What about a minimalist Christmas tree?
By choosing simple, minimalist pieces, you can create an elegant look that will last throughout the Christmas season, from after Thanksgiving all the way into winter!
I've also included some ideas for small, minimalist spaces that take up very little (or no!) space to store in the off season.
Here are some tips for minimalist Christmas decor that will give you that cozy, Minimalist Hygge Christmas vibe without the clutter.
This page contains affiliate links which means I may earn a commission if you use them, at no additional cost to you. See disclosure policy for details.
I've included Etsy shopping links for those who prefer handmade items or want to support small businesses, and I've also included Amazon links because I know how convenient they are to many of you!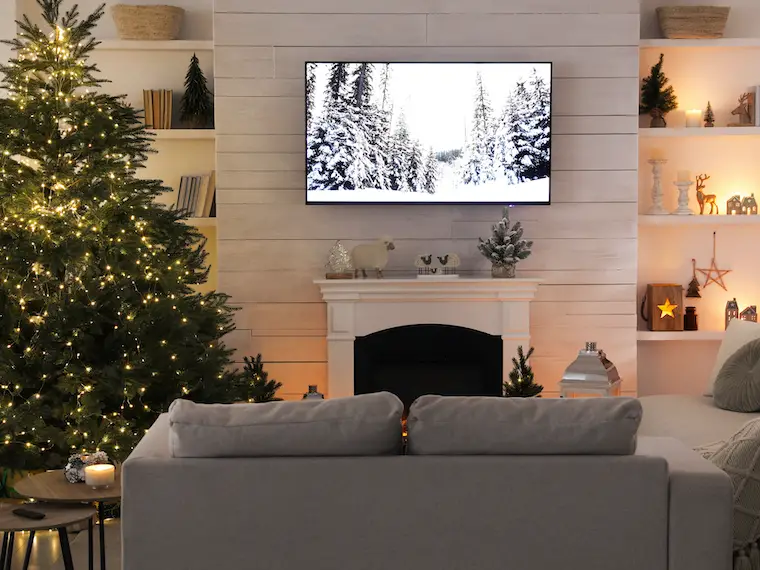 Minimalist Christmas Decor Ideas:
These decor ideas range from greenery to decor to subtle things to set the mood and even clutter-free and space saving ideas for small minimalist homes!
As always, find what works for your personal style and needs! Feel free to click any of the images or buttons to find product recommendations tailored to minimalist Christmas decor ideas!
Minimalist Christmas Trees
Minimalist Christmas trees can come in a lot of varieties, just like minimalism itself! The most minimalist trees would come in natural colors like realistic greenery or natural-looking frosted.
Pre lit trees or soft white fairy lights are optimal. Avoid bright or unnatural colors and blinking lights.
Many minimalists have large, modern, open-concept homes that can display a large, full Christmas tree. If space isn't a concern for you, you have many options to choose a tree based on your aesthetic.
Other minimalists have small spaces that may not fit a traditional Christmas tree or don't have the room (or desire) to store a large tree the rest of the year.
There are many creative Christmas tree options for small spaces such as 'pencil' or 'slim' trees which are tall and slim to take up a lot less floor space, quarter trees that fit into a corner, half trees that fit flat against the wall, or even creative tree alternatives like hanging boughs on the wall in the shape of a tree.
If storage space is your main concern, you might want to opt for a real tree to avoid having to store anything until the next season. There are even companies that rent out live trees in pots that you can return after you're done with it. Then they rent them out again the next year!
You can also find 'pop-up' Christmas trees that fold down into a small box, like maybe 18″x18″x12″ that would be easy to store in most spaces, especially compared to the size of most artificial trees!
On Etsy you can find some modern or Scandinavian minimalist Christmas trees made out of wood if you're looking for something a bit less traditional. Many of these fold flat for storage.
Shop for trees below or keep reading for more minimalist Christmas tree ideas and ornaments.
Minimalist Christmas Tree Decorations
Minimalist Christmas tree ornaments are often made of natural materials like wood, metal, or glass and are in neutral colors. They have a simple, understated style that adds a touch of elegance to your Christmas tree.
Metal and glass ornaments often have a metallic finish that reflects the light, creating a beautiful effect.
Wood ornaments are often carved with simple designs, adding a touch of traditional charm.
Whatever your style, minimalist ornaments can help you create a beautiful and festive Christmas tree.
Tip: Check out the options available on Etsy if you like a more hand made and/or Scandi-minimalist Christmas aesthetic.
Minimalist Christmas Wreath
A minimalist Christmas wreath is the perfect addition to a chic and modern minimalist home. Choosing a wreath with a simple, understated design makes it the perfect way to show your holiday spirit without going over the top.
Get one made with natural greenery to have a fresh, natural look that can be composted each year so there's nothing to store. Eucalyptus branches are a modern minimalist alternative to the classic evergreen boughs.
Or get a simple wreath that can be displayed for more than just the Christmas season, like one with a metal hoop and just a bit of greenery.
Scandinavian minimalist Christmas decorations are known for simplicity and elegance. Scandi minimalist decor often uses neutral colors and natural materials like wood and metal, which gives a rustic look that is very appealing.
If you do want to use color, limit it to tiny accents of red, green, black, or blue. This creates a clean and timeless look that never seems to go out of style.
Nature themes are also quite prevalent, with simple designs of trees, stars, and animals making subtle appearances.
Another thing that sets Scandinavian minimalist decor apart is the use of light. Many Scandinavian decorations use candles or LED lights to create a warm and inviting atmosphere.
Minimalist Christmas Stockings
Minimalist Christmas stockings are perfect for those who want a simple, yet chic minimalist aesthetic for the holidays. The best thing about minimalist stockings is that they're not too flashy or busy, and they'll make your Christmas mantel look beautiful.
Minimalist Christmas stockings come in a variety of colors and styles that can be used for many years and will never go out of style.
There are lots of options on both Amazon and Etsy, although Etsy has more options for modern Scandinavian minimalist designs whereas Amazon has a good selection of more traditional designs in neutral colors.
Minimalist Christmas Village
You can find some really cute white ceramic light up minimalist Christmas villages on Amazon. If you check out Etsy, there are a lot more options, including hand made little wooden Christmas villages.
I especially like the idea of getting a Christmas village design like this one that can be made at home out of paper. This is an awesome option for if you don't want to store anything from season to season – just print and cut out a new Christmas village each year – very minimalist!
Minimalist Christmas Lights
Twinkle lights are the quintessential Christmas decoration! I love them because they're so versatile and can be used in so many different ways (even year round).

When using twinkle lights for decorating for Christmas, consider where you'll be placing them to help you decide what kind to get and whether you can plug them in or not.

If you plan to use them around a window, on a tree, or under the upper cabinets in your kitchen, you can probably use plugin twinkle lights.
If you're planning on using twinkle lights to decorate on top of your kitchen cabinets, inside a glass-front cabinet, on open shelving, or somewhere else not easily accessible to an outlet, you might opt for battery operated lights.
Printable Christmas decor is also super minimalist to get in the spirit of the season with virtually nothing to store! Simply order a print, or print out a cute printable at home and display it in a frame that you switch out different prints throughout the year.
You can simply print out new designs each season, or store your favorites in a small binder that doesn't take up a lot of space at all. There are no complicated instructions or patterns to follow, just print out the designs and start decorating!
There are a few options on Amazon, but there are a lot more options on Etsy so check there if you're interested in this idea!
Set the scene with more than just stuff
I think it's important to incorporate all of our senses into decorating for the season.
Instead of just things to look at, think of what you could include that adds seasonal smells, tastes, sounds and touch as well.
If you're making seasonal food like Christmas cookies, put them on display! Eat your favorite holiday foods and drinks (so Hygge!).
Diffuse Christmassy essential oil blends or light a holiday scented candle and put on your favorite holiday tunes.
Light a fire in the fire place and snuggle with cozy blankets and your pets or loved ones.
This helps you add Christmas vibes without having to store tons of decorations for the rest of the year.
If you're looking for some more simple ideas to spruce up your home for Christmas, check out these minimalist Christmas decor ideas for some inspiration!
Christmas Scents
A scented candle or essential oil diffuser probably does more to set the mood than any amount of decor ever could. You can find soooo many delicious Christmas-themed options.
And unlike having a Christmas-themed candle holder like these, a Christmas-scented candle can be burned up by the end of the season so there is no clutter for you to store from year to year!
If you prefer a bit subtler approach to Christmas decor, go for some traditional Christmas scents or try out some more interesting Christmas scents out there!
There's nothing like seasonal scents to get you in the mood late November and then easily transition right into the winter months.

Think of any of these delicious Christmas scents filling your home and get in the minimal Christmas spirit:
Christmas Themed Hand Soap
Hand soap is perfect for a minimalist Christmas! Put it out in the late fall and it will get used up by the time the holiday season is over, or choose a more wintery scent that will be relevant all winter.
If you want to keep it extra minimalist, simply refill your regular soap dispenser with Christmas scented hand soap so the visual aesthetic is the same but you'll still get to enjoy the fragrance.
Cozy minimalist Christmas decor
One of the best things about Christmas is that it's the perfect time of year for snuggling up under a warm blanket with a good book or movie. Add some cozy touches to your home this season by placing an extra pillow on your couch, lighting a candle, or putting up a wreath on your front door.
Choose pieces that serve a purpose beyond just decoration. For example, switch out your summer flower bouquet for a pretty display of your tea pot and mugs.
Use subtle Christmas-themed accessories
There are lots of great Christmas-themed accessories available, but if you're more a fan of Christmas decor concept, rather than a "theme", try adding some candles, placemats, or napkins that feature Christmas or wintery colors rather than designs that are very literal, like Christmas trees or Santa Claus.
Stick to neutral colors and simple patterns
If you're happiest with a neutral minimalist color palette for your home, find decor items that fit in seamlessly with your aesthetic. Think: real greenery, white twinkle lights, a metallic wreath, or an extra chunky knit throw blanket.
Metallics are also a great way to add a pop of interest without relying too heavily on color.
Or experiment with pops of Christmas color
One of the easiest ways to decorate for Christmas is by using Christmas colors in your scheme. Try replacing your throw pillow cover with a muted red or green color or placing some colored candles on your coffee table.
Seasonal tones like warm whites, reds, forest greens, or cool icy blue can really add to the seasonal feeling. Generally I pair 2 colors from red, green, gold, silver, white, black and blue.
Fewer colors keeps it from being overly loud and Christmas "themed".
Decorate with things you use year round
These can be everyday things that, paired with something seasonal, add to the decor.
It also includes things you keep just for seasonal decor that you specifically switch out for each season. This way they don't take up as much space to store and are actually quite easy to switch out each season!
For example, a glass hurricane vase (filled with pinecones, Christmas balls, or a candle), a picture frame (filled with favorite seasonal family photos or Christmas printables), a letter board or chalk board with a Christmas message, a cozy throw blanket in neutral or a Christmas color, a colored throw pillow cover, or your everyday minimalist dinnerware.
Use your letter board to display a fun, heartwarming or minimalist Christmas message.
If you don't yet have a letter board, get one on Etsy or on Amazon.
Make sure to get some cute Christmas letter board icons like the ones pictured above! They can be stored with your regular letter board icons so they will not take up any additional space in the off season.
Decorate with natural elements
Greenery is always a nice touch in any season, and it's especially fitting for Christmas. Try using real evergreen boughs for garlands, mantle decor, or wreaths.
Eucalyptus sprigs add a muted green that's a bit more modern than the traditional greenery.
Or try adding twinkle lights to some branches from your backyard to add natural texture and color to your decor.
Use wood, stone, and other earthy elements to create a warm and inviting atmosphere. There's nothing minimalist about kitschy faux plastic decor (sorry, not sorry).
For example, choose a live tree and greenery that you can compost at the end of the season so you avoid having to store artificial stuff year round.
Or fill that clear glass vase with pinecones for display throughout the holiday season, then toss them back outside when you're done with them!
Keep it simple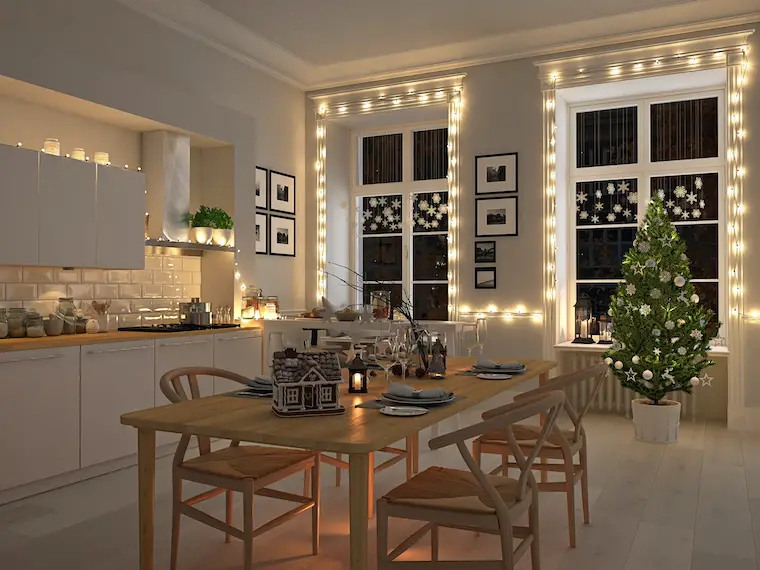 Too much clutter can overpower your decor and make the space feel cluttered and messy. Choose a few key pieces and display them thoughtfully.
Keep decoration to a minimum and focus on creating a warm and inviting atmosphere.
Try having one main focal point with Christmas decor. This is usually the Christmas tree or the mantle.
Or spread a few little Christmas accents throughout your home to avoid overwhelming it.
Display seasonal things that you'll get rid of after the season
These items might be consumable items that will be eaten or used up by the end of the seasons like Christmas baking, candles, seasonal hand soap, or Christmas cards you got in the mail.
This could also include things like your kids seasonal crafts and artwork, assuming you don't keep everything they make!
Keep your decorations to 1 small box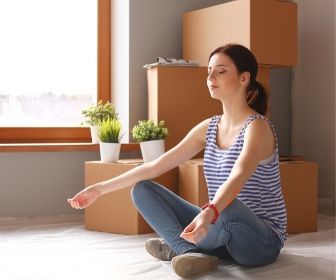 If you do choose to keep seasonal decor specific to Christmas, keep it contained to 1 or 2 boxes. That means if you get something new, you'll need to get rid of something else so you'll avoid the clutter accumulation trap.
---
With these tips in mind, you can create a beautiful minimalist Christmas decor scheme for your home that will last well into the winter months.
Whether you go for mainly a minimalist decor aesthetic, or are more minimalist in trying to avoid the clutter of storing seasonal decor, I hope you found some inspiration in how to decorate for Christmas!
How can I decorate my Christmas minimally?
Decorate your Christmas minimally without overdoing it by using natural materials such as branches, pine cones, and berries. Metallic accents such as gold or silver ornaments, garland, and ribbons add a touch of glamour. If you wish to use a brighter accent color, stick to one tone of green or red. White, black, and muted green are good choices to keep things elegant and understated.

Whatever you do, avoid using too many decorations or using more than one bright accent color, as this can easily look overdone. Choose one area such as the Christmas tree or the mantle to create a Christmas focal point, or add a few small touches throughout your home to avoid going overboard.
What do Minimalist do for Christmas?
Minimalists do Christmas like most other people; spending time with loved ones, enjoying good food, and exchanging simple gifts. But instead of going all out on decor and gifts, minimalists usually try to keep it simple at Christmas, with maybe a minimalist gift for each other and a little bit of understated Christmas decor.
Read More:
How to Have a Minimalist Christmas
Christmas Decor for Kitchen Cabinets
How to Host a Minimalist Dinner Party
Minimalist Gifts for Christmas they actually want!
27 Best Minimalist Gifts For Her This Year
Minimalist Gifts For Him
100+ Consumable Gifts For under $25
65+ Gifts for Minimalists (that fit your budget!)