Minimalism is all about simplicity and functionality. When applied to home decor, it can be a great way to keep your space organized and tidy while still looking chic and seasonally appropriate.
While some people might go all out with pumpkins, leaves, and other traditional decorations, others may prefer a more minimalist approach to fall decor.
Minimalist fall decor is often a combination of natural elements like branches, flowers, pumpkins, and leaves with some clutter-free fall decorations. Generally the colors will be neutral, but if you like color, it's great to add a few accents in classic fall colors too!
By choosing simple, minimalist pieces, you can create an elegant look that will last throughout the season, including Halloween and Thanksgiving!
This page contains affiliate links which means I may earn a commission if you use them, at no additional cost to you. See disclosure policy for details.
I've included Etsy shopping links for those who prefer handmade items or want to support small businesses, and I've also included Amazon links because I know how convenient they are to many of you!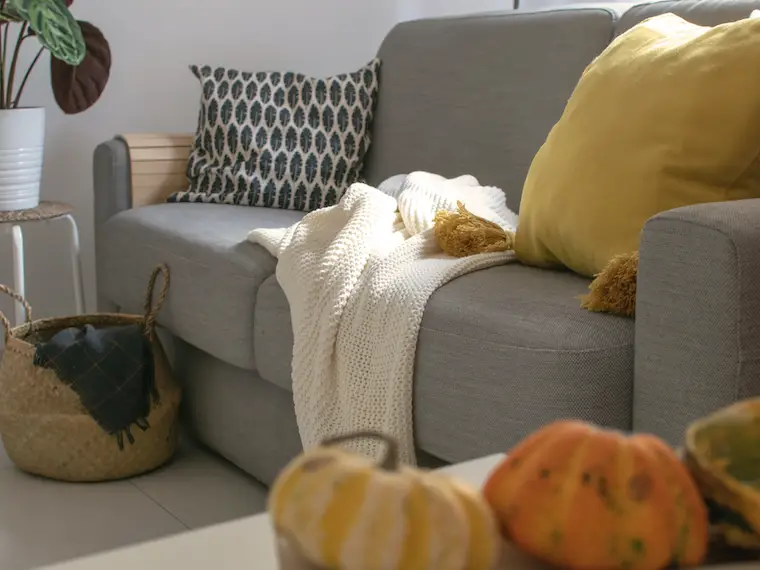 Set the scene with more than just stuff
I think it's important to incorporate all of our senses into decorating for the season.
Instead of just things to look at, think of what you could include that adds seasonal smells, tastes, sounds and touch as well.
If you're making seasonal food like apple pie, put it on display! Light a scented candle and put on music that reminds you of fall. Add a cozy throw blanket to your sofa.
This helps you add fall vibes without having to store tons of decorations for the rest of the year.
If you're looking for some more simple ideas to spruce up your home for fall, check out these minimalist fall decor ideas for some inspiration!
Minimalist Fall Decor Ideas
Fall Candles
A scented candle probably does more to set the mood than any amount of decor ever could. You can find soooo many delicious fall-themed options.
And unlike having a fall-themed candle holder like these, a fall-scented candle can be burned up by the end of the season so there is no clutter for you to store from year to year!
If you prefer a bit subtler approach to fall decor, go for some traditional fall scents or try out some more interesting fall scents out there!
There's nothing like autumn scents to get you in the mood early in September and then easily transition right into Thanksgiving.

Think of any of these delicious fall scents filling your home and get in the minimal fall spirit:
Printable Fall Decor
Printable fall decor is also super minimalist to get in the spirit of the season with virtually nothing to store! Simply order a print, or print out a cute printable at home and display it in a picture frame.
You could either save the artwork in a binder for next year, or print a new one next year. Switch the artwork out depending on the season and you can have your holiday spirit year round!
There are a few options on Amazon, but there are a lot more on Etsy so check there if you're interested in this idea!
Fall Letter Board Icons
Use your letterboard to display a cheeky fall message.
If you don't yet have a letter board, get one on Etsy or on Amazon.
Make sure to get some cute autumn letter board icons! They can be stored with your regular letter board icons so they will not take up any more space in the off season.
Fall Dish Towels
Fall-themed dish towels are a super easy way to spruce up your kitchen for the season without taking up much space in storage when not in use.

Not only are fall-themed dish towels adorably festive, they're functional too! Simply switch out your regular dish towels for seasonal ones when you're ready.

Hang the dish towel on the stove handle or get a cabinet door towel bar to decorate your kitchen cabinets.

I'm a big fan of making use of decorations for more than just one season when possible, so I've included some options above, like buffalo check, that can easily be used throughout fall and into the winter season too!

You could even use your regular year-round dish towels in a solid color if they fit with your autumn decor style (off-white, brown, beige, red, or even orange work well!)
Fall Themed Hand Soap
Hand soap is perfect for a minimalist fall! Put it out early September and it will get used up by the time fall is over!
If you want to keep it extra minimalist, simply refill your regular soap dispenser with fall scented hand soap so the visual aesthetic is the same but you'll still get to enjoy the fragrance.
Add some cozy touches
One of the best things about fall is that it's the perfect time of year for snuggling up under a warm blanket with a good book or movie. Add some cozy touches to your home this season by placing an extra pillow on your couch, lighting a candle, or putting up a fall-themed wreath on your front door.
Choose pieces that serve a purpose beyond just decoration. For example, switch out your summer flower bouquet for a pretty display of your tea pot and mugs.
Use subtle autumn-themed accessories
There are lots of great autumn-themed accessories available, but if you're more a fan of fall decor concept, rather than a "theme", try adding some candles, placemats, or napkins that feature autumnal colors rather than designs that are very literal, like pumpkins or leaves.
Stick to neutral colors and simple patterns
If you're happiest with a neutral minimalist color palette for your home, find decor items that fit in seamlessly with your aesthetic. Think: real white pumpkins or gourds, pampas grass, or an extra chunky knit throw blanket.
Or experiment with fall colors in your decorating scheme
One of the easiest ways to decorate for fall is by using fall colors in your scheme. Try replacing your throw pillow cover with a warm orange color or placing some colored candles on your coffee table.
Warm autumnal tones like warm whites, reds, oranges, and yellows can really add to the seasonal feeling.
Stick to a color palette of 1-2 accent colors to keep it from being overly loud and fall "themed".
Decorate with things you use year round
A glass hurricane vase (filled with leaves and pinecones), a picture frame (filled with seasonal family photos or fall printables), a glass frame for pressed flowers or leaves, a letter board with a fall message, a cozy throw blanket in neutral or fall colors, a colored throw pillow cover, your everyday minimalist dinnerware.
Decorate with natural elements
Greenery is always a nice touch in any season, and it's especially fitting for fall.
Try using potted plants like fall-colored mums, pampas grass or branches from your backyard to add natural texture and color to your decor.
Use wood, stone, and other earthy elements to create a warm and inviting atmosphere. There's nothing minimalist about kitschy faux plastic decor (sorry, not sorry).
Keep it simple
Too much clutter can overpower your decor and make the space feel cluttered and messy. Choose a few key pieces and display them thoughtfully.
Keep decoration to a minimum and focus on creating a warm and inviting atmosphere.
Display seasonal things that you'll get rid of after the season
These items might be consumable items that will be eaten or used up by the end of the seasons like fall baking, candles, or seasonal hand soap.
This could also include things like your kids crafts and artwork, assuming you don't keep everything they make!
Keep your decorations to 1 small box
If you do choose to keep seasonal decor specific to autumn, keep it contained to 1 box. That means if you get something new, you'll need to get rid of something else so you'll avoid the clutter accumulation trap.
With these tips in mind, you can create a beautiful minimalist fall decor scheme for your home that will last well into the winter months.
Whether you go for mainly a minimalist decor aesthetic, or are more minimalist in trying to avoid the clutter of storing seasonal decor, I hope you found some inspiration in how to decorate for Fall!
Read More:
Frugal Minimalist Black Friday
How to Have a Minimalist Christmas
Christmas Decor for Kitchen Cabinets
How to Host a Minimalist Dinner Party
Wondering what to do With Leftover Cranberry Sauce?