The best coffee makers are the ones that make great coffee with little effort. This is why minimalist coffee makers are becoming more and more popular. These coffee makers are simple to use and make a great cup of coffee without all of the fuss.
These coffee makers are designed to make brewing coffee as simple and streamlined as possible, so you can focus on enjoying your cup of coffee instead of fiddling with complicated machines.
There are a few different types of minimalist coffee makers available on the market, but they all have one thing in common: they're easy to use and have a simple, elegant design.
Some of the most popular models include the French press, moka pot, drip machine, Aeropress, pour-over, and cold brew method.
Each of these coffee makers has its own unique benefits, so it's worth taking the time to explore each one before making a decision.
I've put together a list of my favorites in each category to help you decide which is right for you.
This page contains affiliate links which means I may earn a commission if you use them, at no additional cost to you. See disclosure policy for details.
This blog post is sponsored by Bellemain but be assured that all opinions are my own.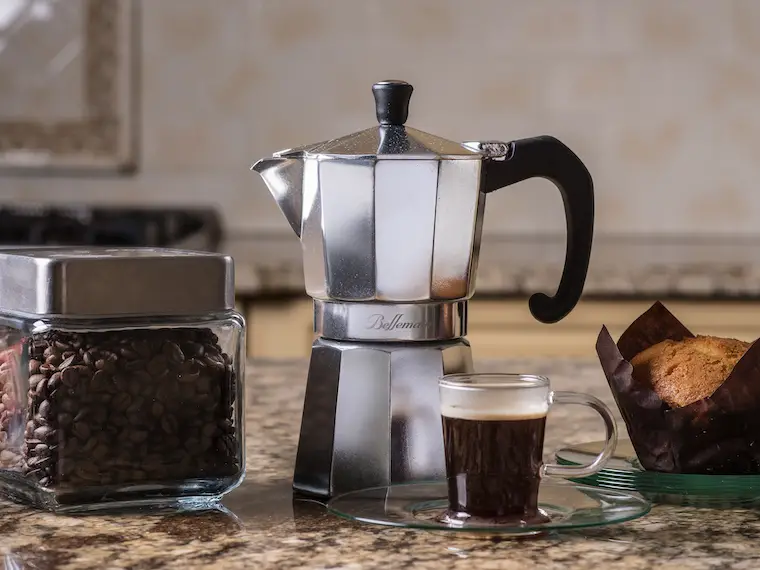 Minimalist coffee setup
There's no one minimalist coffee setup that works for everyone. The key is to find the setup that works best for your life.
You first want to consider what style of coffee you like drinking and choose a coffee maker that makes that style of coffee.
You will also want to consider what your style of minimalism is. Do you prefer things to look attractive with a minimalist aesthetic?
Or do you prefer things that are designed very simply and are easy to use and care for? For example, a coffee maker that has fewer parts, is easy to clean, is fast and simple to use, is easy to maintain, and doesn't require you to buy other things just to use it (like specific coffee pods, filters, etc.).
You will also need to consider how many cups of coffee you usually make at a time.
In this review, I'm going to use these aspects to rate the different minimalist coffee makers and let you decide for yourself!
French Press – Best Multipurpose Minimalist Coffee Maker
If you're looking for a more traditional minimalist coffee maker, the French press might be a good fit for you. The French press is known for making coffee with rich and bold flavors.
Since the coffee is filtered by the built in mesh filter, there's no need to worry about buying and storing extra filters that aren't so minimalistic.
French presses are commonly made from stainless steel or have a glass carafe but you can also find them made from other materials like ceramic as well.
I personally prefer a stainless steel French press because they're durable (I've broken several glass coffee makers in my time). Plus if you get a double wall insulated one like Bellemain's French Press your coffee will stay hot for hours!
Pros:
Very easy to use, you just add coffee and hot water, wait a few minutes, then press down on the plunger
Multipurpose: make coffee, loose leaf tea, cold brew, and flavor infused water
You can make several cups of coffee at once
Very easy to clean
No special filters
No electronic parts
The coffee produced by a french press is strong and flavorful
Small so don't take up a lot of room
Simple, minimalist design

Cons:
Many are made of glass which isn't that durable and loses heat quickly
French press coffee can have a more intense flavor than other brewing methods which may not be to everyone's taste
The coffee filter can sometimes let small grounds through, which can create a gritty texture in the cup. Be sure to get one with a double filter to avoid this
Moka Pot – Best Minimalist Espresso Maker
A moka pot is an awesome coffee maker that allows you to quickly brew up a few cups of coffee in just a few minutes. While not traditional espresso, the moka pots are often referred to as stovetop espresso makers because they're able to create quite a strong brew.
I really like that it's fully self contained. It's just a few parts, doesn't require any ongoing purchase of coffee filters, and uses stovetop heat so you don't even need a tea kettle to boil water separately.
It also has an attractive design and a tiny footprint that tucks away nicely into a small kitchen. This stovetop moka pot espresso maker from Bellemain has the true Italian minimalist design.
Some of the highlights of a moka pot that make it a top contender for best minimalist coffee maker is that it is:
Pros:
Attractive, traditional minimalist design
Very easy to use
Very fast to use
Very easy to clean
No electronic parts
Don't need any extra parts or filters- you don't even need a kettle as it's all self-contained
Cons:
Only makes one type of beverage (espresso)
Only makes a small amount at once
Minimalist Drip Coffee Maker – Minimalistic Design Classic Coffee Makers
Traditional drip coffee makers tend to be ugly and clunky, however, a drip coffee maker with a minimalist design is perfect for those who want a classic coffee brewing experience but also a simple, yet elegant machine. The sleek design will look great on any countertop.
The automated brewing process makes it easy to get your morning caffeine fix without any pre-caffeine effort. Simply set it up the night before and let the timer start brewing automatically!
Pros:
Can make a pot of coffee easily – totally hands off
Great if you're used to drip coffee – no learning any fancy new brewing methods
Come in a variety of sizes, so you can find one that fits your needs
Many models have timers, so you can set it and forget it
Cons:
Takes up counter space and difficult to store
Require coffee filters
Internal parts need cleaning/descaling in order to function properly
Electronic parts and display – not easily fixable if something goes wrong
Minimalist Pour over Coffee – Best Minimalist Morning Routine
Making pour over coffee is a good option for a minimalist because it is simple to use and aesthetically pleasing.
This brewing technique involves pouring hot water over ground coffee beans in a filter cone, allowing the coffee to drip into a carafe below. The pour-over method is known for its delicate flavors and nuanced aromas, making it perfect for those who appreciate complex coffees.
Pour over coffee makers are small and compact, so they don't take up much space on your countertop. They also have a sleek design that will look nice in any kitchen.
Because of their superior aesthetics, and because you need to stand and pour the hot water over the grounds manually, this style of coffee is awesome for people who find relaxation in a minimalist morning routine like making coffee.
The Chemex is a super popular option. It's made of thick, durable glass and has a wood collar and leather tie. It's simple to use and makes a great cup of coffee.
Pros:
Super attractive options
Easy to use and produce consistent results
Small footprint so easy to fit in a small kitchen
Portable and can be taken with you on the go
No electronic parts
Cons:
Do not make a lot of coffee at once
The process of making coffee with a pour over coffee maker can be a little time consuming
Require special paper filters, however, some come with reusable metal mesh filters
Need to also use a kettle for boiling water
Aeropress – Best Space Saving Coffee Maker
If you're looking for a minimalist coffee maker that's quick and easy to use, the Aeropress is a great option. This coffee maker is made up of just a few simple pieces and is easy to use.
You can use it to make espresso-style coffee, regular coffee, or cold brew in just 1-2 minutes.
It's quite small, and since it's made from plastic, it's also pretty durable so great for travel or small spaces.
Pros:
Aeropress coffee is smooth and flavorful
Makes espresso-style coffee, regular coffee, or cold brew
Space-saving compact size
Portable and easy to use
Brews coffee in just 1-2 minutes
Durable
No electronic parts
Cons:
Cannot make a lot of coffee at once
Not the most aesthetically pleasing design
Requires special filters
Cold Brew Coffee Maker – Best for Making Ahead
Brewing coffee with a cold brew system is a great option for a minimalist for a few reasons.
First, it is a fairly simple process that doesn't require any specialty equipment – you can get specialty cold brew coffee makers like the ones shown above, however your French press or Aeropress can also make cold brew.
Second, cold brew coffee lasts longer than regular hot brewed coffee, so you can prep ahead and have it last for several days. This makes for super easy mornings – just pour and go!
Pros:
Make your coffee the night before (or several days in advance) to have it ready to drink in the morning
You can make a large batch of cold brew coffee and store it in the fridge for later use
Different flavor profiles than hot brewed coffee
Easy to use and doesn't require any special skills or knowledge
Can also be used for loose leaf tea or flavor-infused water
No electronic parts
Cons:
Takes longer to brew than traditional coffee methods
Only one use – can't also make traditional coffee with a purpose made cold brew maker
Keep Reading:
12 Highly Rated Amazon Kitchen Appliances You'll Want To Use Daily
18 Best Minimalist Aesthetic Water Bottles
Minimalist Aesthetic Lunch Boxes
Minimalist Pantry Labels (Cute & Organized!)
How do you make minimalist coffee?
To make minimalist coffee, you need to brew coffee grounds with hot water. You can use a French press, a moka pot, a pour-over, an aeropress, a minimalist drip coffee maker, or other minimally designed coffee maker to do this.

The exact instructions will depend on the type of coffee maker you choose.

Minimalist coffee, just like a minimalist diet, would also be simple to make and include simple ingredients. For instance, fancy Starbucks orders with all sorts of added flavors and whipped cream would not be considered minimalist.
Is there a coffee maker that does everything?
Yes, there are many coffee makers that claim to do everything. These machines can brew coffee, make espresso, and froth milk. Some machines even have built-in grinders, so you can grind your own beans right before brewing.

Generally these machines are expensive and take up a lot of counter space.

They could be considered minimalist coffee makers since you only need the one machine to do everything, however, make sure to only get a machine with the features you will use.

Also note that if one function of the machine breaks down, you will have to replace the whole machine versus if you had separate machines for each function, you would only need to replace that one thing.

Overall, minimalism is so individualized so it's totally up to you to decide what is the most minimalist option for you.
Minimalist coffee makers are a great way to reduce the amount of clutter in your kitchen. They are small and easy to use, and they make a great cup of coffee. If you're looking for a way to simplify your morning routine, a minimalist coffee maker is the perfect solution.
Overall, a French press is the most versatile coffee maker because it allows you to make traditional coffee, cold brew, loose leaf tea and can even be used to make fruit infused water.
I'd like to know which coffee maker works best for your minimalist lifestyle?