Having a large family is a blessing and absolute joy, but feeding a large family and ensuring they get tasty and nutritious food can be expensive. When you're trying to save money on groceries for a large family, you must learn to budget and get creative with your money to get the most out of it. 
Something as simple as three children needing new shoes all at the same time could knock you over the edge with your finances. 
We are a household of seven, four adults and three children. This article shares seven ways we save money on groceries for our large family without compromising on the quality. 
How to save money on groceries for a large family without compromising quality
When shopping for a large family, you would be surprised that even saving a few pennies per serving starts to add up when multiplied by each member of your family. Even just saving $2/meal total (not per person) over the course of a year adds up to almost $2200!
Read on for these money-saving grocery tips you can start implementing right away.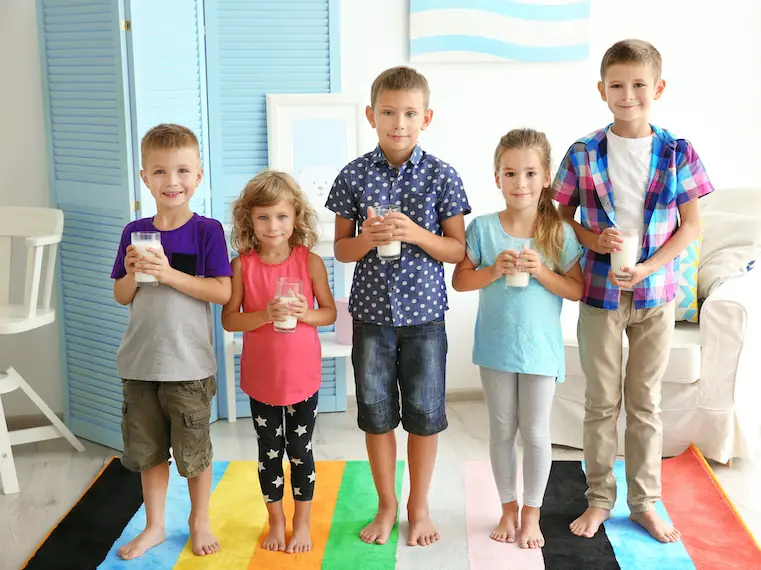 Plan your meals
The first and hands-down most significant way to save money on groceries, especially for a large family, is by carefully planning the meals for the week. 
Write down what you will be eating each day for the evening meal and what you will need to create those meals. 
We tend to have a treat meal on the weekend and some cheaper but tasty meals during the week. I try adding a few quick and easy meals in there as this gives me time options, so if I don't have time to cook, I won't resort to buying takeout! Any parent of a large family knows the cost of unplanned takeout for the whole family! 
This list of meal ideas is the start of the shopping list. From here, add anything you will have for lunches, snacks and anything else you need weekly. 
The beauty of writing a shopping list is that you already know everything you need when entering the store. This means that you will not waste money on impulse purchases, and you will be able to save on food waste. 
Not only will creating a list save you money, but it will also save you time, especially if you start with a master grocery list, a minimalist grocery list, or a grocery list notepad!
I have found that my grocery shop takes half the time now that I use a shopping list. A big win if like me you find shopping for groceries a big chore! 
Read more about meal planning:
Simple Meal Planning Ideas You Don't Want to Miss!
Hate Meal Planning? Here are some tips for you.
3 Reasons Why You Need to create a Minimalist Meal Plan!
7 Totally Free Meal Planning Printables
Top 7 Minimalist Meal Planning Techniques To Simplify Meal Planning
Shop around 
I have found when shopping for my family that prices can vary enormously from one store to another. I used to do all of my shopping in one supermarket as it was more convenient but I have found that by shopping around for the best deals I can easily save 30% on my total shop. 
I now go to a few different stores depending on what I need. I have found that many things are cheaper in the budget supermarkets, while other items are better value for money in the larger chain stores. 
You may find that going to your local butchers, greengrocers or using your local farmers' market works out more cost-effective than the regular grocery store, or vice versa. It really pays to shop around! 
Read more grocery shopping tips to help you save money on groceries for a large family:
65+ Ideas For How to Spend Less on Groceries
11 Best Grocery Apps (in Canada)
Things We Don't Buy to Save Money on Groceries
How Much Should I Spend on Groceries? 2 Real Life Families
Eat vegetarian (at least sometimes!)
Don't worry. I'm not suggesting that you should give up meat altogether if you don't want to!
We are a family of meat-eaters and can never envision a time when we would give up meat entirely, but logically, meat makes up a large portion of a food shop so is a good place to aim for some savings. 
By cooking a couple of vegetarian meals a week, you could make noticeable savings on your grocery bills. 
A couple of years ago, my eldest daughter decided to become a vegetarian, and while she no longer lives with us, it did pose a bit of a problem when she and my son-in-law came to visit.

What vegetarian meals would we feed them? 
We decided to come up with some tasty vegetarian meals so that we always had options for when they came to stay. 
A firm favourite in our house that is completely vegetarian is a Spanish tortilla. This is the ultimate in comfort food; so cheap and easy to make. This is a tasty and filling meal paired with baked beans or roasted veg. 
While exploring the joys of vegetarian food, we came across a cookbook called Flavour by Yotam Ottolenghi. It promised some fantastic vegetarian recipes without compromising flavour. As a passionate meat-eater, it really delivered.
This book has some amazing tasting meatless recipes!
Our favourite recipe from the book is his Portobello steaks and butter bean mash. (You can actually see the recipe in the preview of the cookbook on Amazon.) This is something that we cook regularly for our family as it is so tasty and actually feels like a treat even though it only costs pennies to make. 
More tips on how to eat (Dietitian Approved!):
11 Ways to Eat Healthier on a Budget
Eating a Minimalist Diet
Eat Simply With These Tips From A Dietitian
Buy in bulk
When shopping for a big family, I find that it is always good to buy in bulk if you can afford to. What may cost you more in one week will save you money over the months. 
If there is an item that you know your family will use a lot and it is on sale then it makes sense to buy in bulk. This could be something as simple as flour or apples. 
We have a large butcher's shop near us that sells extra-large packages of meat. I tend to shop there once a month and portion the meat into bags. Whatever isn't getting used that week will go in the freezer. 
You may not have a lot of room for perishables in your fridge and freezer, but if you can make the space with some proper freezer organization, it will save you money in the long run.
Non-perishable food, such as rice and pasta, can work out to be a great value when you buy them in bulk bags and, once opened, can be stored in large glass jars like these to keep them fresh.
If you go large then you won't have to buy these items every week so this will also save you time when grocery shopping. 
Just make sure that you only buy what you know you will use so that nothing gets wasted! 
Know what you have in your cupboards
When writing your meal plans for the week, it is essential that you check what you already have in your pantry and freezer. Using up what you already have will free up space, save waste and save you spending money that you don't need to. 
I always check what we have left in the fridge and freezer every week, and every couple of months, I do an itinerary of what we have in the pantry so I can use what we have before buying more.
It is surprising how much you can save by doing this, particularly if you are in *that week* before payday.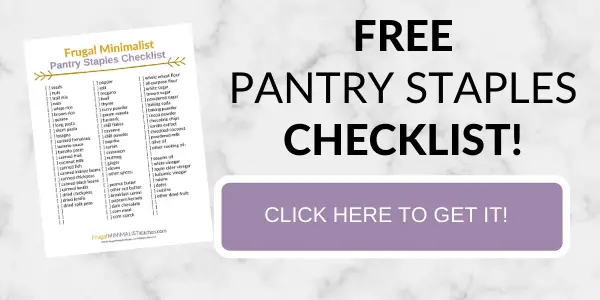 Eat fresh
One of the best things that you can do for your family is to eat fresh and healthy foods. This doesn't mean that you have to spend a fortune on organic produce but by eating seasonably you will get fresher and cheaper fruit and vegetables. 
I always try to buy fruit and vegetables that are in season as they cost a lot less than out-of-season produce.
By knowing what is in season I not only save money but also get much tastier food! 
Read: Top Fruits & Veggies that store 2+ weeks
I try to make my own sauces instead of buying jars or packets. I was finding that for a large family I was having to buy two or three jars of sauce to make one meal and this wasn't cheap.
With a small amount of investment in some herbs and spices and a little time in the kitchen, I can make some very tasty sauces very cheaply.
A simple tomato sauce recipe can be perfect for pasta, and can you can make it with a couple of tins of tomatoes, an onion and some mixed herbs or spices.
You can make your sauces in advance to save time when you are under pressure. I like to sneak extra veg into my sauces, so the kids get extra goodness!
Most sauces are suitable to freeze, so you will always have a quick meal available if you don't feel like cooking. 
Utilize your leftovers
A great way to save money on your groceries with a large family is to use your leftovers to create another meal where you can.
I tend to buy a couple of whole chickens instead of chicken breasts for meals as it works out cheaper, and you can use the leftover chicken to make another completely different meal the next day.
This way, you save on food waste, and using all of the chicken adds more flavour. 
This can work with any piece of meat you cook. Going large can save you money in the long run.
Pork and beef can make a stirfry the next day, and a joint of ham can be used in many dishes such as pasta, pies, and gratin. 
If you can plan to use your leftovers, you will save money and time as you won't need to cook from scratch the next day, win-win. 
We can all do with saving a little extra money at the moment, especially when you have a big family. With careful planning and frugally shopping, you can save money and time, eat healthier and be kinder to the environment.
Author bio: This article was written by Louise Elgey, a mother of six who writes mainly about family and how to save money with a family at helpthefamilies.com.
Read more grocery shopping tips to help you save money on groceries for a large family:
65+ Ideas For How to Spend Less on Groceries
11 Best Grocery Apps (in Canada)
Things We Don't Buy to Save Money on Groceries
How Much Should I Spend on Groceries? Examples from 2 Real Life Families