Looking for ingredient ideas for doing a Chopped mystery basket challenge at home? This list of ingredient ideas is the next best thing to a Chopped basket ideas generator. Simply mix and match 4 ingredients from the ideas listed and create your own Chopped mystery basket!
I've made sure to include Chopped basket ideas for kids and Chopped dessert basket ideas, as well as options for major holidays and events, plus ingredient ideas themed by color so you'll never run out of ideas and can play Chopped at home again and again!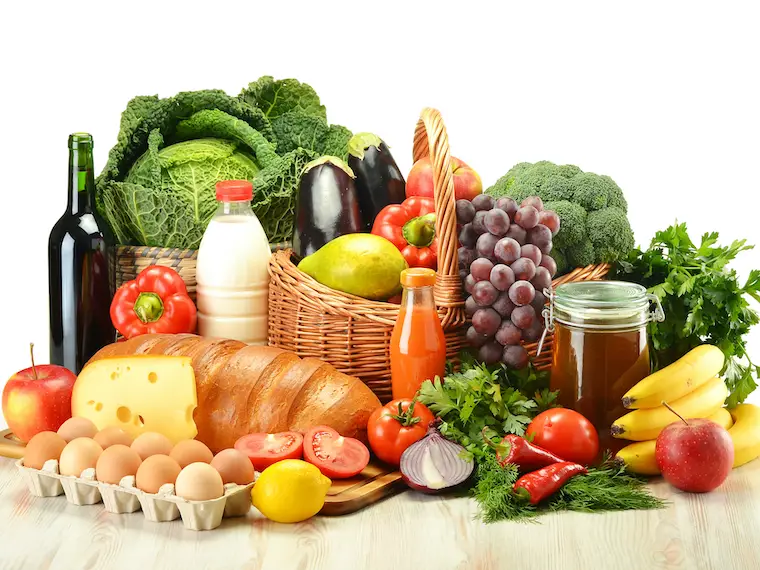 What is a Chopped Challenge?
In case you're not familiar, a Chopped challenge is a cooking challenge based on the Food Network TV show "Chopped". Professional chefs compete to create the best dishes from a set of surprise mystery basket ingredients.
You can easily replicate this fun cooking challenge at home and make it into a fun but challenging date night or a kid-friendly family activity.
Get the full instructions, plus even more mystery basket ideas in the Mystery Basket Challenge ebook!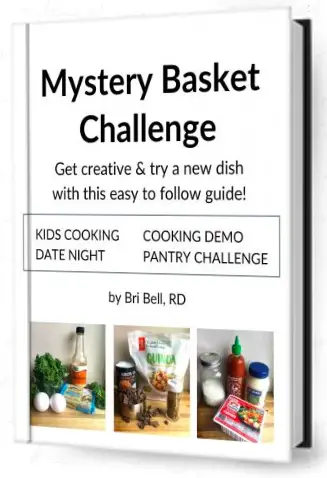 Chopped Basket Ingredient Ideas
Use these ideas for inspiration to host your own Chopped mystery basket challenge at home. Each mystery basket should contain 4 ingredients.
For the most creative outcomes, choose from several different food categories. For example, a mix of vegetable, fruit, grain, dairy, meat, legume, candy, sauce, etc rather than 4 vegetables.
For kids or less experienced cooks, choose familiar ingredients that are versatile and can easily be combined into many different meals.
For more adventurous or experienced cooks, try ingredients you've never used before, or seemingly weird combos that you would never think to pair together!
To make it easier for you, I've included shopping links for some foods that might be a bit tricker to find in store.
This page contains affiliate links which means I may earn a commission if you use them, at no additional cost to you. See disclosure policy for details.
Chopped Basket Ideas for Kids
Bread
Boiled eggs
Spinach
Mayo
Rotisserie chicken
Leftover rice
Salsa
Bell pepper
Chopped Dessert Basket Ideas
Frozen strawberries
Peanuts
Dark chocolate
Cayenne powder
Zucchini
New Years
Champagne
Berries
Leftover charcuterie board foods
Valentine's day
Chili peppers
Strawberries
Date Night
St Patricks day
Green beer
Guinness
Soda bread (mix)
Corned beef
Mothers day 
Favorite foods
Foods of her favorite color(s)
Chocolate
Leftover French toast/pancakes/waffles
Cinco de Mayo
Corn on the cob
Mayo
Avocado
Fish
Fathers day
Favorite foods
Foods of his favorite color(s)
Asparagus
Chopped BBQ
Pineapple
Cinnamon
Chili powder
Chicken breast
Broccolini
Bell pepper
Game Day
Chips
Beer
Fish
Pickles
Favorite team colored foods
4th of July
Radishes
Cream
Blue & white potatoes
Beer
Canada Day
Red and white foods
Radishes
Radicchio
Halloween
Black and orange foods
Black, orange & purple foods
Thanksgiving
Leftovers
Wine
Orange & brown foods
Christmas
Red & green foods
Leftovers
Wine
Red Foods
Red leaf lettuce
Strawberries
Raspberries
Blood orange
Beets 
Cherries
Cranberries
Pomegranate
Tomato paste
Tomatoes
White Foods
Cauliflower
White bread
White flour
Dragonfruit flesh
Banana flesh
Chicken/turkey breast
White fish
Onion
Garlic
Turnip
Jicama
Parsnip
Mushroom
Cashews
Sesame seeds
Egg white
Milk
Yogurt
Cheese
Peanuts
Green Foods
Asparagus
Green grapes
Green cabbage
Red cabbage + baking soda (turns teal!)
Honeydew melon
Avocado
Salad mix
Frozen spinach
Tomatillos
Kiwi
Escarole
Celery
Mustard greens
Chives
Scallions
Herbs
Okra
Broccoli 
Broccoli rabe
Brussel sprouts
Dandelion greens
Green peppers
Jalapeno 
Pickles
Collard greens
You might also like:
How to store scallions/green onions
How to regrow green onions from scraps
How to grow celery from scraps
How to grow lettuce from scraps
Yellow foods
Pineapple
Golden beets
Yellow beans
Dandelion flower
Yellow tomatoes
Rutabaga
Corn
Yellow peppers
Lemon
Golden kiwi
Egg yolk
Spaghetti squash
Yellow pepper
Purple foods
Purple grapes
Concord grapes
Plum
Purple beans
Purple sweet potatoes
Purple cauliflower
Purple carrots
Purple cabbage (aka red cabbage)
Adirondack Blue potato
Purple onion
Pink foods
Steak
Red cabbage + vinegar (turns bright pink)
Watermelon
Pink Raddicchio
Rhubarb
Salmon
Trout
Tuna
Ham
Corned beef
Pink grapefruit
Orange foods
Oranges
Mango
Peach
Apricot
Cantaloupe
Carrots
Sweet potato
American cheddar
Kumquats
Pumpkin/squash
Orange bell peppers
Orange zest
Orange sorbet
Brown foods
Cooked beef
Whole wheat flour
Chicken/turkey thigh
Brown rice
Peanut butter
Almond butter
Chocolate
Cocoa powder
Coffee
Cinnamon
Black foods
Blackberries
Black/Concord grapes
Black raspberry
Black garlic
Activated charcoal (use with caution – may interfere with medications)
Blue foods
Gray foods
Dried fish
Gray owl cheese
Grey Hubbard squash (orange inside)
Yellow dragon fruit (grey inside)
Hopefully you found these chopped mystery basket ideas to be helpful. I know that was a lot of ideas! These are most popular mystery basket ideas on the actual Chopped TV show, but I think it's more fun to choose your own.
Remember, if you want the full instructions on how to to a Chopped challenge at home, grab the mystery basket challenge ebook!