Looking for frugal minimalist blogs and videos?
This list will guide you to the top resources on living like a frugal minimalist! In this list I've included blog posts and YouTube videos that talk about frugal minimalism.
Some focus completely on frugal minimalism, while others mention frugal minimalism while focusing on the synonyms, simple or intentional living.
This page contains affiliate links which means I may earn a commission if you use them, at no additional cost to you. See disclosure policy for details.
What is Frugal Minimalism anyway?
Frugal Minimalism is a combination of both frugal living and minimalism. The way I describe it is most similar to simple living or intentional living.
So I just threw a bunch of new age terms at you. If you're not 100% clear on what they all mean and how they're similar/different, I've defined them below:
Intentional living is all about making choices based on your core values. It's about purposefully designing your live versus allowing your life to happen to you.
Simple living is all about simplifying your lifestyle.
Minimalism is a subset of simple and intentional living focusing mostly on simplifying your personal possessions.
Frugality overlaps with simple and intentional living (and minimalism) when it focuses on intentionally only buying what you need.
All of these come together when you're content living a simple life with less.
If these concepts interest you, then HELLO FRAND! We have something in common!!
If you'd like to read more about it, I wrote a whole post about how to determine if you are a frugal minimalist.

I've been living this way for a while and am on a journey of continuous improvement. Along the way, I've found some other simple/intentional living and frugal minimalist folks I'd love to share with you!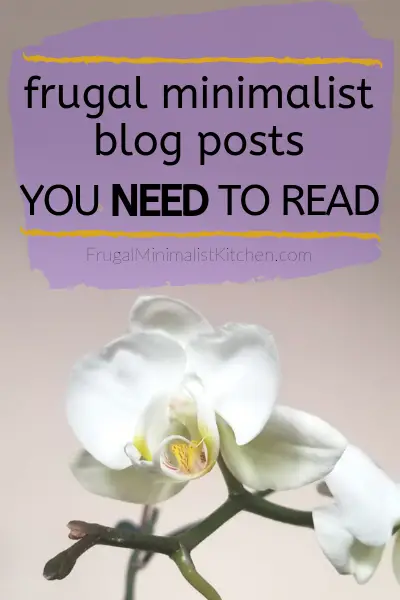 Frugal Minimalist Blogs:
Frugal Minimalist Kitchen
Of course I'm going to add Frugal Minimalist Kitchen to the top of this post because it's mine and I'm writing it to help people like you and I along our frugal minimalist journey!
"Simple. Intentional. Affordable." is the tagline which I think sums my mission up really well. I write about a combo of frugal living, minimalism, and simple living-style kitchen tips.
Some examples:
Your Guide to Frugal Minimalist Living
Minimalist Kitchen: Ideas to Design & Organize Your Dream Kitchen
200+ Quotes About Minimalism to Inspire your Minimalist Journey
Frugal Minimalist Pantry Staples
Essential Minimalist Kitchen Tools

My goal is to provide you with ideas and tools to save money and simplify in the kitchen.
More specifically, I'm full of ideas on how to reduce spending in key areas like groceries and bills, how to earn a bit extra by using side hustles, and lifestyle tips on how to live frugally in a spend-centric world. I also share ideas on how to simplify your kitchen and eco-friendly zero waste ideas.
Frugal Minimalist Kitchen is the only website completely dedicated to the frugal minimalist lifestyle that I could find! (If you know of other frugal minimalist living blogs, please let me know!!)
If you want more frugal living tips, resources, and articles you can find me on Facebook & Instagram @frugal.minimalist.kitchen
You can also sign up for my emails and get exclusive freebies, tips, and insider info.

Sign up below and get access to my library full of free printables, checklists and worksheets to help you on your frugal minimalist journey!
Frugalwoods
The Frugalwoods blog post about frugal minimalism is one of the founding articles that really helped me understand how frugality and minimalism go so well together!
The title of the post is a perfect definition of frugal minimalism:
Frugal Minimalism: Do Less, Buy Less, Worry Less, Live More

Mrs. Frugalwoods
Read more quotes about minimalism here
Frugal minimalism is about so much more than just buying less and owning less!
Before I read this article, I felt my frugal side and my minimalist side at odds with each other sometimes. Since reading it, I see the positive sides of where they overlap and don't worry about the few places where they don't.
While this article is about frugal minimalism, the rest of the blog focuses more so on frugality, financial independence, and simple living.
I love Mrs. Frugalwoods' writing style. She is an excellent storyteller, which makes even seemingly mundane topics interesting to read about! She even wrote a book about their frugal journey "Meet the Frugalwoods".
Besides her frugal blog and book, Mrs. Frugalwoods is active on Instagram sharing lots of pictures of family life on their property in the woods!
No Waste Nutrition
Erin Hendrickson at No Waste Nutrition, is a Registered Dietitian who talks about reducing food waste and eating sustainably on a budget. She shares simple recipes and tips to help you save time and money in the kitchen. My kind of gal!
Her philosophy: "Eating well doesn't have to be complicated. Or expensive! We're here to help you save money, reduce food waste, and eat better."
I also love that there are other dietitians (besides myself) who identify with being minimalist!
Follow her on Instagram: @no.waste.nutrition
Simply Fiercely
Jen from Simply Fiercely has been a great influence in my path towards frugal minimalism/simple living.
I originally discovered her on Pinterest and was immediately attracted to the way she simplifies somewhat abstract topics in a way that makes so much sense to me.
I find minimalism a bit challenging to explain sometimes because it can look so differently for each person. Jen does an amazing job of giving practical tips while also engaging the more philosophical side of practicing minimalism.
Her focus is really on simple and intentional living. She doesn't talk about frugality much at all. But of course living simply and intentionally fits right in with frugal minimalism!
She also talks a lot about how minimalism helped her become debt-free.
I really love this blog post of hers, "10 Ways to be Intentional With Your Time, Money and Energy". It's basically frugal minimalism but in different terms ? Don't you just love her blog already!?
From that post, I resonate with this quote:
You shouldn't make mindless purchases but equally, you shouldn't be afraid to invest in things that will add values to your life (within what you can afford)

Jen, Simply Fiercely
I also did a guest post on her blog about Tips for a Minimalist Pantry! You can read it here!
Simple Lionheart Life
Melissa at Simple Lionheart Life is all about minimalism, simple living, and decluttering.
I really like this post about some of the benefits of minimalism. The way she puts it really clarifies that minimalism is a form of simple living that can save you money in addition to saving time and energy.
Saving time, money, and energy all at once is like the dream of busy, stressed people everywhere, yet it's totally possible!
A great quote from her on the link between minimalism and money:
When you commit to embracing minimalism and owning less, you tend to spend less money. Simply because choosing to own less means buying less. And when you do buy new things, you do so thoughtfully and intentionally. Rather than buying things you don't really need, won't use, or are more than you need.


A great side effect and reason to love minimalism is when you commit to owning less and buying less, you also tend to save money! Or maybe have more money for the things you really want to do, like travel.

Melissa, Simple Lionheart Life
Frugal Minimalist YouTubers:
As I mentioned earlier, there are no other blogs specifically dedicated to frugal minimalism, but I did recently discover a YouTuber who is all about frugal minimalism too!
The Frugal Minimalist
Wendy, The Frugal Minimalist, is a fairly new YouTuber who is killing it with her frugal minimalist content! She already has over 28000 subscribers in less than a year of her channel being up!
Clearly people are loving frugal minimalism right now!
She gives super specific tips with a lot of her videos, which I love! She's all about continuous improvement which helps you on your frugal minimalist journey. So those tiny little things, added up over time really do help make your life more frugal and minimalist!
I totally relate to this quirky video showing her frugal and minimalist sides coexisting ?
Wendy seems a bit more on the frugal side than the minimalist side based on her videos, but there's definitely some info about simple living/minimalism in there too! This is one of my favorite frugal blogs/youtubers.
I hope these frugal minimalist blogs and videos help build the community of frugal minimalists.
I also hope they help you clarify what frugal minimalism means if you weren't 100% sure.
If you relate to the ideas in these frugal minimalist blogs and videos, or if you know of other frugal minimalist living blogs or videos that I haven't listed here, leave me a comment. I'd love to hear from you!